The Film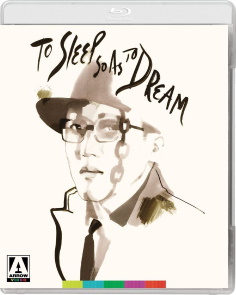 Mainichi Film Concours (Best Art Direction): Takeo Kimura (winner) and Sponichi Grand Prize New Talent Award: Kaizô Hayashi (winner) - Mainichi Film Concours, 1987
Festival Prize Best Independent Film (winner) and Best New Director: Kaizô Hayashi (winner) - Yokohama Film Festival, 1987

Private detective Uotsuka (Godzilla 2000's Shirô Sano) and his young assistant Kobayashi (Koji Otake) are approached by Matsunosuke (Gamera: The Giant Monster's Yoshio Yoshida), faithful retainer of elderly Madame Sukara (Sword of the Flying Dragon's Fujiko Fukamizu) who has received a tape recording from the mysterious Madame Cherry-Blossom demanding one million yen for the safe return of her daughter Kikyo (Moe Kamura), also known as Bellflower, on behalf of her associates M. Pathe and Co. The location to which the money must be delivered is contained in a riddle and there is a time limit in which it must be solved before they move Kikyo elsewhere. The pair are at a loss to solve the riddle until Kobayashi happens by chance upon a performance of a trio of magicians who gift him with a bag of digestive drops that offers a clue in its name leading to the Jintan Tower. They arrive too late, however, and they find instead the demand for another million yen and a spinning top as the clue to their next destination. Kobayashi discovers that the magician troupe is M. Pathe and Co. but this does not prevent both men from being ambushes as they split up to trail the three. When they get away again leaving behind a demand for another million yen and the clue "The Electric House" as the next destination, Madame Sakura provides them not with another stack of money but with a gun just in case the kidnappers are really after money. What the detectives discover at The Electric House is an "eternal mystery" going back years before to an unfinished film serial involving hero The Black Mask and a kidnapped princess.

Director Kaizô Hayashi's love letter to Japanese silent cinema To Sleep So as to Dream is alternately surreal, absurd, extremely moving, and poignant. A growing awareness of the monotony of the narrative progression is neither lost on the viewer or the characters, and is even hinted at early on with the appearance onscreen of the titular "eternal mystery" while the solution to the mystery is ultimately a eulogy for an artistic dream cut short by circumstance at the end of the Meiji era. The significance of the title is heartbreaking once it dawns on the viewer. Shot in black and white in a fashion caught somewhere between forties noir and silent cinema, the film features sound effects and music but almost all of the film's dialogue is conveyed through intertitles used solely for dialogue and not exposition. The bulk of the film's audible dialogue is confined to the tape recordings of the villains, giving a certain sense of past tense that is mirrored in the monetary exchanges from Bellflower's ransom in millions of yen and Uoatsuka's and Kobayashi's entry into a theater whose admission is so cheap in contemporary terms of inflation that it is calculted in sen, to the princess in the serial ransomed for ryo. Hayashi's love of silent cinema extends beyond mimicking its filming techniques to its exhibition with the only dialogue spoken onscreen being that of the theater's benshi (Shunsui Matsuda) whose function was to provide live narration to silent films. The finale seems like a less campy and far more sentimental riff on the basic scenario of Billy Wilder's . In terms of Japanese cinema, a good companion piece to the To Sleep So as to Dream would be The Mystery of Rampo a (meta)fictionalized biopic of Japanese genre author Edogawa Rampo (or Alain Robbe-Grillet's Playing with Fire which involves a kidnapping that may or may not be real).

Video


Given brief release stateside by New Yorker Films, To Sleep So as to Dream has been hard to see despite its festival wins and cult status, only recently the recipient of a Kickstarter campaign to mount a 2K restoration, the results of which are visible her on Arrow Video's 1080p24 MPEG-4 AVC 1.37:1 pillarboxed fullscreen image in which the monochrome image is simply breathtaking in both its sharper moments and those in which diffusion and flares come between the protagonist and the lens. Blacks, grays, and whites have a sensual quality as the viewer not only assesses the content of the compositions but looks for modern indicators betraying that the film is not really of an earlier era. The end credits have been seamlessly extended to give special thanks to all of the Kickstarter contributors and sponsoring organizations.

Audio


The sole audio track is a Japanese DTS-HD Master Audio 1.0 mono track that is whisper quiet for the film's many silences – so much so that one may wonder if the audio has cut out early on – with the appearances of tape-recorded and dubbed voices even more startling than the more common use of sound effects, and there is a nice contrasting use of "traditional" Japanese melodies and more "western" scoring that heightens the sense of drama from serial to sentimentalism. Optional English subtitles translate the recorded voices, intertitles, and onscreen text.

Extras


Ported over from the Japanese DVD released in 2000 is an audio commentary by director Kaizo Hayashi and actor Shiro Sano in which Kaizo recalls growing up in the provinces and having little to do but see double and triple features, his early 8mm films before discovering editing – noting that the long takes of feature have as much to do with approach as the limited film stock – working in underground theater just as Sano was getting out of it and into music after a decade with one company, and deciding to mount the film himself when getting a producer proved too creatively confining. They discuss approaching the shoot with little to no experience but having some notable veteran actors and professional crew in Seijun Suzuki production designer Takeo Kimura and cinematographer Yűichi Nagata (who had experience with low budget productions by getting his start in pink films of the early eighties like Raped with Eyes: Daydream). Kaizo mentions that he did a lot of research on silent films at the Matsuda archive (more on that later) and he shares some chuckles with Sano over the egg symbolism (referencing both surrealism and "hardboiled" detective stories). Sano recalls his reactions to the script, noting that it sounded like something by Rampo, as well as his frustration with Kaizo's direction to sometimes say entire lines, say part of them, or just mouth them (which Kaizo jokes was due to his not understanding what could be done with editing and eventually admitting it was due to limited film stock and not wanting to waste any footage in constructing scenes with intertitles).

There is also a new audio commentary by Japanese film experts Tom Mes and Jasper Sharp who authored the Midnight Guide to New Japanese Cinema. Although they did include a chapter on Kaizo, they also note the dearth of writing on eighties Japanese independent cinema, Kaizo's career, as well as parallels with contemporaries like Shin'ya Tsukamoto (Tetsuo, the Iron Man) who managed to continue prolifically at a time when the shrinking video market made it hard for Kaizo to find funding. They also note that the film's executive producer was Takashige Ichise who was then the Japanese representative of Toei's international productions like American Yakuza and Necronomicon: Book of the Dead before becoming a driving force in the Japanese J-horror boom as producer of the Japanese Ring series, the Japanese A/V and cinema Ju-on franchise as well as the American remake franchise, and the films comprising the "J-Horror Theater" cycle including Premonition, Infection, and Reincarnation. More interesting are their observations of the film's references as well as details buried in the film's art direction that may be lost on Western viewers, noting that the film is meant to be "read" even though said details do not actually advance the shell of a plot.

"How Many Eggs? Actor Shiro Sano Talks" (28:49) is a new interview with the actor who discusses his underground theater days, his music career, admiring the role as scripted and being just as puzzled as potential investors about mounting such an uncommercial film during Japan's bubble economy of the mid-eighties. In "Talking Silents: Benshi Midori Sawato Talks" (18:13), Sawato discusses the role of the benshi that was initially created to explain silent films imported from abroad to Japanese audiences, and how the art dwindled with talkies but for the efforts of benshi Matsuda Shunsui who rescued films that were being destroyed after World War II and revived the art – founding an archive and winning cultural awards for his preservation efforts – and encouraging her to become a benshi at a time when few young people were interested in the art. She also provides some background on actress Fukamizo and her great beauty during the days of early cinema (hinting at some parallels with the film).

In "Midori Sawato Performs 'The Eternal Mystery'" (6:47), Sawato appears on a panel beside the film-within-a-film narrating in place of the onscreen benshi, while in "The Restoration of To Sleep So as to Dream" (4:01), Kaizo visits the lab, examines the "beautifully preserved" 16mm negative, and praises the restoration team. "Fragments from Japan's Lost Silent Heyday" (2:40) is a selection of silent jidai-geki scenes from the Kyoto Toy Museum archives that shows the accuracy of the depiction of the genre in the feature's film-within-a-film. The disc also includes the film's Japanese theatrical trailer (2:38) and a re-release trailer (2:38) for the restoration, as well as an image gallery.

Packaging


The disc comes with a reversible sleeve featuring original and newly commissioned artwork by David Downton while the first pressing includes an illustrated collector's booklet featuring new writing on the film by Aaron Gerow that was not provided for review.

Overall


Director Kaizô Hayashi's lovingly-restored love letter to Japanese silent cinema To Sleep So as to Dream moves from surreal to absurd to extremely moving and poignant.