The Film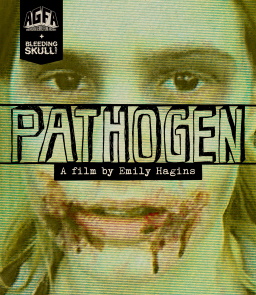 A local Austin, Texas pharmaceutical company is working on curing cancer with nanotechnology, but the only results they have been able to produce attack healthy cells instead, eventually traveling to the brain and killing subjects. Worse yet, the dead ones tend to reanimate and feast on human flesh. When scientist Sue (Rebecca Elliott) learns that all funding has been withdrawn, she forgets all about the lost nano chip slide that she suspects was carried off by the custodian (Sinister screenwriter C. Robert Cargill). The slide, however, finds its way into a ditch and is carried off into the water supply. Junior high school student Danni (Rose Kent-McGlew) has been having prescient nightmares for the last few days. She does not remember their content but she finds herself instinctively avoiding tap water. When she and best friend Sam (Alec Herskowitz) learn that schoolmates Christine (Tiger Darrow) and Cameron (Tony Vespe) have both had friends who were rushed to the hospital after drinking water that was boiled as a safety measure, the quartet meet up after school to pool their information; however, it is too late as the town is soon overrun by rabid humans and flesh-eating zombies. Along with Stacy (Alex Schroeder) whose best friend tried to bite her at school, the group barricade themselves in Danni's home. With no parental guidance and nothing in the fridge, they take to the streets in search of others, eventually running across Sue who may or may not be guiding them to safety.

Conceived by writer/director/editor/cinematographer Emily Hagins when she was twelve years old and finished when she was fifteen, Pathogen is as singular a DIY horror film as it is run-of-the-mill. Shot during a time when filmmakers bargain basement to DTV were churning out zombie flicks in the aftermath of Zack Snyder's Dawn of the Dead remake – a boom that doomed zombie godfather George Romero's Land of the Dead follow-ups Diary of the Dead and Survival of the Dead to relative obscurity – the film looks very much like a school A/V club project in the era before DSLR and smartphone filmmaking and the free availability of editing and effects programs that convincingly mimic the industry standards. The setup is long and the atmosphere of dread is more fitful than steadily-mounting. While the gore effects sequences are rote, the film makes up for a rather absurd and hastily-explained twist with an ending that strives for hopelessness and despair rather than going out with a bang. The pacing and staging are rather "casual" to say the least and the acting could charitably be described as "naturalistic" but that may indeed be what appeals to viewers who have either made similar films in school and among friends or at least been forced to sit through them. Hagins has since gone on to helm four features – including the horror film The Retelling and the horror-comedy My Sucky Teen Romance – as well as short films for the horror anthologies Chilling Visions: 5 Senses of Fear and Scare Package, as well as the TV series spinoff of the V/H/S film anthologies.

Video


Shot on digital video (using Hagins' family video camera) and edited on iMovie, American Genre Film Archive's 1080i60 MPEG-4 AVC 1.33:1 pillarboxed fullscreen Blu-ray seems to have left the source alone apart from the upscaling with the usual noise in areas of video underexposure and highlights threatening to clip in some shots while looking fine in others. Thankfully, Hagins and AGFA do not seem to have been tempted to revise the look of the film, thus retaining part of what presumably made the film so appealing to AGFA; indeed, on the documentary, a young Havins tells her parents that she is determined not to George Lucas the film once the edit is completed for the festival screening.

Audio


The stereo audio track has been given a DTS-HD Master Audio 2.0 encoding but the quality is subject to the original shooting and editing, with a lot of location audio and buzzing room tone as well as some bolder-sounding original scoring and songs and some amusingly overstated foley effects. Optional English subtitles are also provided.

Extras


The film is accompanied by an audio commentary by writer/director/editor/cinematographer Emily Hagins, moderated by Bleeding Skull's Annie Choi in which Hagins discusses the genesis of the project – partially inspired by the Australian zombie horror comedy Undead – the casting of friends and schoolmates, and directing adults including her parents and members of the Austin film scene who offered advice while respecting her efforts. The track is perhaps more so relatable to some viewers than those of some somewhat higher-budged, theatrical indies what with discussion of TBD scheduling, staggered shooting, recasting actors who lost interest, and as an example of a no-budget debut of a filmmaker who continued to pursue their cinematic dreams.

Video extras include the cast and crew Q&A from the 2006 theatrical premiere (6:40) at the Alamo Drafthouse – in which some of the questions seem leading like one audience member asking specifically what "two" movies inspired her – and "Party Killer" (8:36), Hagins' 2007 short film follow-up in which a killer targets eight graders having a party in the remarkably empty suburbs. Reuniting some of the feature's cast, it is a very slight effort; yet, one can see that Hagins' style has evolved from the feature. Shots appear to have been blocked out, there are some interesting compositions and camera moves, and while the film is not actually "lit" Hagins appears to use the practical lighting advantageously in some shots.


Running twenty minutes longer than the feature "Zombie Girl: The Movie" (91:06) is a 2009 making-of documentary by Justin Johnson, Aaron Marshall, and Erik Mauck. While Hagins mentions in her commentary that she felt that the Austin filmmakers involved in the production were supportive and offered suggestions, one suspects early on that the editing of some behind the scenes sequences from the shoot are meant to offer their more dynamically-edited versions of her material; however, that coverage serves to better demonstrate Hagins', her parents', and the adult crews' own feelings that she might have bitten off more than she can chew. We see Hagins' parents expressing both concern as well as encouragement, not wanting to discourage her passion but also fearing she might burn out, and having to put their feet down occasionally in a manner that would definitely mortify a teenager in public. The early part of the documentary reveals that hers and her mother's regular patronage of the Alamo Drafthouse did not go unnoticed by founder Tim League, how a letter Havins wrote to Peter Jackson after seeing Lord of the Rings had the director pointing her towards his local Austin buddy Harry Knowles, her parents' concerns about her being exposed to more graphic films at the festivals (as well as how at the event Jackson actually attended, it was Undead that caught Hagins' attention). Too young to attend some of the filmmaking summer camp programs, Hagins instead ended up working on short horror film productions produced by Rebecca Elliot (Pathogen's scientist Sue) who recalls trying to encourage her to make Pathogen as short film when she was presented with a ninety-page script. We get a look at the auditions, remarks from some of the cast members she approached casually, and the shoot drifting behind schedule due to Hagins' blocking, inability to reign in bored cast members, scheduling problems, and homework as well as reshoots due to taping over footage and some mishaps involving locations. The film gives short shrift to the premiere after some buildup about the pressure to have something to show by the deadline, Hagins' worries about how the film will be received, her parents' concerns about the effect of the reception on her, as well as crew and Drafthouse personnel concerns about the novelty of the "student filmmaker" with more accessible technology and growing competition in that area that could squeeze out and even discouraged (not to mention how "watchable" such efforts may be, especially in the zombie genre which did burn out eventually in favor of retro-slashers); however, the documentary would be a compelling story even if Hagins had not made another film.

Packaging


The disc comes with a reversible cover while the first 2,500 copies ordered directly from Vinegar Syndrome comes with a slipcover.

Overall


Pathogen's pacing and staging are rather "casual" to say the least and the acting could charitably be described as "naturalistic" but that may indeed be what appeals to viewers who have either made similar films in school and among friends or at least been forced to sit through them.