The Film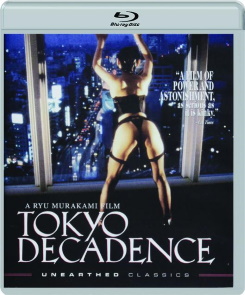 After a particularly rough session, prostitute Ai (Henry Fool's Miho Nikaido) consults a fortune teller (Yayoi Kusama) who advises her to do three things to safeguard herself: 1) place a telephone directory under her television set, 2) avoid art galleries in the east, and 3) find a pink stone and have it made into a ring. Still pining for her celebrity ex-boyfriend (novelist Masahiko Shimada) who left the country six months before and has since returned without contacting her, Ai is eager to try anything to better her life. Ai puts the phone books under her television, is not planning to travel anytime soon, and buys an expensive topaz ring. Her next assignment is an extended threesome with crooked businessman Satoh (author Tenmei Kano) and his mistress that is intense but monetarily rewarding. During this encounter, she manages to lose the topaz ring; however, the next day she and another prostitute (Sayoko Amano) – whose dominant nature she envies – are sent back to the same hotel for another client.

Based on his own book – director Ryϋ Murakami is well-published in English and his novel "Audition" served as the basis for the acclaimed Takashi Miike film – Tokyo Decadence (originally titled "Topaz") received a lot of hype in the United States purely on the basis of its NC-17 rating; and, like most NC-17 films from the nineties, it disappointed viewers expecting something especially juicy, which was partially the fault of the MPAA and distributors wanting to repeat the cult success of titles like The Cook, the Thief, His Wife, and Her Lover, Henry & June, and Tie Me Up, Tie Me Down). Peopled with wealthy eccentrics, crooked executives, chic dominatrices, and grinning Yakuza henchmen, the film caused quite a stir in Japan for its probing look at life during the Japanese bubble economy that was about to burst – Ai overhears Satoh telling his business partners to get ready to skip the country – with the decadence of the prostitutes' clients subjecting them to greater degradations while paying well enough for them to mimic the affluence of their clients. More compelling than the kinky vignettes is Ai's internal plight and her not entirely cynical final transformation after an episode of near-madness. The film is relatively slick, but betrays the shortcomings of its budget technically with a couple jump-cuts, a shot in which the every frame in which the camera stopped with the shutter open, and a cheap synth score – credited to Ryϋichi Sakamoto (The Last Emperor) of all people – more suited to direct to video. Stay tuned after the end credits for a dance performance by Nikaido.

Video


Released theatrically stateside in a subtitled version by Northern Arts Entertainment, Tokyo Decadence was released on VHS by Triboro Entertainment in separate NC-17 dubbed and subtitled cassettes – this is the same company that put out recut R-rated and edited unrated cassettes of Andy Warhol's Dracula and a recut R-rated cassette of Andy Warhol's Frankenstein – while Image Entertainment's laserdisc was also rated NC-17 and featured Japanese mono audio on the digital and analog-right channels and the English dub on analog-left as well as burnt-in English subtitles. Image Entertainment's subsequent 1999 DVD – licensed from Triboro partner FCP – featured the same fullscreen tape master with English and Japanese audio options. First Run Features' 2003 DVD was scarcely an improvement, nor was Cinema Epoch's 2008 DVD which was at least anamorphic widescreen but still pretty murky and dull (the same source was used in the U.K. by Arrow Video for their poor NTSC-to-PAL-converted Arrowdrome DVD which was a follow-up to their own earlier non-anamorphic DVD).

A new HD remaster turned up in Germany as a limited edition mediabook with an English subtitle option for the Japanese version (the shorter German cut was also included on a separate disc). If you can do without the cover, then Unearthed Films' Unearthed Classics 1080p24 MPEG-4 AVC 1.78:1 widescreen Blu-ray is a more economic alternative. The constraints of the budget are still evident, but the film looks less like a hazy, fuzzy mess than a contemporary of the eighties and nineties pink films, gaining a faint sheen of slickness that gives the film the Japanese equivalent of a "porno chic" aesthetic. Some of the darker scenes are still murky but characters are now distinct from the dark backgrounds – particularly the details of Ai's nighttime park experience with the nutty contemporaries of the singer (Chie Sema) who saves her from arrest – and blacks are more solid (a shot of Ai preceding her visit with the fortune teller now reveals that the wall she stands in front of is slate gray rather than an effect of wonky levels with the blacks of her wardrobe standing out against the background).

Audio


Audio options include the Japanese mono mix in LPCM 2.0 which sounds quieter than the LPCM 2.0 mono English dub – fortunately provided as an option since it was directed by Speed Racer vocal artist Peter Fernandez who directed the dubbing of a number of prominent foreign films including Cinema Paradiso – but the Japanese track actually preserves the hushed levels with which Ai's clients often speak during their sessions (Satoh telling Ai to play a "horny businesswoman" is husky in Japanese and flat in English). Sakamoto's score is well-served in both but it is not one of his better works. Optional English subtitles translate the Japanese track, demonstrating where the English track remains faithful and where it differs substantially in an effort to match the lip movements of the performers.

Extras


As with the German Blu-ray and the earlier DVDs, Unearthed Films has not taken the opportunity to supplement the film with contextual extras or analysis. What we get is the same promotional featurette (8:01) – mislabeled as an interview with Murakami on the Cinema Epoch DVD – which features remarks from the cast and crew intercut with behind the scenes footage of the shoot. The disc also includes the Japanese theatrical trailer (1:25), the German theatrical trailer (1:31), and trailers for three other Unearthed Classics releases.

Packaging


The disc comes with a reversible cover and slipcover.

Overall


Ryϋ Murakami's NC-17 cinematic adapatation of his own novel Tokyo Decadence may disappoint viewers seeking more salacious like a classy version of a Japanese pink film, but viewers willing to probe deeper will find a kink-tinged story of psychological transformation.