The Film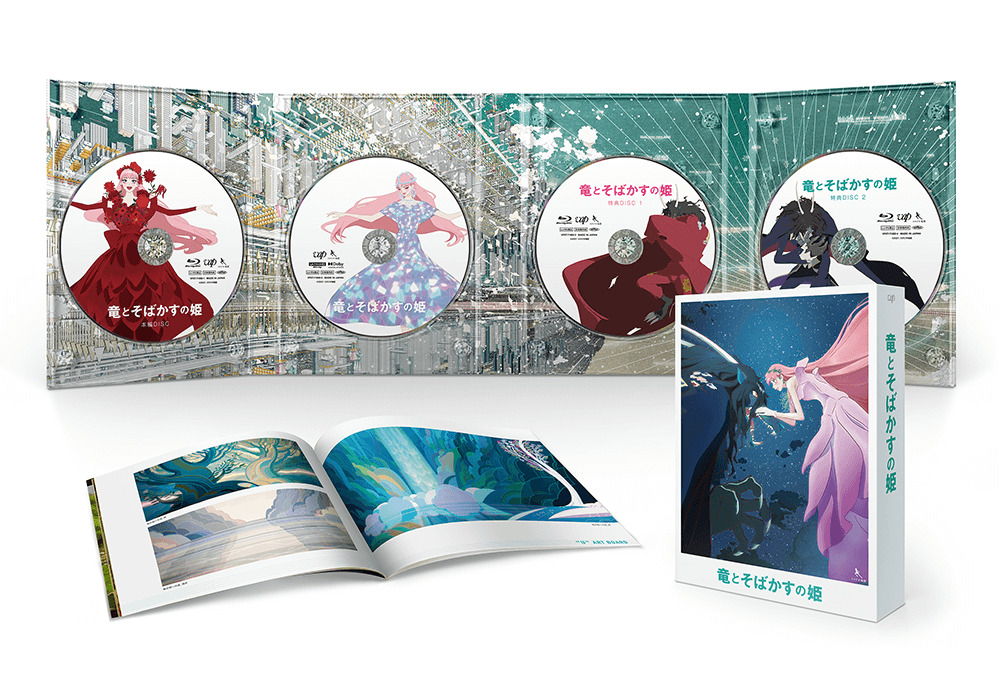 "Belle" 「竜とそばかすの姫」 (2021)

Suzu (played by Kaho Nakamura) is a shy high school girl from rural Kochi prefecture that decides to join the metaverse service < U > through the advice of her classmate Hiroka (played by Lilas Ikuta). < U > automatically creates a specific tailored avatar and she uses her time there to do something that she has had difficulty in doing in real life, and that is singing in front of people without fear. After performing one song which had some quick fans and quick detractors lurking around, it gives her a feeling of satisfaction that was missing from reality, where she experiences a slightly distant relationship with her widower father and a bland high school life. But things get out of control online as her singing clip goes viral through shares and fan remixes, making her an instant celebrity as the mysterious singer that took < U > by storm. Though she becomes overwhelmed by the sudden fame, Suzu finds a new reason to keep returning to < U >, due to the encounter with a mysterious scarred dragon avatar that is causing havoc online. Is he an evil soul that is aimed at causing violence and destruction, or is he hiding something else?

Filmmaker Mamoru Hosoda's 2009 anime feature film "Summer Wars" as well as his 2000 short film "Digimon Adventure: Our War Game!" both showcased a digital metaverse of infinite proportions, but they were in fact mere glimpses in comparison to the world he visualized in "Belle", which is populated by millions of creatively designed avatars in a floating environment of structures that extends into infinity. The exploration of where the Internet is moving and immersive nature shares some similarities with "Ready Player One" to an extent, but rather than creating basically a secondary world that mirrors the real world, < U > is much more of an unreality as it doesn't obey gravity or real world physics, yet still has a few real world elements like policing and corporate sponsorship in the background. While there is much that can be said about privacy concerns, the fact that the app and service can truly create a precise avatar by knowing your physical, mental, and personality attributes, and how people worldwide are being affected by the world of < U >, the message in "Belle" is down at a core human level and not one bound by future technology, as a lone high school girl and her emotional and mental growth is the key to the story.

The character of Suzu is a seemingly average high schooler, who isn't popular or talented in the eyes of her classmates. The death of her mother when she was a child has traumatized her, as she saw her mother sacrifice herself while saving the life of a helpless child. Suzu could not comprehend why her mother left her behind to save someone that she didn't know, and in effect creating a gap in the relationship with her father (played by Koji Yakusho). There have been people by her side to help her through the years. The local choir group made up of older women know that Suzu has the ability to truly sing even though she isn't confident in herself. Her classmate Hiroka is also confident of Suzu's voice, as she helps create the viral movement with her skills creating music tracks and having knowledge of viral trends within the world of < U >. There is also Shinobu (played by Ryo Narita), the popular male classmate who has known her since they were little kids. He promised as a kid that he would always look after her, but he does at a distance without interfering in her life directly. Ruka (played by Tina Tamashiro) is the most popular girl in her class with her beautiful looks and skills as a jazz saxophonist, but is a good friend to Suzu as she is willing to bear her insecurities out in confidence. Suzu may have support on the outside, but within her soul she is lacking everything that everyone says she already has. Her avatar which she first names "Bell" (which "Suzu" means "Bell" in Japanese), and later renamed "Belle" by the fans is a reflection of her true self. A tall, confident and beautiful woman with a freckled face that captivates all in her vicinity. Most of her friends and acquaintances have their own avatars in < U > which range from a mystical creatures to humanoids to animals, from tiny to massive in size, each reflecting their own inner selves. Their quirks, their motifs are reflected in fascinating ways with each character and it becomes a game to spot who is who in the world of < U > and their real life counterparts.

Initially Hosoda's initial interest was making a musical film with "Beauty and the Beast" as the main source of inspiration. But rather than a retelling of the classic story, "Belle" was placed in the modern Internet era of avatars and alter egos while still keeping the core of the forbidden love story between the two opposing figures. Hosoda and his production company Studio Chizu looked at international talent for their animation in addition to their Japanese staff. Jin Kim, an animator at Walt Disney Animation helped in character designs. Eric Wong, who worked on a number of creature and character designs for major Hollywood productions at Industrial Light and Magic worked on the designs for the world of < U >, with Tomm Moore and others from acclaimed Irish studio Cartoon Saloon also contributing with the animation work. It's also interesting to note that the script and the animation designs were started before any music was even created. Hosoda found the voice he was looking for with singer Kaho Nakamura, an indie artist and relative unknown in the mainstream music scene. Though having alternative music looks and connections, he found a soothing and soaring voice that would perfectly suit the fictitious singer for the film, similar to the discovery of unknown singer Salyu in director Shunji Iwai's seminal coming-of-age and music film "All About Lily Chou-Chou" (2001), who eventually became a major singer following the film's success. But "Belle" was a bigger challenge, as Nakamura would not only write and perform the songs, but also voice the character of Suzu for the entire film, and she had no experience in acting. In addition to Nakamura, Hosoda cast a number of people with musical backgrounds in key roles. Lilas Ikuta is the vocalist of the up and coming pop group YOASOBI. Indie electronic artist and singer ermhoi makes a cameo appearance as Peggy Sue. Veteran singers Fuyumi Sakamoto, Ryoko Moriyama, and Yoshimi Iwasaki all make appearances as well. As for the music to be sung by the Belle character, millennium parade, an audio/visual side project by Daiki Tsuneta, vocalist of rock band King Gnu, with input from Hosoda and Nakamura. The genre would be a a mix of traditional and electronic, with emphasis placed heavily on the vocal work of Nakamura to bring heart and soul to the character and the project as a whole. The music is a true highlight of the film, piercing the soul with the vocal performances and moving beautiful rhythms from the music. The songs will guarantee to bring tears to viewers with their power, and even Nakamura's voice transcends language through true emotional tones. With so many great films focusing on music in 2021, with "In the Heights", "West Side Story", "CODA", "Encanto" and others, "Belle" certainly deserves its place alongside them as a high point in music and feature film.

Hosoda is no stranger to childhood woes and high school awkwardness in characters, as he has put focus on basically all his works, and "Belle" is no different. The real world scenes feature a lot of hilarious and awkward scenes with excellent performances by the actors and the animation, with both exaggerated moments and also with realistic ones for the more dramatic moments. The slightly odd characters of best friend Hiroka and the lone canoe rowing classmate Kamishin (played by Shota Sometani) add to the quirky comedic moments that stand out, but the real test is with the mystery of the Dragon character (played by Takeru Sato), who continuously disrupts the world of < U > and is on the hunt by the self policing force while also being hated by all the patrons. Suzu knows that there must be more than just violence in the heart of the dragon, and that there must be something hurting from within due to the scars on the avatar's backside. When the truth comes out about who the dragon is in the real world, the story does take a deeper and disturbing turn, though it is also a test of Suzu's will. Shy and scared of taking chances, it's what she uncovers that sets her on a journey to overcome her trauma. Without going into spoilers, one of the possibly weaker elements of the film is that the story is wrapped up a little too quickly. Suzu so easily finding Kei and Tomo seems to be at a convenience, and there are a few unanswered questions as to what happens to the characters after Suzu's quick trip. There could have been a little more to fully emphasize her journey in reality, but this is a minor flaw in a grand and incredible film.

"Belle" premiered at the Cannes Film Festival on July 15th, 2021 where it received a 14 minute standing ovation. It opened in Japanese cinemas a day later on July 16th, where it broke box office records, and was the third highest grossing film of the year grossing ¥6.6 billion domestically (approximately US$57 million), and becoming Studio Chizu's highest grossing film. The film played internationally at festivals such as Locarno, Lyon, Fantastic Fest, BFI London, Sitges and more, with general theatrical releases in various countries in late 2021 and early 2022. The film was nominated for multiple awards internationally, including Annie Awards and Japanese Academy Awards. Interestingly the film did not win the Japanese Academy prize for animated film, which went to the long awaited "Evangelion: 3.0+1.01 Thrice Upon a Time". It was the first time that one of Studio Chizu's films did not win the award. Regardless of that, "Belle" is an utterly exceptional piece of art with incredible music, a timeless story with a modern twist and gorgeous animation.

Note this is a region ALL 4K UltraHD Blu-ray + Blu-ray set

Video


VAP presents the film in the 2.40:1 aspect ratio in 2160p HEVC with HDR10 / Dolby Vision on the 4K disc and in 1080p AVC MPEG-4 on the standard Blu-ray. Animated digitally, the master seems to come directly from the 2K Digital Intermediate, upscaled to 2160p for the 4K UltraHD disc and slightly downscaled to 1080p for the standard Blu-ray. The animation is utterly gorgeous and the UHD certainly showcases the bright and bold colors wonderfully. The tiny details seen in the online world of < U > is absolutely pristine, from each character design to the buildings. That also goes for the real world settings with the beautiful greens of nature to the bright whites of the snowcovered fields and every color in the spectrum. While an upscale could lead to some odd anomalies in pixels in between, here everything seems pixel perfect. Deep and dark shades also come in nice and solid, subtle hues are visible in background brushstrokes, with a basically flawless transfer. This also goes for the standard Blu-ray, which is also of reference quality with beautiful colors and details without any traces of compression or artifacts. An excellent job in the transfer for both disc formats.

The film's runtime on both discs are 121:13.

Audio


Japanese Dolby Atmos
Japanese LPCM 2.0 stereo
Japanese Audio Descriptove LPCM 2.0 stereo
There are three audio tracks available. A Dolby Atmos track with a Dolby TrueHD 7.1 core, and two uncompressed stereo tracks, with one being an audio descriptive track for the blind. The audio options are identical on both the 4K UltraHD Blu-ray and the standard Blu-ray. One would expect the Dolby Atmos track to be the stronger and better track but there are some issues with the mixing. First, for the positives, the Dolby Atmos track is a very immersive one as one would expect, with the surround channels bringing the music tracks to life. In addition, it places sound effects within the real world from the blowing wind to insect and bird calls very effectively, while the center channel mostly based with the dialogue, though there are some portions of the dialogue to bleed into the left and right channels depending on the scenes. But the balance between the dialogue, music, and effects seem slightly off. In comparison to the LPCM track, the music and dialogue are mixed a bit lower in volume so it's best to turn the dial up slightly more than usual. But with that done, the narration portions such as in the opening are mixed much too loud, overbearing everything else. There are some other portions as well with the dialogue being mixed a little too loudly in comparison to everything else. As for the LPCM stereo track, the balance seems to be better and at a more standard volume, but it lacks the width of the Dolby Atmos track due to having fewer discreet channels. So a larger mix with balance levels being slightly off or a condensed track with better balanced audio. Give or take, the Atmos may have a slight edge, but it could have been better.

Note that on the first menu screen, the text and narration states that the film will start with the audio descriptive track if nothing is pressed on the remote. If "enter" is selected, this will take the viewer to the main menu, in which the standard stereo track is selected by default.

There are optional Japanese HoH subtitles for the main feature in a white font.

Extras


This is a 4-disc set, with the 4K UltraHD Blu-ray and the first standard Blu-ray having the film only without any extras. The other two discs contain all the extras.


DISC THREE

"Making of Belle" featurette (25:52)
Here is a fairly standard overview featurette, which includes interviews with Hosoda and some of the crew, discussing character designs, costume designs, the locations of the real world setting, the music, with some behind the scenes footage.
in 1080i60 AVC MPEG-4, in 1.78:1, in Japanese LPCM 2.0 without subtitles

"Behind the Scenes of the Voice Acting" documentary (41:31)
This documentary focuses on the voice actors, featuring footage of the actors recording their lines and Hosoda giving directions, plus some additional interview footage of the actors.
in 1080i60 AVC MPEG-4, in 1.78:1, in Japanese LPCM 2.0 without subtitles

Event Footage (40:27)
Collected here are footage from three events. The first is from July 6th, 2021 with the cast and Hosoda discussing the completion of the film to journalists. The second is from July 16th, 2021 which has the cast greeting an audience on the opening day at Roppongi Hills Toho Cinemas, plus Hosoda speaking through a video call live from the Cannes Film Festival. The third is from September 11th, 2021 in which Hosoda speaks to an audience thanking them for making the film his biggest hit to date. In addition, Hosoda is greeted by surprise guest, actress Aoi Miyazaki who lent her voice to Hosoda's films "The Wolf Children" and "The Boy and the Beast". The first two are standard fare of the cast and director praising each other about their work together, plus their reaction to the songs and the visuals. The third event is a little different, with Miyazaki reminiscing about her work with Hosoda years prior, but also her personal reaction to the new film as a complete audience member.
in 1080i60 AVC MPEG-4, in 1.78:1, in Japanese LPCM 2.0 without subtitles

Promos
- Teaser 1 (0:32)
- Teaser 2 (0:32)
- Teaser 3 (0:32)
- Trailer 1 (1:08)
- Trailer 2 (1:32)
- < U > Standard Version (0:17)
- < U > Impact Version (0:17)
- Gales of Song Version (0:17)
- A Million Miles Away Version (0:17)
- Enthusiasm Version (0:17)
- No. 1 This Summer Version (0:17)
- Forever Emotional Version (0:32) [1080i]
- Special Promo Video: A Summer to Surpass Those Previous Summers (2:42)
- A Summer to Never Forget Version (0:32)
A series of teasers, trailers, and commercials for the Japanese release. The final two are trailers to emphasize the director and his past works, as they start with clips from previous Hosoda films before showcasing the images for "Belle". The trailers are in 1080p, except the "Forever Emotional" trailer which is in 1080i60. The last two trailers have the clips of other Hosoda films in 1.78:1, while the clips of "Belle" are in 2.40:1.
in 1080p AVC MPEG-4 (except where noted), in 2.40:1 (except where noted), in Japanese LPCM 2.0 without subtitles

Cross Promotion
- Suntory Coffee Craft Boss commercials (1:34)
- Lawson original commercial (0:17)
A series of commercials cross promoting the film. There are two commercials for Craft Boss bottled coffee by Suntory featuring some exclusive animated scenes, plus one commercial for Lawson convenience stores.
in 1080p AVC MPEG-4, in 2.40:1, in Japanese LPCM 2.0 without subtitles


DISC FOUR (Blu-ray)

Interviews with the Cast (34:51)
Presented here are extended interviews with cast members Nakamura, Narita, Tamashiro, Ikuta, Yakuso, and Sato which were partially seen in the voice acting documentary on DISC THREE. Discussed are information about building their characters, working with Hosoda and their favorite works by the director.
in 1080i60 AVC MPEG-4, in 1.78:1, in Japanese LPCM 2.0 without subtitles

Interview with Mamoru Hosoda (43:26)
This lengthy interview with the director has discussions about the initial ideas for the story, how he envisions the future of Internet culture, the creation of the storyboards and story, the difficulty of making a music based film without having any music to beging with, the choice for the film's title, creating the visuals and the characters, the animation techniques used, and much more.
in 1080i60 AVC MPEG-4, in 1.78:1, in Japanese LPCM 2.0 without subtitles

Special Conversations
- Kaho Nakamura and Takeru Sato (18:39)
- Kaho Nakamura and Lilas Ikuta (5:39)
Presented here are one-on-one conversations between Nakamura with two of her co-stars as they frankly discuss the production. Topics include the audition process, reactions to the script, creating their characters, the music, memorable scenes, the dubbing process and more.
in 1080i60 AVC MPEG-4, in 1.78:1, in Japanese LPCM 2.0 without subtitles

Special Discussion with Mamoru Hosoda, Kaho Nakamura, and Daiki Tsuneta (15:11)
This conversation features the director, the voice of Belle/Suzu and Tsuneta of millennium parade. The three discuss their thoughts on the completed film, about the collaboration process to create the music, the recording process, and more.
in 1080i60 AVC MPEG-4, in 1.78:1, in Japanese LPCM 2.0 without subtitles

Release Celebration Interview with Takeru Sato (6:02)
This solo interview with Sato has his thoughts on the finished film, his character, and his memories of other Hosoda films.
in 1080i60 AVC MPEG-4, in 1.78:1, in Japanese LPCM 2.0 without subtitles


Booklet
A 50 page booklet in Japanese is included. First there are printed lyrics to Belle's songs plus a story synopsis. Next are text interviews with the crew, featuring Hosoda, animators Hiroyuki Aoyama. Takaaki Yamashita, Eric Wong, Anri Jojo, Nobutaka Ike, musicians Daiki Tsuneta, Taisei Iwasaki, Ludvig Forssell, Yuta Bandoh, Takayuki Chiyo, as well as comments from the cast members. Also included is a review of the film by anime historian Ryusuke Hikawa, plus artwork from posters, background art, and promo artwork.


With about four hours of extras included, it seems to be a lot but there is a lot of repeated content to be found. In addition, it's a bit unfortunate that Hosoda did not contribute an audio commentary. He contributed to tracks on all his Studio Chizu feature films except "Mirai", and it feels missing without one here. In addition there was very little focus on the behind the scenes of the animation process, as most of the time was focused on the actors and the music. The film has already had a Blu-ray release in Hong Kong earlier this year, which had zero extras. The upcoming US Blu-ray from GKids/Shout! Factory will have some of the extras from the Japanese release, plus a few extras that seem to be different. The upcoming 4K UltraHD Blu-ray and standard Blu-ray release in the UK from All the Anime seems to have all the US announced extras plus an exclusive interview with Hosoda, filmed in 4K and being a 4K exclusive.


Other notable clips:

The first 30 second teaser trailer from Studio Chizu, with English text


English subtitled 90 second trailer from Studio Chizu


Medley of songs from the film, from the Belle Official YouTube Channel


Music video for 「はなればなれの君へ」 ("A Million Miles Away") featuring clips of real locations of Kochi prefecture


Medley of songs from the English dubbed version of the film


Standing ovation and short comments from Hosoda at the Cannes Film Festival


Interview with Hosoda at the New York Film Festival


Interview with Hosoda at ASIFA (The International Animated Film Association / Association Internationale du Film d'Animation)


Packaging


The discs are packaged in a foldout Digipack case, which is housed in a slipbox which also has the booklet. There is also a J-card surrounding the case.

Overall


"Belle" is one of Hosoda and Studio Chizu's strongest efforts in a long line of modern classics, with an amazing soundtrack and wonderful visuals that will linger long after the credits roll. This 4-disc set has an excellent transfer with the video on the 4K disc as well as the standard Blu-ray, though the Dolby Atmos audio mix does seem slightly off balance for my experience. A good amount of extras and nice packaging still makes this recommended, though the lack of foreign language subtitle options will detract non-Japanese speakers from indulging this particular edition.
| | | | | |
| --- | --- | --- | --- | --- |
| The Film: A- | Video: A+ | Audio: B | Extras: B | Overall: A- |