Wicked World [Blu-ray]
Blu-ray ALL - America - American Genre Film Archive
Review written by and copyright: Eric Cotenas (8th May 2022).
The Film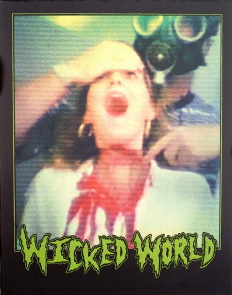 Institutionalized after a killing spree that claimed the lives of his own wife (Pattie Anne Crossman) and several strangers along with his own therapist (Judy Humble), Harold (Eddie Platt) has been deemed harmless after a lobotomy has left him confined to a wheelchair and mostly unresponsive to the physical therapy of his much-despised nurse (Maria Delgado). Although he cannot speak, Harold's thoughts reveal that he still retains the same hatred for society and the same murderous urges, either rehashing his old crimes or conjecturing new ones – including the stalking and killing of a group of college kids on a lakeside jaunt – in apparent preparation to write a book intended to sway the world toward his misanthropic notions on an apocalyptic scale. When former corrupt cop Grant Eklund (writer/director Barry J. Gillis, Things) discovers that Harold may go free, he takes up his weapon to avenge his wife who was one of the killer's victims.

While the synopsis of Wicked World sounds quite straightforward, the execution is anything but. What seems like a series of digressions to work around a staggered shoot starts to gradually coalesce into a more reflexive although never entirely coherent structure. With its multitude of intertitle quotations of everything from song lyrics and manifestos to sociological studies of crime and human behavior, the film seems to possess some artistic pretensions as if Jean-Luc Godard went to Canada to make a film on violence in American society but the entirely post-synchronized performances (some of which sound like they were recorded over the phone), flat acting, and staging – including some animated blood splatter and flying dismembered limbs that seem less like bad CGI than Windows 95 screensaver animations – seems more like an attempt to emulate some sort of punk collage. The film does, however, successfully capture the zeitgeist of the nineties with references to police brutality circa-Rodney King while the killer's rants against political correctness seem as contemporary as the tiresome "anti-woke" screeds; indeed, what keeps the film from coming across like the work of a rabid right-winger is a seeming overall contempt for humanity as a whole affecting punk nihilism. There really seems to be little distinguishing the killer and the cop, with Eklund seemingly unapologetic about his outright murders of suspects and his superior only taking his badge because he got caught on tape (even the person taping the crime is portrayed as an opportunist). The blurring of personality traits between killer and cop seems in line with the interpretation of the film being a projection of the killer's trapped mind as Eklund's subsequent violence against one of the film's few sympathetic characters is as unhinged as the killer's crimes; and the killer "creates" a backstory about his three daughters committing suicide in order to depict himself as a martyr, but is the cop who is attacked by a mob who sarcastically remarks about turning him into a martyr, and he even appears to think of himself as one. Barry J. Gillis' Wicked World may not provoke such analysis and interpretation for all viewers while for others a mental exercise may be the only thing to get through it since it a decidedly different experience from Things.

Video


The subject of protracted post-production – the end credits cite at least three different copyright dates – Wicked World had no video distribution and was hard to see until recently when Gillis unleashed the original cut on Amazon Prime and then a director's cut in 2019 when American Genre Film Archive showed interest in the film (the release under review is a Blu-ray-only reissue of their 2019 Blu-ray/DVD combo edition). The film was shot in 16mm and finished on video, and AGFA's Blu-ray features the original cut (101:55) and the director's cut (100:52) in upconverted 1080p24 MPEG-4 AVC 1.35:1 pillarboxed fullscreen. The grain of the 16mm film source is more apparent in the original cut subject to the limitations of the original telecine and the output of whatever editing system Gillis used in the nineties while it is difficult to tell if the near grainless look of the director's cut was a deliberate choice using noise reduction filters of more modern digital editing software or part of the digitization of the ¾" tape master and/or the NLE's output settings (we have no idea whether the 1080p upconversion of the director's cut was done by Gillis in the output or by AGFA in the disc encode). We will just assume that AGFA's disc is faithful to the provided sources.

Audio


The audio on both is just as problematic as the video sources. In the extras, Gillis admits to "screwing up the audio" in trying for surround sound on the version created for Amazon, and the original cut's stereo image extends to unpredictable placement of dialogue anywhere but center (ProLogic-type playback modes will centralize the dialogue but also render the music and effects as near monophonic). The director's cut has centered dialogue and stereo music and effects but the dialogue sounds even tinnier and in some cases is more muffled by the other sound elements than before. Optional English SDH subtitles are included for both versions and have some errors like "politically correct" being transcribed as "clinically correct" and an utterance of "lose my load" becomes "lose my lose".

Extras


"Reality: Behind the Scenes of Wicked World" (60:02) is a document of the shoot by Platt that is not so much edited as stitched together from multiple shoots with little structure. We see how disorganized the shoot is, Gillis trying not to be rude while various cast and crew make suggestions, location lighting problems with the cameraman asking repeatedly for the time to set up more lights, Gillis growing frustrated with blown takes (his own and other actors), and even perhaps more than a bit annoyed with Platt following him around with his camcorder. Through Platt, however, we learn that several of the unrecognizable cast members were actually active in the Toronto and Ontario theater and film scene with some appearing in small and extras roles in American films shot in Canada during the period. We also discover that Gillis is not playing a dual role as a robber who is executed by the killer but that the role is actually played by Gillis' lookalike brother. It is here that we also get the closest thing to a concise summary of the film and perhaps its "moral" point-of-view from Gillis.

"Marshall Law Video" (5:18) is a music video edited by Gillis from concert footage shot of performances by the titular band and its singer Steve Madden who got a tape to cab driver by day/producer by night Shapur Ahurani in the pre-internet days when Gillis was having a hard time finding quality metal music for his soundtrack. In "Tribute to Eddie Platt" (2:20), Platt's son Stuart recalls that his father was a horror fan and that he met Gillis at a video shop where he signed his Things poster and later contacted his father about a role in a film. Finally, in "Tomorrow's Dream" (23:50), Gillis recalls contacting Joseph Ziemba and Dan Budnik after Things appeared in Bleeding Skull's top fifty horror film list and they expressed an interest in Wicked World. He further offers updates on more recent productions The Killing Games, The House of Many Sorrows – with Ginger Lynn Allen – and the anthology Tales from the Dead Zone which as of 2019 was nearly completed with only the wraparound footage to be shot (actor/producer Len J. Phillips makes a cameo appearance in Gillis' living room). The disc closes out with a video trailer (1:58) for the feature presentation.

Packaging


The disc comes with a reversible cover while the first 2,000 copies ordered directly from Vinegar Syndrome come with a special limited edition embossed slipcover.

Overall


Barry J. Gillis' Wicked World may not provoke such analysis and interpretation for all viewers while for others a mental exercise may be the only thing to get through it since it a decidedly different experience from Things.

---
Rewind DVDCompare is a participant in the Amazon Services LLC Associates Program and the Amazon Europe S.a.r.l. Associates Programme, an affiliate advertising program designed to provide a means for sites to earn advertising fees by advertising and linking to amazon.co.uk, amazon.com, amazon.ca, amazon.fr, amazon.de, amazon.it and amazon.es . As an Amazon Associate, we earn from qualifying purchases.