The Film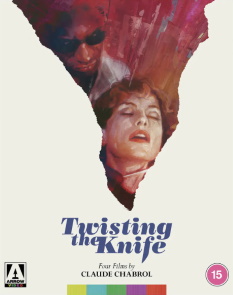 "For five decades Claude Chabrol navigated the unpredictable waters of Cinema, leaving in his wake more than fifty feature films that remain among the most quietly devastating genre movies ever made. Sardonic, provocative, unsettling, Chabrol's films cut to the quick with a clarity and honesty honed to razor sharpness.

"Though influenced by Fritz Lang, Alfred Hitchcock and Jean Renoir, Chabrol's voice was entirely and assuredly his own, influencing in turn filmmakers like Bong Joon-ho, James Gray and Dominik Moll. His amused, unblinkered view of life and refusal to judge his characters makes his films timelessly relevant and accessible to all. Arrow Video is proud to present this second collection of films by Claude Chabrol with a wealth of new and archival extras."

The Swindle: Betty (Elle's Isabelle Huppert) and Victor (La Cage aux Folles' Michel Serrault) are a pair of grifters who live in an upscale Paris flat but spend much of the year in a camper van hitting various professional conventions for Betty to seduce, drug, and rob horny businessmen. A gentleman con artist, Victor makes sure never to take no more cash than their marks would miss (while also noting down their credit cards and passport details for future use). Before a dental convention in Sils Maria, Betty begs off a few days to herself. Although Victor is seemingly willing to give her space, he trails her to the convention venue where he discovers Betty – under her rarely-used pseudonym Sissi Petrova – in the company of younger, handsomer Maurice (Tell No One's François Cluzet, previously the psychologically-embattled protagonist of director Claude Chabrol's Torment). Victor at first suspects that Betty has fallen in love but she reveals that Maurice is a courier set to move five million Swiss francs to the Antilles in an attaché case. Victor befriends the couple in the guise of a retired colonel only to be quietly humiliated by Betty when she tells him that she has already told Maurice about his true identity and that he is to be included on a scheme to switch the case with another before it reaches its destination. Victor warns Betty of stepping out of their league, but even he cannot resist the temptation of five million Swiss francs (or at least what he thinks is a small enough share not to be missed).

One of the lighter Chabrol films – particularly one with Huppert in the lead after the brutal and masterful La Cérémonie (an adaptation of Ruth Rendell's "A Judgment in Stone", previously the subject of a previous poorly-received British/Canadian adaptation) – The Swindle could be classified as one of the more "genre" films in Chabrol's later period, although it should be quite obvious that he is less interested in the mechanics of the con game than the slippery nature of those involved. Just as Victor's interest in Betty is never clearly jealousy or the suspicion of a possible double-cross, Betty seems less likely to be playing both men against one another than throwing in some complications for novelty (Victor more than once refers to her non-sexual "perversity" and even Maurice is struck by her "cold nonchalance"). Even with some physical violence and some atypical (for Chabrol) gore during the latter half of the film, the film maintains a balance of light comedy and suspense (the latter from the director's equivalent perverse delight in frustrating viewer expectations). The Swindle's climactic clinch anticipates developments in Flower of Evil (see below), even if the central relationship becomes even more ambiguous than before once all the cards are seemingly on the table. The first of Chabrol's films shot by Eduardo Serra (Wings of the Dove), the urgent camera moves and probing push-ins on faces show seem to demonstrate that this was the evolving visual style of Chabrol more so than an innovation of his previous cinematographer Bernard Zitzermann (Betty) whose work so contrasted with Chabrol's longest collaborating cinematographer Jean Rabier (Inspector Lavardin). The supporting cast includes a particularly juicy turn by Madame Bovary's Jean-François Balmer. Huppert would work twice more with Chabrol on Nightcap (also in this set) and The Comedy of Power.

The Color of Lies: Ever since he lost a leg in one of the 1986 terrorist bombings in Paris, artist René Sterne (Inspector Bellamy's Jacques Gamblin) has been taking on private commissions and teaching drawing to children in a seaside Breton village with his wife and former physical therapist Vivianne (Vagabond's Sandrine Bonnaire). When eight-year-old Eloise is found dead in the forest by one of her classmates, René seems the likeliest suspect to newly-transplanted Parisian detective Frederique Lesange (Human Capital's Valeria Bruni Tedeschi). All it takes is a news report's factual statement that he was the last to see the girl alive to stir gossip and René quickly becomes isolated and ostracized even though the investigation has produced no concrete evidence with the exception of local handyman Regis Marchal (Pierre Martot), but his shady dealing to lavish his much younger girlfriend Anna (The Count of Monte Cristo's Adrienne Pauly) with gifts does not make him much of an endorsement. When René is even unable to attend the town theatre reception unveiling of one of his trompe l'oeil frescoes, his wife attends with pompous playboy TV celebrity Desmot (Man is a Woman's Antoine de Caunes) who spends weekends in the country. René's suspicion that his wife is having an affair alienates him from her, and it seems as though Desmot is planning to make him the subject of his next novel: a true crime story. Although Lesange's seasoned partner Loudin (Chloe in the Afternoon's Bernard Verley) suggests other possible suspects – and local gossip Évelyne Bordier
(Maitresse's Bulle Ogier) is willing to dish the dirt on everyone in town – the only person who seems to actively searching for an alternate suspect is teenage aspiring artist Victor (Rodolphe Pauly, who would have a larger role in Chabrol's Nightcap) whose little sister Laetitia (Anastasie Loncle)found her classmate's body.

A more somber turn in between The Swindle and Nightcap, The Color of Lies returns to the lives of the provincial bourgeoisie – some less well off than others, and others learning just how dependent they are on the social network ties of their economic "betters" – but Chabrol is once again as unconcerned with the whodunit aspect as the effect of rumor and suspicion on the suspect regardless of whether they are guilty or not, the poisonous pleasure of gossip, and the maddening unknowability of even those closest (including oneself). While the viewer hopes that René is not the murderer, he seems less phased by people turning their backs on him – his last true flash of dignity in that regard is his insistence on refunding the tuition fees of a child whose parent calls to terminate their lessons, responding with the curt "You're the one with the problem, not me. Live with that" – and instead turns immediately inwards, questioning not whether he could have committed the crime and not know it but his wife's fidelity, the feelings underlying his dislike of Desmot, and the destructive nature of his own art (the dead girl having been the first face he sketched since giving up portraits for landscapes and trompe l'oeil is followed up by his decision to do a portrait of Vivianne that is revealing in more ways than one). Lesange seems oddly laser-focused on René – it is suggested that the Paris transplant is trying to make a name for herself – but that may only be because everyone else on the investigation side seems less urgent than those under suspicion; perhaps frustratingly so for Lesange and fellow former Parisian René as Loudin describes Parisians being described as paranoid and "all nuts" by Loudin, and the observation of the detached coroner (Chabrol's son Thomas) that the killing is a "perfect, almost virtual crime" and his blasé "the whole world's sick" to which Lesange responds "apathy is the worst disease." Just as the central crime is pushed to the outskirts of local gossip when another higher-profile one occurs, when the solution does come, things blow over but some people are forever internally devastated.

Nightcap: Eight years after reuniting in the shadows of their quickly dissolved teenage marriage and his subsequent widowing, Swiss chocolate empire heiress "Mika" or Marie-Claire Muller (Isabelle Huppert) and concert pianist André Polonski (That Most Important Thing: Love's Jacques Dutronc) remarry in a civil ceremony with the approval of his son Guillaume (The Color of Lies's Rodolphe Pauly) to whom Mika has been a mother figure since he was a child what with his photographer mother away most of the time and his temperamental father focused on music and otherwise addicted to sedatives. The wedding makes the local papers, spurring Pauline (Dr. M's Isolde Barth) to rehash an incident from the past of local coroner Louise Pollet (Le Spettatrice's Brigitte Catillon) – mother of the girlfriend of Pauline's son Axel (Brocéliande's Mathieu Simonet) – involving a mix-up at a clinic between the Polonskis' newborn son and Louise's own newborn daughter. The story stirs the imagination of Louise's now-grown daughter Jeanne (Kiss of the Damned's Anna Mouglalis) since, like André, she is a pianist and she finds the parallels with the film Life is a Long Quiet River amusing. Behind her mother's back, she goes to visit the Polonskis. Guillaume seems the most troubled, André the most intrigued – Jeanne's passion for music stimulating next to Guillaume's lack of focus on various non-artistic interests – and Mika the most hospitable. Jeanne's imagination is stirred again when she by chance observes Mika's seemingly deliberate "clumsy" spilling of a thermos of hot chocolate she prepares nightly for Guillaume at bedtime. Jeanne's chemist boyfriend Axel discovers in a sample obtained from a stain on Jeanne's sweater sleeve the presence of tranquilizer benzodiazepine. Guillaume disbelieves her when she tells him but starts to question the circumstances of his mother's death behind the wheel on the winding Swiss roads at night with barbiturates in her system. Mika, meanwhile, has met with Jeanne's mother and expressed her concern for the girl's state of mind just as she has of Guillaume's feelings to his father. Things come full circle one fateful night when history threatens to repeat itself.

Light on the surface with a deep core of despair, Nightcap – the international title, although the Americans as well as both English- and French-speaking Canadians got it under the original title Merci pour le chocolat – did not turn out to be the last collaboration between Chabrol and Huppert but it may be the definitive one. We are presented with the popular image of Huppert as icy and inscrutable. Even when she is edged out of the conversations of others, she can be found "weaving" (or crocheting) her "chocolate spiderweb" – the title of the source novel by Charlotte Armstrong whose work Chabrol previously adapted for La rupture – but Mika seems as much a monster as a victim of that Huppert-ian inscrutability. She claims that "instead of loving, I say 'I love you' and everyone believes me" and others accuse of her having everyone fooled, but the audience sees a stiltedness in her interactions that make her sincerity seem insincere or clumsy, and her deliberate action as anything but smooth as if she cannot vary from a pattern (in retrospect, it seems as though she would have "accidentally" knocked over the thermos of chocolate even if the family had not had an unexpected visitor). Axel's description of the drug found in the chocolate suggests an equally monstrous alternative to the slow poisoning Jeanne and the viewer may have immediately surmised, but even the possible motivation for the murder of the intended target seems a headscratcher with Mika seemingly more likely to target senior advisor Dufreigne (Amelie's Michel Robin) for calling out her decision to fund various pain-relieving clinics rather than sponsor clubs and schools with the company's promotional budget, seemingly more outwardly resentful as an adopted orphan of any expressions by others of avuncular or materteral feeling towards her. She tells André that "some people fool themselves" seemingly in regards to her figurative victims but she may be deceiving herself most of all when she seems to at last surrender not because she may soon be caught but because she is exhausted by emotion she claims she does not possess in the final shot in which she takes on the look of a fetus in the center of her crocheted cobweb. Like The Color of Lies, the photography of Renato Berta (Au revoir les enfants) steers away from the urgent and probing tracking shots in favor of breezy pans that find Mika on the outskirts of scenes spatially and psychologically while the scoring of Matthieu Chabrol offers effective but understated support around the classical piano source cues.

The Flower of Evil: For six generations, the Bordelais families Charpin and Vasseur have intermarried; however, the incestuous underpinnings of this union are less the subject of gossip than the tragic events that preceded some of these marriages. In particular, a leaflet sent out to smear councilwoman Anne Charpin-Vasseur (The Green Room's Nathalie Baye) in her campaign to run for mayor highlights three particular incidents: the car accident that killed Anne's husband and the wife of his brother Gérard (Caché's Bernard Le Coq) who Anne subsequently married, the dishonor brought upon grandfather Pierre Charpin by his son François Charpin who was shot by the Resistance – other versions of the story posit Pierre as the Nazi collaborator whose son cut off all ties with him – and the murder of Pierre of which his daughter Micheline was accused and of which she was acquitted yet has continued to live under gossip and suspicion into old age as dear Aunt Line (Moulin Rouge's Suzanne Flon). When Gérard's son François (Benoît Magimel, Huppert's The Piano Teacher co-star) returns after studying law in Paris and spending three years in America, he is less concerned than his unsupportive father and stepmother – not to mention her omnipresent running mate Mathieu Lartigue (Chabrol's son Thomas Chabrol) – in someone digging up old family scandals than in the real reason he left: his growing attraction to stepsister Michèle (All About Actresses' Mélanie Doutey) who has blossomed in a lovely young woman studying psychology in college. Michèle has no such qualms about her own attraction to François, and the pair decide to get away for the last few days coming up the election with a trip to Pilat where the Charpin house still stands with the approval (nee encouragement) of Aunt Line. With her cod psychology, Michèle helps François sort out his issues including his varying degrees of hatred for his family members, particularly his father who both come to suspect of being behind the leaflet, but history may repeat itself in more ways than one when Aunt Line discovers evidence of Gérard's infidelity.

The final collaboration between Chabrol and MK2's Marin Karmitz – followed by his final four films for Alicéléo – The Flower of Evil follows a trio of films featuring muse Isabelle Huppert bookended by two films focusing on the psyches of male protagonists Torment and The Color of Lies and featuring a principal cast of Chabrol newcomers. While it harkens back to Chabrol's sixties films about the dark side of the bourgeoisie family as well as referencing some plot points from Inspector Lavardin from the eighties – indeed, the film is also regarded as part of a trilogy with the Huppert vehicles La Cérémonie and Nightcap – the film is perhaps for Chabrol even more playful than anything before. The plot is knowingly contrived – François asks Michèle if she is not disturbed by how "history keeps repeating itself" while Aunt Line remarks during the climax that she feels as if she is doing things backwards – and wonderfully perverse with the healthiest relationship in the film being an incestuous one (when François tells Line and Michèle that he once overheard his mother tell his father that he was not his son, François suggests that he might not even be related to Michèle while overlooking the possibility that they might actually be half-siblings rather than cousins), a relationship encouraged by their parents, and confirmation of which is received by Aunt Line with a perversely delighted smile. While history does appear to repeat itself – as evidence by Line's auditory memories that aver to a very close relationship with her own brother François – it appears that the only manipulation is that of the plot since François ran away because he felt the weight of the family history encouraging his attraction, and nurturing but still formidable Line counters Anne's reaction that the union is what she and Gérard had always dreamed of with, "They don't want your dreams." That the backstory as explained in the leaflet is so muddled that one is uncertain to which current characters the past characters mentioned are most closely related is deliberate with both sides of the blended family feeling the weight of their combined past. The film is also more visually-flashy than usual for Chabrol, opening with a series of long tracking shots eventually stumbling across a body, framing the family as predatory jungle animals with the conservatory with fauna foregrounded along the edges of the compositions, using camera and editing trickery to transition to Line's memories which are more auditory than visual, and even craning down in one shot to cement the parallels between Line and Michèle by framing them through the bars of a foreground bird cage. Close attention to details Chabrol buries within the mise-en-scene reveals that the bookending action under the opening titles is a flashback rather than a flashforward, furthering the idea of history repeating itself as the climax reveals a series of mirrored images. Magimel would have a similarly fraught relationship with Le Coq as the new man in his mother's life in Chabrol's subsequent film The Bridesmaid (also based on a novel by Rendell) and would also be part of a bizarre love triangle in Chabrol's A Girl Cut in Two.

Video


The Swindle was released theatrically and on video and PAL-converted DVD by New Yorker Films and in the UK by Second Sight Films. The film was remastered in HD by Cohen Media for theatrical and Blu-ray release – the latter a three-disc set with Torment and Betty – and like those former two features was more recently remastered in 4K by MK2 and first released on Blu-ray in France (first in the boxed set Suspense au féminine and then individually) followed by Arrow's 1080p24 MPEG-4 AVC 1.66:1 widescreen presentation. Colors are sedate apart from some neon, accents of Huppert's wardrobe, and some minor bloodshed. While we have not seen the MK2 disc of the 4K remaster, Arrow's grading shares in common with Betty and Torment a greenish tinge more evident in the white walls of hotel room interiors than the flowing costume of the pretentious stage performer who so bores the protagonists in Sils Maria or the snowy landscapes (as if to mimic or simply not correct the color cast of flourescent light since it is not quite as off-putting as it was in the former films). The enhanced detail seemingly reveals the unusual use of visual effects in a Chabrol film with the animated roulette ball that spins the opening credits also seemingly employed in some subsequent shots to make sure it stops on red or black.

The Color of Lies went straight to video and PAL-converted DVD stateside as part of Image Entertainment's Kimstim Collection before Cohen got an HD master from MK2 for their Blu-ray, and this is the same master that Arrow has used for their 1080p24 MPEG-4 AVC 1.66:1 widescreen Blu-ray (MK2 has so far not remastered this title in 4K), and unlike some of the other titles in the two Arrow Chabrol sets, there is no question that this is not only an improvement on the DVDs visually but also on the Cohen disc by featuring optional subtitles. Pale skintones on the PAL DVD transfer are warmed up but the chill look of the Breton seaside remains and this is a film in which the color blue is organic to almost every shot (naturalistically in terms of the overcast exteriors but taking on obsessive meaning when the color appears in the presence of the protagonist and his environments). There is a strange jump cut of a few frames at 80:41, but Arrow has informed us that it it was present on the various DVD editions so it may either have been a lab error or an odd stylistic effect by Chabrol (which seems unlikely).

Apart from MK2's double-sided DVD – which was anamorphic and included extras but was not English-friendly – Nightcap has had a difficult time in the DVD format. America's First Run Features DVD and Canada's Remstar DVD both featured the same PAL-converted non-anamorphic 1.62:1 letterboxed transfer but the former had burnt-in English subtitles while the latter had optional ones. Artificial Eye's UK DVD was anamorphic but cropped to 1.78:1 with large burnt-in subtitles. None of these discs retained the original 5.1 mix, which was also the case with Cohen Media's Blu-ray which was correctly-framed but only had 2.0 stereo audio and did not seem to be correctly graded, looking pale and dark. Arrow's 1080p24 MPEG-4 AVC 1.66:1 widescreen Blu-ray – derived from the same 4K master as MK2's Suspense au féminine boxed set and individual editions – finally looks great with none of the color cast issues of other titles in the set in the film's many bright and white environments. The grading is such that one may notice for the first time that Mika's yarn cobweb is indeed chocolate brown rather than black, Huppert's freckles show through her make-up, and the enhanced resolution makes the long take close-ups on her face all the more powerful.

The Flower of Evil was distributed theatrically and on PAL-converted DVD in the United States by Palm Pictures, the DVD featuring a helpful family tree diagram not included in other editions like the where it was distributed theatrically by Cinefrance (now Cinefile), but that edition paled next to the French 2-disc MK2 edition which featured English subtitles for both the feature and a couple of the extras. The film was remastered in 2020 for MK2's Blu-ray Suspense au féminine boxed set and issued in a solo edition the following year. Arrow Video's 1080p24 MPEG-4 AVC 1.66:1 widescreen Blu-ray is derived from the same master and improves on the DVD master in terms of sharpness and fine detail but Serra's night interiors and exteriors still look as odd as they did on DVD, still too dark (punching up the brightness reveals a tinge of blue in the whites that looks positively neon rather than moonlit in one bedroom scene and the exterior of the town hall). If the film looks a tad flat, it is due to the late nineties, early-2000s aesthetic (according to the extras, Magimel addressed critical remarks about the film looking "like television" in an interview).

Audio


The Swindle was mixed in Dolby Stereo and Arrow has included the matrixed track in LPCM 2.0, generally emphasizing the scoring and subtle atmosphere in the early scenes while scenes in the middle of the film in Sils Maria have more ambience from the convention noise to airport crowds while the tropical setting of the third act goes back to more restrained use of the rear channels. The dialogue track make extensive use of ADR not to replace dialogue but to depict the ambiance of the settings with tons of throwaway remarks by hotel guests and convention goers of varying degrees of pseudo-intellectualism and arch conservatism (all the better for non-French speakers that the subtitles pick up all of these bits).

The Color of Lies was mixed in Dolby Digital but only as a matrixed 4:2:4 surround track, and Arrow's LPCM 2.0 track reveals an intimate, dialogue-heavy mix with surrounds used for spare atmosphere. The optional English subtitles are once again helpful in capturing some throwaway dialogue (even some bits uttered up front and center in the mix by busybody characters who would seem to have little to contribute).

Nightcap and The Flower of Evil were both mixed in Dolby Digital and Arrow has included on both the original discrete surround track in DTS-HD Master Audio 5.1 and an LPCM 2.0 matrixed stereo option. Like other French dramas of the period, both utilizes the surround sound field conservatively. Nightcap uses layered sound effectively in conveying characters' worlds invading one another's from the clash between André's piano and Guillaume's video game to Jeanne's own playing under André's tutelage a reminder of her presence in the lives of Guillaume and Mika. The Flower of Evil gives source and score music spread as well as delivering a contrasting ambience between the Vichy airport scenes and the town hall reception scene with the more subdued Bordeaux suburban scenes – goosed by barking dogs and swearing children – and the idyllic silences of the Vasseur house and seaside Charpin house. Optional English subtitles appear to be free of errors apart from transcribing the town of Lignac as Glignac.

Extras


The Swindle is accompanied by an audio commentary by authors Barry Forshaw and Sean Hogan who note Chabrol's choice of a "frothy" subject to mark his fiftieth film, how Cahiers du Cinema ignored Chabrol once he started making genre films (while also praising the genre output of Hollywood filmmakers) until La Cérémonie and then damned him with faint praise by declaring him one of the most "profitable" French directors. In the context of genre, they discuss similarities to House of Games and The Sting while also wrestling with the ways in which Chabrol frustrates the viewer not by misdirecting them with details of the con but by cutting away and eliding details and instead holding interest with the "slippery" nature of the characters, as well as the question as to whether the film qualities as arthouse or popular cinema.

"Chabrol's 'Soap Bubble'" (14:36) is a visual essay by Catherine Dousteyssier-Khoze, author of "Claude Chabrol: The Aesthetics of Opacity" who engages with Chabrol's provocative statements that the film was his "soap bubble" and his most autobiographical film. She looks at the film's antecedents in Hitchcock and Lang as well as in Chabrol's own filmography with the villain an echo of that of Chabrol's spy thriller Blue Panther, the film's "visual swindle" in the interplay of actors and art direction, the unanswered question of the nature of the relationship between Betty and Victor, and the parallels between the two and cinematic partners in crime Huppert and Chabrol. In "Film as a Family Affair" (38:11), Chabrol's stepdaughter and assistant director Cécile Maistre-Chabrol – daughter of actor François Maistre (The Discreet Charm of the Bourgeoisie) and Chabrol's third wife and script supervisor Aurore Chabrol – whose parents discouraged her desire to be an actress (along with her father's psychiatrist who thought his mental illness might be hereditary) and her discovery of the behind the scenes side of filmmaking, her promotion from second assistant director to first assistant under Chabrol, treating scheduling Chabrol films in which he went into scenes without storyboards or shooting plans as a brainteaser, and the family atmosphere needed to facilitate his filmmaking. The behind the scenes (8:22) features Huppert's off-quoted remark that Chabrol regarded La Cérémonie as his Marxist film and The Swindle as autobiographical while Serrault provides insight into his character as motivated by fun and passing the time rather than greed. In "A Conversation with Isabelle Huppert" (25:37), Huppert suggests that Chabrol examines destiny from a human perspective rather than a godlike one and how his observation of human behavior is ironic but also humanist.

Ported from the DVD is the introduction by film scholar Joël Magny (2:28) – who discusses the film's flopping at the box office following La Cérémonie, the performances of Huppert and Serrault, and the contrasting sunny and snowy settings of the film – while the selected scene commentaries by director Claude Chabrol (24:20) highlights the formal elegance and surface simplicity of the film's visuals, the use of foreground and background – conversation between Betty, Victor, and Maurice is deliberately banal at a point when we should be paying attention to the background of the shot where danger lurks – and the voyeuristic perspective switches from visual to aural when Victor follows Betty and Maurice from the dance performance out into the snowy landscape (both Betty's gestures and her provocative dialogue towards Maurice actually meant to Victor at a distance). The disc also includes the theatrical trailer (1:45) and an image gallery.

The Color of Lies is accompanied by an audio commentary by critic Barry Forshaw and author Sean Hogan who find antecedents of the film in Hitchcock and his "transference of guilt" as well as films like Henri-Georges Clouzot's Le Corbeau, the treatment of children in Chabrol films, the observation that everyone in the film is more or less a liar – which makes one wonder if the killer was actually caught with evidence from the victim or if it was a lie to shift blame that happened to finger the perpetrator – de Caunes' recognition in the UK as the host of "Eurotrash" rather than as an actor, and the much-criticized underplaying of Bruni-Tedeschi. "Nothing is Sacred" (13:57) is a visual essay by film critic Scout Tafoya "examining the ideas of art and legacy." While I'm not sure I buy some of the grander statements made in the piece, Tafoya does point out Chabrol's of television and the media in exposing betrayal (from the mention by the reporter of René as the last to see the victim that sets into motion his inner and outer persecution as well as his noticing his wife's absence from the television broadcast of the theatre reception).

Ported from the DVD is the behind the scenes (25:47) in which Chabrol discusses working with Bonnaire again and first coming across Gamblin and de Caunes in other works, scenes with Ogier, as well as the sight of the cast and crew breaking between scenes for fresh, shucked oysters. Also included is the introduction by film scholar Joël Magny (2:33) who frames the film in yet another trilogy – this time the "Trilogy of Doubt" with Torment and Nightcap – as well as discussing the cast and characters (being one of the few to point out the "thankless" role given to Bonnaire). In the selected scene commentaries by director Claude Chabrol (20:08), Chabrol cites Lang in his use here of symmetry in shooting visuals meant to be banal until people enter the frame or the camera comes across one of the protagonist's art objects. The disc closes with the film's theatrical trailer (1:14) and an image gallery.

Nightcap has an audio commentary by film critic Justine Smith compares the film to the source novel by Charlotte Armstrong, points out various in-jokes about Swiss culture – the antihero's nickname "Mika" is a reference to century-old Swiss chocolate empire Milka – as well as Chabrol's feelings about the masking myth of Swiss neutrality, the role of art in the petit bourgeoisie, and the various doubling pairs of characters. In the visual essay "When I Pervert Good..." (11:15), film critic Scout Tafoya also looks at the film's "twins" as well as its orphans, and suggests that Chabrol is the "orphan offspring" of Lang and Hitchcock, neither really one or the other.

From the DVD comes "Isabelle Huppert, héroïne chabrolienne" (7:05), an interview with Huppert by critic Serge Toubiana in which she reveals that Chabrol described the character as a "nasty piece of work" who appears to be good while in "Une demi-heure avec Dutronc" (32:02), Dutronc discusses the differences between singing and acting, the generosity of Chabrol in allowing actors space to interpret their characters, and comparing Chabrol to classical music and the then-recent Taxi 2 as rap. The behind the scenes (26:05) delivers the usual look at the location filming, remarks from Aurore Chabrol, the cast, and regular camera operator Michel Thiriet as well as some remarks from Huppert with deeper psychological of her character and the question of whether or not she is acting with premeditation or revealing and remembering by reenacting an earlier crime through repetition. In the introduction by film scholar Joël Magny (3:11), he discusses the source novel, the changes to the adaptation, and the "sickly sweet perversity" of a monster with a "constant need to do good." In the selected scene commentaries by director Claude Chabrol (43:48), Chabrol discusses the search for "meaningful frames" in his coverage, notes that every character manipulates including the premeditated recollection by Louise's friend that sets things in motion, putting framing barriers between Huppert and the camera in scenes in which she is unable to enter the emotional worlds of other characters, as well as citing the lesser-acknowledged "perfidious enjoyment" of Jeanne as the intrusive presence in the lives of the family with knowing visual references to her resemblance to André's first wife. The disc closes out with the screen test for actress Anna Mouglalis (10:33), the film's theatrical trailer (1:39), and an image gallery.

The Flower of Evil is accompanied by an audio commentary by film critic Farran Smith Nehme who notes the flashier (for Chabrol) visual flourishes of the film, points out details under the credits, foreshadowing visuals and symbolism – Chabrol's inspiration from the Lizzie Borden true crime story, as well as some observations that may cause viewers to reassess the performance of Flon and the more understated one of Thomas Chabrol. Nehme also discusses Chabrol's New Wave beginnings, the stages of his career, his debts to Hitchcock and Lang, as well as the seeming contradiction between his statement that he is a "man of the Left" and how he makes the lives of the bourgeoisie so appealing. "Behind the Masks: Remembering Claude Chabrol" (14:30) is an appreciation by Agnès C. Poirier – author of "Left Bank: Arts, Passion and the Rebirth of Paris 1940-1950" – who interviewed Chabrol a number of times before his death, noting not only the oft-cited influences of Hitchcock and Lang but also Jean Renoir and authors Gustave Flaubert, Guy de Maupassant, and Honoré de Balzac, his self-deprecating nature, and the titular masks he claims to wear one on top of the other: including that of the gourmand, the "old moralist" – that is, an observer of human nature – and an intellectual.

Ported over from the DVD is the introduction by film scholar Joël Magny (3:31) who discusses the film as part of a trilogy with La Cérémonie and Nightcap, the Lizzie Borden connection, and the use of newcomers to Chabrol's oeuvre in the cast, as well as the behind the scenes piece "Parfums de La fleur du mal" (25:36) in which Magimel amuses Chabrol and the cast by being a "smartass" but also makes the telling remark that his character seems like a "victim" in relation to the other characters in a film in which women drive the narrative, Baye discusses how her character's all-encompassing interest in local politics hides her self-doubts, Flon recalls that Chabrol's reputation preceded him when she told other actors she was to work with him, and operator Thiriet mentions that Chabrol shot more takes than usual and was more searching in his coverage but apparently found what he was looking for since they usually went with the last or second-to-last takes.

Also ported over is the disc's interview with co-writer Catherine Eliacheff (24:47) who notes that the film has in common with La Cérémonie and Nightcap the theme of a woman not punished for a crime she committed but confessing to one she did not in one way or another, with Aunt Line's false confession essentially repeating history by passing on her own guilt onto the next generation. She also reveals that she partnered with author Louise L. Lambrichs since she had not worked from an original story before, and that Chabrol ended up extensively rewriting their script which indicated to her that the subject matter was close to his heart. She also provides some stimulating observations about the various layers of story, temporal setting, and locations (with the family seemingly needing to venture from the private space of the home to the public to actually be in their own worlds from Anne's campaigning and Gérard's pharmacy and lab to François, Michèle, and Line speaking and acting freely at the house in Pilat but in hushed tones when they return to the family home where "everything's a secret").

In the selected scene commentaries by director Claude Chabrol (49:29), Chabrol discusses his use of camera trickery to move into flashbacks, the importance of the dates mentioned in the leaflet, the double meanings of words when Line, François, and Michèle play Scrabble, staging for tension, as well as the difficulty of shooting the film's death scene (with workprint footage showing takes of a shot intended to be projected in reverse). Closing out the disc is the film's theatrical trailer (2:14) and an image gallery.

Packaging


Not included for review are the 80-page collector's booklet of new writing by Sean Hogan, Brad Stevens, Catherine Dousteyessier-Khoze, Alexandra Heller-Nicholas, and Pamela Hutchinson and the limited edition packaging featuring newly commissioned artwork by Tony Stella.

Overall


The existence of only twelve MK2/Chabrol collaborations suggests that the films could have been better divided thematically between Lies and Deceit: Five Films by Claude Chabrol, Twisting the Knife: Four Films by Claude Chabrol and an as-yet-unannouced/possibly non-existent third volume since The Color of Lies feels like the odd man out amidst three more "playful" thrillers, but hopefully the films themselves and the old and new extras should make the transfer flaws less of a concern in bringing Chabrol's works to a wider audience.