The Film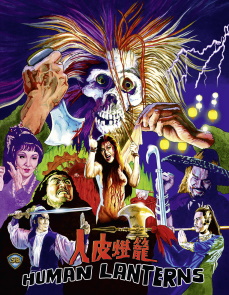 After arrogant Lung Shai (Fist of Fury's Tony Liu) loses face at a reception held by elder Master T'an (The Man with the Iron Fists's Kuan Tai Chen) who humiliates him by making the guest of honor the younger man's brothel mistress Yen Chu (Perils of the Sentimental Swordsman's Linda Chu), Lung resolves to best his rival at the Chinese New Year lantern festival. Drunken lantern maker Old Tsui (Vengeance!'s Ching-Ho Wang) confesses that he is not the man behind his creations and introduces him to Chao Ch'un Fang (Five Fingers of Death's Lieh Lo) who has lived in the swamps since Lung Shai himself scarred his face in a duel for the hand of Lady Chin (Black Magic 2's Ni Tien), now Lung Shai's wife. Chao Ch'un Fang, however, has not let go of his grudge and Lung Shai's patronage gives him the perfect opportunity. When Lung Shai drags him to the brothel to celebrate their agreement, he and everyone else there overhear an argument between Lung Chai and Yen Chu over his humiliation by T'an who wants to make Yen Chu his concubine. Later that night, Chao Ch'un Fang dresses up as a skull-faced ape acrobat and abducts Yen Chu. It seems that Chao Ch'un Fang has learned of ancient techniques of making the finest paper lanterns from human skin and has been perfecting the art with a few vanished females here and there. When Constable Pan (Five Deadly Venoms' Chien Sun) investigates Yen Chu's disappearance, T'an is only too eager to point the finger at Lung Shai who publicly scoffs at the presence of the constable's men outside his house at all hours but loses face once again when T'an directly confronts him after his sister (Rendezvous with Death's Hsiu-Chun Lin) also vanishes. T'an sends an assassin (Hard Boiled's Meng Lo) after Lung Shai, and Chao Ch'un Fang uses the distraction to make off with Lady Chin as well, setting up Lung Shai and Master T'an for a battle to the death… but even then the madman has other plans.

Despite its reputation gleaned largely from horror reference books, Human Lanterns looks more like an old fashioned Shaw Brothers wuxia than a Category III sex- and gore-fest along the lines of one of its Shaw contemporaries like Corpse Mania or The Seeding of a Ghost. At the same time, the film is more reflexively critical of the matters of honor in which gaining and losing face is a dick-swinging contest between two boastful men who consider women to be as much trophies as lanterns. Although Lung Shai appears to love the Lady Chin, he did win her hand in a duel, and he wants to "own" Yen Chu but will not redeem her to become his concubine while T'an's concern over his sister disappearing could as easily be taken as an affront for viewers who see T'an's "older and wiser" personality as a mask. Chao Ch'un Fang may be mad but he really is no more sympathetic, no pining "Phantom of the Opera" or "Hunchback of Notre Dame" in that he only now cares for Lady Chin as a possession of her husband and admitting to T'an that they have no quarrel but that he used him to stir the pot. While it is easy to level charges of misogyny against a lot of Hong Kong product from this period, this is a film in which the ornamental status of women in Hong Kong exploitation is taken to extremes, with Lung Shai marveling at the lanterns even as he comes across the skinned donors and ultimately preferring to remember his lost love through an ink drawing of a female form on the paper shade of a lantern at the end. The only survivor learns a hard lesson and but is hardly redeemed in spite of his plans for a more contemplative remainder of his existence. While it may not live up to its notorious reputation gleaned from reference books and publicity stills, Human Lanterns is less of an envelope-pusher than an example of the ways in which Shaw Brothers tried to adapt to the changing market of the early eighties, not quite a prestige costume martial arts pic nor gross-out gorefest.

Video


Like the majority of later Shaw Brothers films that were not imported stateside on tape via Ocean Shores or through unauthorized labels, Human Lanterns was more read about than seen until Celestial Pictures spent millions on the rights to the Shaw catalogue and started the process of restoring them in the early 2000s with a lot of their early restorations suffering from non-anamorphic transfers, missing frames, and local Hong Kong censorship. Their first whack at the title in Hong Kong from IVL was mastered in PAL and non-anamorphic, representing the Hong Kong theatrical cut of the film shorn of nearly four minutes of footage. The master they offered overseas – in the U.S. from Image Entertainment and the UK from Momentum Pictures – restored this footage from the negative but was missing less than thirty seconds of skin-peeling that actually was present on the Hong Kong disc. 88 Films' 1080p24 MPEG-4 AVC 2.35:1 widescreen Blu-ray – preceded to the market by a German edition, the 1080i50 encoding of which may suggest an upscale of a PAL master – makes no boasts about being a new restoration, just an "HD transfer from the original negative" suggesting that this is indeed the second master into which the missing footage has been restored causing a minor coarsening in quality but definitely not on the level of SD video inserts. The image is richly colorful thanks to the art direction while sharpness varies more so due to the original photography – although nowhere near the Vaseline-smeared stylistics of Corpse Mania – and the older anamorphic lenses that bow the center of the image during panning shots seem more responsible for such moments of smeariness than decade plus old transfer technology.

Audio


The only audio option is a Mandarin LPCM 2.0 mono track, and there is much speculation as to why this film out of the many Shaw Brothers entries of the period was only dubbed in Mandarin and not also Cantonese. There are no glaring sync issues with the dubbed dialogue, but the foley effects do sound a bit overfamiliar after seeing so many martial arts flicks in a row, and the score sounds more like twenty-year-old library scoring in terms of style more so than recording quality. Optional Engilsh subtitles are included.

Extras


Extras start off with an audio commentary by Kenneth Brorsson and Phil Gillon of the Podcast on Fire Network in which they discuss the "genre hybrid" of a film in the context of Shaw's other gross-out films and their "downhill" trajectory during the decade. They also discuss the film's lack of sympathetic characters – particularly the "dickish" lead and his story arc – as well as the film's censorship details but also provide much information on director Chung San who was a jobbing filmmaker but an ambitious one who innovated the use of the Steadicam in Hong Kong cinema, as well as making that director's final films – before retiring at just age fifty-one – particularly Angel Hunter are worth seeking out.

While the Hong Kong DVD featured an interview with actress Susan Shaw (Chinatown Kid) – who has only a short appearance in the film as a guest at T'an's party – "A Shaw Story" (13:48) is a brand new interview with the actress who recalls that it was easy to get into the industry at the time in which she did because she had no qualms about showing bare skin and was made a star by Li Han-hsiang in a handful of erotic films. Her stardom was short as her appearance at Cannes gave Taiwan an excuse to try to ban her films and the output of Shaw and Golden Harvest whose output did well in the country at the expense of their own product, effectively blacklisting her apart from minor roles which lead her to pursue a singing career and touring before getting married after which she appeared in the Category III-rated sexuality documentary Women's Private Parts. She also recalls her time on the set of the film and Chung San's intensity.

In "The Beauty and the Beasts" (14:39), actress Linda Chu also recalls being discovered by Li Han-hsiang who – along with Chung San – begged her to do nudity but she refused, thinking of her career in the long term (as well as the contemporary suicide of a colleague after two films in which she appeared nude). She consented to using a body double in a shot where her dress was ripped off and recalls how hands-on Chang Sun was in guiding her through the horror scenes. She also confirms that Mandarin was spoken on-set by those who could speak the language but that it was all dubbed anyway. The longest interview is "Lau Wing - The Ambiguous Hero" (51:11) which suffers as much from bad recording quality – thankfully it is subtitled – as the actor's eccentric delivery. He recalls being the only male recruited by Shaw the year he applied, working as an assistant director for Lo Wei before getting a lead role, and deciding to leave Shaw after being wooed by Golden Harvest for the new experience, and subsequently moving on to television in the eighties with ATV. The piece is more of an overview in which he reveals he has no issues with being typecast as each role requires a different approach no matter how similar, and noting of Human Lanterns that under contract at Shaw one tended to agree to do films in certain genres rather than specific projects. The disc closes out with the film's theatrical trailer (1:33).

Packaging


The disc is housed with a reversible cover. Limited to the first 3,000 copies is a gloss O-ring slipcase with brand-new artwork from R.P. "Kung Fu Bob" O'Brien, double-sided foldout poster, and booklet notes by Barry Forshaw in which he believes that Chung San never expected audiences to take seriously the "unashamedly abrupt" splicing of different genre elements, likening the overall approach to manga while also conceding the film's narrative shortcomings.

Overall


While it may not live up to its notorious reputation gleaned from reference books and publicity stills, Human Lanterns is less of an envelope-pusher than an example of the ways in which Shaw Brothers tried to adapt to the changing market of the early eighties, not quite a prestige costume martial arts pic nor gross-out gorefest.