Outside the Law [Blu-ray]
Blu-ray B - United Kingdom - Eureka
Review written by and copyright: Eric Cotenas (15th May 2022).
The Film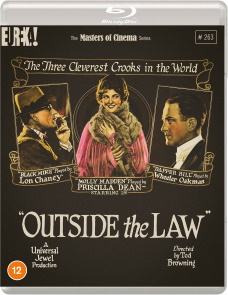 Under the counsel of wise Chang-Lo (The Devil Doll's E. Alyn Warren), aging gangster "Silent" Madden (The Birth of a Nation's Ralph Lewis) has been working on rehabilitating himself and hopes that his daughter Molly (The Wildcat of Paris's Priscilla Dean) - known to the police as "Silky Moll" – will follow in his footsteps. Rival gangster Black Mike Sylva (The Phantom of the Opera's Lon Chaney), however, has been nursing a grudge against Maden for some time and plans to frame him for murder and see him railroaded, whereupon he hopes Molly will return to a life of crime. Madden strolls into the middle of a staged shootout and is wounded. When stool pigeon Humpy (The Unknown's John George) bears false witness against Madden and he is arrested, lack of physical evidence saves him from a life sentence but he is sentenced to eight months "because he was there." Chang-Lo criticizes the "clean administration" in which the innocent must suffer with the guilty and worries that a wrongfully-sentenced man is more likely to come out of prison with "murder in his heart." Molly is incensed and gives up on rehabilitation as hopeless for her kind; whereupon Black Mike proposes a heist of jewelry belonging to wealthy Morgan Spencer (Nomads of the North's Melbourne MacDowell) with the profits split between the two and third partner "Dapper" Bill Ballard (The Phantom Empire's Wheeler Oakman). While Bill stood silent when Black Mike framed Madden, he has misgivings about Black Mike's plan to frame Molly and warns her. Molly decides that they should go through with the heist and doublecross Black Mike who is at that very moment "warning" the Chief Inspector (The Lane That Had No Turning's Wilton Taylor). Molly and Bill manage to evade the police and Black Mike and his gang, holding up in an apartment building posing as a couple. Holed up for months in a small apartment, Molly is ever vigilant while Bill find distraction in the kid (The Lonely Road's Stanley Goethals) next door who seems lonely and fatherless. Molly tries to discourage Bill's affection but she finds herself as much in need of affection and wanting to give it in return. Bill tries to convince her that they should go straight but she is unwilling to surrender the jewels. Although he is unaware of her whereabouts, Chang-Lo is so convinced that Molly will make the right decision that he makes a bet with the inspector that Molly will not be prosecuted if she does return the stolen jewels; however, Black Mike's lookouts are closing in on Molly and Bill, as are the police.

A seemingly atypical film from the director of Dracula and Freaks (Tod Browning) and the star ofThe Phantom of the Opera and The Hunchback of Notre Dame, Outside the Law is a pre-film noir sentimental crime drama or melodrama that seeks redemption for the fallen in Eastern philosophy and criticizes Western methods of "reform" without quite bringing up police corruption (which was actually quite rampant in the early half of the twentieth century). Chaney in a dual role – as "Black Mike" and Chang-Lo's faithful servant Ah Wing (who gets in on the action fighting "himself" during the climax) – takes a back seat to Dean and Oakman who were actually bigger names in 1920 but forgotten since. The young pair acquit themselves well with a contrived script in which Bill is a softy who nevertheless sat by while Black Mike framed Silent Madden but is just as sure that all Molly needs is to wrap her arms around a child to want to go straight (which she seemingly does in a about a minute of screen time). The film does push the envelope pre-Hays code with some intimations of premarital sex – it is not revealed until Black Mike suggestively asks where Bill sleeps in the one bedroom apartment that he does indeed sleep elsewhere, and his answer may not entirely be true – but obligatory action serial finale is at least exciting and suspenseful (although dropping the final lengthy fight sequence from the reissue version of the film suggests that it was added as an audience draw rather than a dramatic need). Chaney's star would rise quickly in the same decade and fall at the start of the next one, but Outside the Law would live on not in its own right but as a recycled script in 1930 with Browning directing Edward G. Robinson in the Chaney role, and in 1946 as Inside Job with Jean Yarbrough directing Preston Foster.

Video


Although a Universal "Jewel" picture, Outside the Law was difficult to see after its theatrical release until David Shepard did a restoration in the nineties that was released to Kino on Video VHS in 1995 followed by an Image Entertainment DVD double feature with the Chaney film Shadows. Universal's 4K restoration made its Blu-ray debut stateside from Kino Lorber in 2020. Eureka's 1080p24 MPEG-4 AVC 1.37:1 pillarboxed fullscreen Blu-ray is derived from the same master and, based on reviews of the Shepard restoration, it appears that Universal had to use the same materials for their restoration. While detail in the best quality shots is never quite that of one of Paramount's 4K silent restorations, that can be put down to the degradation of the materials as textures are evident I clothing, hair, and the Chinatown backlot mockup that the production takes such pleasure is destroying in bookending action set-pieces, but the last two reels or so of the film are subject to some horrid nitrate decomposition in which the image is sometimes unreadable. It also appears that some footage has gone missing amidst this since we cut right from Bill turning on the light and discovering Black Mike in Molly's room to a bit of solarized, blindingly white nitrate damage to their knockdown drag-out fight. This appears to be the best it will ever look. The alternate ending elsewhere on the disc looks better but it is composed of alternate shots and had deliberately deleted a chunk of the end. The intertitles appeared to be original but may be very good recreations since they manage to be free of the nitrate damage affecting the footage around them.

Audio


The Kino on Video VHS and the Image DVD had an uncredited orchestral score with synchronized sound effects but this has been jettisoned for Universal's new restoration in favor of a stereo score by Anton Sanko that is supportive without falling back on "oriental" motifs.

Extras


Eureka has not carried over the Anthony Slide commentary from the US edition, instead featuring the concise "Kim Newman on Outside the Law" (20:38) in which the author and critic points out that Chaney is overshadowed by the young leads because the film was actually a Priscilla Dean vehicle but that Browning might have been testing out Chaney's master of disguise abilities with the dual role which was not part of the release publicity but was potentially an exploitation element. He also notes that before Browning and Chaney were genre stylists, the former worked in dramas and thrillers while the latter was a character actor who had appeared in a number of crime films. Browning had already helmed four out of nine vehicles with Dean – including The Wicked Darling which also featured Chaney (who also appeared with Dean in Paid in Advance) – and the more macabre bent of Browning/Chaney collaborations would not come until 1925 and include the lamentedly lost London After Midnight.

The disc also includes the alternate ending from 1926 reissue version (10:01) which was also projected in 35mm but only survives now as a 16mm "Show at Home" print and is composed of alternate takes, ending the film on a different note as Molly, Bill, and Chang-Lo advise Silent Madden to let go of his thirst for revenge. The entire final punchout and shootout is elided entirely. This footage features a score by Andrew Earle Simpson, and one wonders if there is a transfer of the entire alternate version.

Packaging


Housed with the disc is a collector's booklet featuring an essay by Richard Combs which has not been supplied for review.

Overall


In Outside the Law what seemed an odd and "sentimental" Lon Chaney/Tod Browning vehicle turns out to actually be a Priscilla Dean/Tod Browning vehicle and actually sheds light on the careers of all three.

---
Rewind DVDCompare is a participant in the Amazon Services LLC Associates Program and the Amazon Europe S.a.r.l. Associates Programme, an affiliate advertising program designed to provide a means for sites to earn advertising fees by advertising and linking to amazon.co.uk, amazon.com, amazon.ca, amazon.fr, amazon.de, amazon.it and amazon.es . As an Amazon Associate, we earn from qualifying purchases.