The Film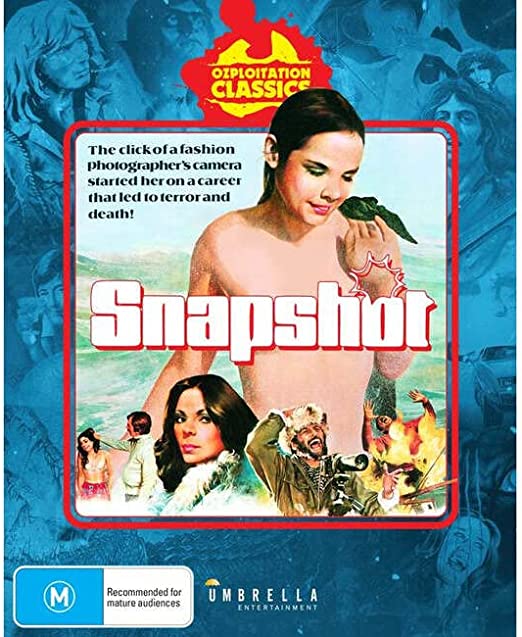 "Snapshot" (1979)

Angela (played by Sigrid Thornton) is a 19 year old hairdresser assistant who doesn't have much going for her in life. She is not treated with respect at work, her mother (played by Julia Blake) gives more attention to her little sister Becky (played by Jacqui Gordon), and her ex Daryl (played by Vincent Gil) continuously tries to get back together with her even though she has no interest in him anymore. While she may not have any confidence in herself, model Madeline (played by Chantal Countouri) sees potential in her, enough to convince her to quit her job to become a model under her wing. While the world of modeling has a sense of freeing wonder and work that gives Angela more confidence, there are dangers lurking around the corners, leading to some deadly outcomes...

After the international success of the supernatural horror film "Patrick" (1978), producer Antony I. Ginnane was under pressure, but with financial stability to deliver a follow-up for distributors. He had a script idea entitled "Centrefold" which he was looking to have "Patrick" director Richard Franklin direct, with actress Lynda Stoner to play in the lead. But the issues came with Frankin wanting to do a different project and with Stoner refusing to do nudity, as well as the script having some issues. Screenwriter Everett De Roche was hired to rewrite the story, which he did with his wife Chris De Roche in a matter of three weeks. Television director Simon Wincer was hired to direct, and Vincent Monton, who worked with Ginnane on a number of productions including the "Fantasm" films was hired as the cinematographer. The story didn't fall into the same category as "Patrick" but instead was something closer to Italian Giallo films like "The Bird with the Crystal Plumage" or "Suspiria", with its seemingly innocent lead taking a ride into somewhere sinister. Unfortunately, "Snapshot" doesn't quite fit that category quite well as it's a film that doesn't have a clear focus on where it is heading. It may now be part of the "Ozploitation" banner, but there is a very tame amount of nudity and sex, and there are fairly few shock scenes with scares or gore.

Basically the film is a simple journey of an innocent girl thrust into the world of modeling and the consequences that come with the work. It works fairly well as a dramedy, with the quirky characters like the macabre loving cameraman Linsey (played by Hugh Keyes-Byrne), the slightly wacky and curious roommate Lily (played by Denise Drysdale) working the comedy angle, while Madeline's producer husband Elmer (played by Robert Bruning) and ex-boyfriend Daryl are placed in for the creepy factor. Each of the characters have a uniqueness to them, but it doesn't feel like a cast of characters that compliment the plot, and more of a diverse range of characters to keep the story more interesting than it is. The two main characters, Angela and Medeline are the center and Thornton and Countouri do play the characters very well. Thornton is excellent as Angela, playing the character with some sadness and frustration at the start, and slowly building herself into her own once her new life begins. The scene in which she confronts her mother with her new home and life is easily a standout sequence (which is actually trimmed down in the US version, discussed below), and her confidence is felt rather than seen. Countouri's performance as the seductive and mysterious model Madeline is filled with sexiness and confidence - things that Angela is lacking in her life, and is played with grace with a touch of bitchiness that has power in her every move. Even though she is featured in less scenes, her role is more than just a supporting character, but more an influencing character, which is actually very important to the mystery plotline of the story.

Angela is constantly afraid of her ex Daryl, who is a Mr. Whippy ice cream truck driver, so the motif of the ice cream truck music and the appearance of the pink van is like that of a slasher villain theme being played which is quite effective. The casting of Vincent Gil is an unusual one, as he was 40 years old at the time, with wrinkles and a balding spot to prove it, and seemed unbelievable that he was together with the 19 year old Angela. But maybe with the casting of an unlikely ex, it makes for an unlikeable character when the audience is supposed to be on Angela's side. The stalking elements, plus issues such as the butchered pig's head being found in her bed, and the paranoia that Angela begins to feel are interesting choices, though it never feels as if these had true motivation or reason. There are multiple people that could be the stalker and not just Daryl, as Elmer's creepiness is another example, as well as Linsey's obsession with death on camera. The women are not out of the loop either, as her mother does have a discomforting presence, roommate Lily is always around and curiously listening, and Madeline's controlling aspect with building Angela into a new model. Without spoiling the end, yes it was a surprise to see who it was at the end, but it also didn't seem like the character made particularly logical choices to get what they wanted.

"Snapshot" was first released in Australian on June 1st, 1979, receiving very little fanfare or support. In addition, the song that was featured in the film, "Angela" by the Australian band Sherbet
failed to make an impact on the Australian charts, reaching only #85, a far cry from their top ten singles a few years prior. The AU$300,000 budgeted film made its returns with international sales, including the United States where it was released the following year. The US distributor decided to retitle it as "The Day After Halloween" to ride the hype of "Halloween" from the year before, though viewers should be easy to note that the film has nothing to do with Halloween the holiday or the movie, as Halloween is not a mass celebrated holiday in Australia and there was no masked slasher in the film either. In addition, there were some trims made to the film and shortening the runtime. It was a better success in America and other countries, and it would take a few decades until it was recognized in Australia, with the "Ozploitation" genre receiving fanfare in the 2000s. "Snapshot" has some good performances and there are some interesting ideas within, but overall it does feel like it is missing reason and depth in the plotline to make it wholy worthwhile.

Note this is a region ALL Blu-ray

Video


Umbrella Entertainment presents two cuts of the film, the US version in the 2.35:1 aspect ratio in 1080p AVC MPEG-4 and the Australian version in the 1.60:1 aspect ratio in 1080p AVC MPEG-4. The US version looks basically identical to the US Vinegar Syndrome Blu-ray released in 2017, which used a 2K restoration master from the original 35mm negative, so it seems that this master was also used here. In shot, this is an excellent looking restoration, with rich details seen throughout with stable colors, a sharp image, and very few if any damage marks to be found. From the subtle hues of outdoor scenes, the darker interiors, or the bright and flashy club scenes, the colors are excellent throughout, and fans should be incredibly pleased with the image, which has a good healthy amount of grain intact as well. The US version, which is approximately 11 minutes shorter that the Australian version, seems to be an unfortunate casuality of having the original negative trimmed to create the US version, so the missing footage from the original version was not able to be remastered. In addition, this may be the US version in length, but thankfully retains the original Australian title of "Snapshot" in the opening credits rather than one of the alternate American titles.

The Australian version comes from a VHS tape master and upscaled to HD. Coming from a standard definiton PAL source, it has its dated issues of blurriness, darkened colors, lacking detail, being cropped on the sides heavily, and having some speckles and scratches visible. But thankfully there are no major issues like tape error or tracking issues in the transfer. As stated, this version has approximately 11 minutes of additional footage included. None of the scenes add a substantial amount to the plot, though there is a significant shortening of a scene in which Angela's mother comes to visit her in her new home for the first time. It's very unfortunate that the only way to experience the longer original version is in a subpar transfer, but at least it is made available. The original theatrical Australian version has an approximate runtime of 103 minutes at a framerate of 24fps. For the PAL VHS cut, it was transferred to PAL framerate of 25fps, increasing the speed by 4% for a runtime of approximately 100 minutes. Curiously, the transfer on the Blu-ray here is at 24fps, but the framerate was not adjusted, which should result in some image ghosting. There is blurriness to the image due to the resolution, but no ghosting.

The US version's runtime is 92:27 and the Australian version's runtime is 100:30.

Detailed information on differences between the two versions of the film with screenshots can be found at Movie-Censorship.

Audio


US Version:
English DTS-HD Master Audio 2.0 mono
Australian Version:
English Dolby Digital 2.0 mono

The restored US version has a lossless mono track while the longer Australian version has a lossy mono audio track. For the US version it sounds excellent. Dialogue, music, and effects are well balanced, with voices being clear and easy to hear, while music cues from veteran Australian film composer Brian May sounding excellent as well as the hitmaking Australian band Sherbet's song "Angela" on the beach scene sounding great, even if in mono. There are no issues of hiss, pop, or crackle, leaving a clean track in this restored version. As for the Australian version, coming from a VHS source does have its limitions in the audio, sounding more on the flat side compared to the restored track. There is a bit of hiss, but no issues of dropout or other major problems.

There are optional English HoH subtitles for the US version in a white font which are easy to read and well timed. There are no subtitles for the Australian version.

Extras


DISC ONE (Blu-ray)

Audio Commentary on the US version by producer Antony I. Ginnane, director Simon Wincer, cinematographer Vincent Monton, and actress Sigrid Thornton, moderated by Mark Hartley (2017)
In this group commentary track moderated by filmmaker Mark Hartley, Ginnane, Wincer, Monton and Thornton are reunited to recall the making of the film. Discussed are technical aspects such as shooting on anamorphic lenses in Panavision, shooting in urban Melbourne, the scriptwriting process, as well as the casting process, the choice of crewmembers, the gay subtext, the reaction to the film in Australia and abroad, the performances, and much more. This is a very lively track with no dead spaces with a lot of great information included, Note this was originally recorded for the US Vinegar Syndrome Blu-ray release.
in English Dolby Digital 2.0 without subtitles

Audio Commentary on the Australian version by producer Antony I. Ginnane, moderated by film critic Jaimie Leonarder (2018)
In this commentary, Ginnane is joined by film critic Jaimie Leonarder in a look back at the film. Discussed are the similarities with Italian Giallo films, about the actors and the crew, information on production and distribution, the soundtrack and more. Sadly it starts to lack steam about halfway through with some dead spaces in the track in the second half. Note this was originally recorded for a planned but cancelled Australian Blu-ray by Glass Doll Films, becoming available for the first time on this Umbrella Entertainment release.
in English Dolby Digital 2.0 without subtitles

Audio Commentary on the Australian version by producer Antony I. Ginnane, moderated by horror hostess Katarina Leigh Waters (2012)
In this commentary, Ginnane is joined by professional wrestler and horror host Katarina Leigh Waters. Discussed here are about the making ofthe film, the origin of the script, the Australian film industry at the time, the international sales and response and more. Again like the above commentary, it starts to get quiet a little less than halfway through with some dead spots in the latter half. Note this was originally recorded for the US Scorpion Releasing DVD, which the menu here states is from 2013, but the US DVD was actually released in 2012.
in English Dolby Digital 2.0 without subtitles

"Not Quite Hollywood" 2008 extended interviews with actress Sigrid Thornton, producer Tony Ginnane, director Simon Wincer, cinematographer Vincent Monton, writer Everett DeRoche, assistant director Tom Burstall, and actress Lynda Stoner (38:04)
Here are some excerpts from Hartley's seminal documentary "Not Quite Hollywood: The Wild, Untold Story of Ozploitation!", featuring discussions on "Snapshot". Included are Thornton's excitement performing as a lead actress for the first time, issues with some of the dialogue, having no regrets with the nudity involved, and working with Ginnane. Ginnane's interview has him talking about getting the project running, the use of the ice cream truck for the fear element, and the film's success outside Australia. The shortest interview excerpt comes from Lynda Stoner who was not in the film but was the initial choice for Ginnane's abandoned project that eventually became "Snapshot". There are also short interview excerpts with Wincer, DeRoche, Monton and Burstall discussing some of the technical and behind the scenes aspects that are well worth hearing.
in 1080p AVC MPEG-4, in 1.78:1, in English Dolby Digital 2.0 without subtitles

"Producing Snapshot" 2017 interview with producer Antony I. Ginnane (27:58)
In this interview, Ginnane gives a good succinct overview of the making of "Snapshot" from its project's roots and writing process, gathering the cast and crew in a short period of time for the fairly quick shooting, the international sales and reception and more. There are some sound issues here, with the interview segments and the film clips being a bit off balance. Note this interview was originally available on the US Vinegar Syndrome Blu-ray release.
in 1080p AVC MPEG-4, in 1.78:1, in English Dolby Digital 2.0 without subtitles

Stills and Poster Gallery with audio interview with stuntman Grant Page (2:12)
Presented here are some black and white and color stills in a slideshow format, along with an audio clip of Page discussing the fire stunt that he performed in the film, with the precautions and the choreography
in 1080p AVC MPEG-4, in English Dolby Digital 2.0 without subtitles

Alternate US Opening Titles (2:31)
The American "The Day After Halloween" credit sequence is presented here, taken from a standard definition source and upscaled. The trailer is available on Umbrella Entertainment's YouTube page, though it cannot be embedded here due to nudity.
in 1080p 30fps AVC MPEG-4, in 2.35:1, in English Dolby Digital 2.0 without subtitles

TV Spots (0:52)
Two original Australian TV spots are presented back to back.
in 1080p AVC MPEG-4, in 1.60:1, in English Dolby Digital 2.0 without subtitles

Antony I. Ginnane Trailer Reel for "Patrick", "Snapshot", "Thirst", "Harlequin", "The Survivor", "Race for the Yankee Zephyr", "Dead Kids", "Turkey Shoot", "Dark Age", "Hightide", "The Lighthorsemen", "The Time Guardian", "The Dreaming", "Screamers" (31:12)
The original Australian trailer for "Snapshot" is part of this lengthy trailer reel of Ginnane productions, which has its fair share of scratches and darkened colors. All the trailers come from differing sources, with some being restored from film elements and others being transfers from inferior video.
in 1080p AVC MPEG-4, in various ratios, in English Dolby Digital 2.0 without subtitles


DISC TWO "Antony I. Ginnane Ozploitation Soundtrack Sampler" (CD)
1. "Patrick Power" by Brian May (from "Patrick" (1978)) (2:01)
2. "Who's Sleeping in My Bed" by Brian May (from "Snapshot" (1979)) (3:05)
3. "Danger! The Whippy Van" by Brian May (from "Snapshot" (1979)) (1:17)
4. "Kate Escapes" by Brian May (from "Thirst" (1979)) (4:04)
5. "Wolfe's Resurrection" by Brian May (from "Harlequin" (1980)) (1:57)
6. "Main Title" by Brian May (from "The Survivor" (1981)) (3:18)
7. "Jet Boat Chase" by Brian May (from "Race for the Yankee Zephyr" (1981)) (4:21)
8. "The Hunt Begins" by Brian May (from "Turkey Shoot" (1982)) (2:41)
9. "Suite" by Garry McDonald and Laurie Stone (from "Second Time Lucky" (1984)) (6:26)
10. "Suite" by Allan Zavod (from "The Time Guardian" (1987)) (7:30)
11. "Suite" by Graham Tardiff (from "Incident at Raven's Gate" (1988)) (3:08)
12. "Main Title" by Frank Strangio (from "The Dreaming" (1988)) (3:53)
Included with the first pressing is a bonus CD which includes a selection of tracks featured in various films produced by Ginnane.


Booklet
Also included is a 24 page booklet, which has the well written essay "Mr. Whippy on the Prowl: The Suburban Terror of Snapshot", by John Harrison of Diabolique Magazine, which can also be read in the link. There are also some stills and poster art included within.


The film has seen a number of DVD and Blu-ray releases over the years, with its first Blu-ray release coming from the US by Vinegar Syndrome in 2017. The UK saw its release from 88 Films (which we do not have concrete specs for at this time), which has all the extras from the US release and adds an additional commentary by The Hysteria Continues which is exclusive to that release. The Australian release from Umbrella Entertainment is the newest at the moment, which includes all the US extras plus a few other extras. While the extras are plentiful on this new release, there is a lot of content overlap, especially with Ginnane participating in three commentaries plus a solo interview. But as for lengthy and content, this release is very full and should be pleasing for fans of the film.

Packaging


This is #11 in Umbrella Entertainment's "Ozploitation Classics" line with the uniform blue outlined slipcover over the keep case. The inlay has reproductions of theatrical posters, as well as the faux "Bermuda Cool" advertisement on the inside, along with a listing of the CD tracks printed with credits. The booklet is housed inside the keep case,

Overall


"Snapshot" is an interesting Aussie take on the Giallo genre, but it is a bit lacking in plot altogether. The Blu-ray from Umbrella Entertainment features an excellent transfer of the restored US version plus a lengthy amount of extras included.
| | | | | |
| --- | --- | --- | --- | --- |
| The Film: C | Video: A | Audio: A | Extras: A- | Overall: B |