The Film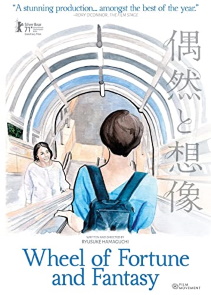 Asian Film Award (Best Director): Ryűsuke Hamaguchi () and Best Film (nominated) - Asian Film Awards, 2021
Silver Berlin Bear (Jury Grand Prix): Ryűsuke Hamaguchi (winner), Golden Berlin Bear (Best Film): Ryűsuke Hamaguchi (nominated), and Teddy (Best Feature Film): Ryűsuke Hamaguchi (nominated) - Berlin International Film Festival, 2021

Presented without preamble, interstitial linkage, or bookendings are a trio of "short stories" attributed to director Ryűsuke Hamaguchi that form the portmaneau Wheel of Fortune and Fantasy. In the first story, model Meiko (Kotone Furukawa) listens to the account of her colleague Tsugumi (The Sea of Trees' Hyunri) of a date with a seeming "player" that was "erotic" even though nothing physical happened due as much to Tsugumi's discomfort with having sex on the first date as hinted-at physical difficulties on the part of her date who is still reeling from having been cheated on by his previous girlfriend. With only a vague description of the man and his business, Meiko quickly hones in on Kazuaki (Ayumu Nakajima) with whom she broke up after being unfaithful to him. Kazuaki is uncertain whether Meiko is there on Tsugumi's behalf as she claims or on her own; and her reaction to his account of her "despicable" motives in their relationship has a different effect on her than he anticipated, and himself too as it turns out. The consummation of a greater emotional intimacy between the two is thwarted and Meiko runs off into the night. When chance brings the three together, each has a decision to make that will effect the others but Meiko must chose between "magic or something less assuring."

In the second story, Sasaki (Kai Shôma) has been unable to find a job in broadcasting five months after failing a college literature course taught by Segawa (Ichi the Killer's Kiyohiko Shibukawa). When the professor makes the news as the latest recipient of prestigious Akutagawa literary prize – named after Taishō period author Ryűnosuke Akutagawa who penned the source stories that inspired Akira Kurosawa's Rashomon – for an ambiguously-autobiographical first-person narrative with salacious passages, Sasaki is inspired by the admiration for the book (and the man as she too was a former pupil) expressed by his girlfriend Nao (Katsuki Mori) to press her into luring the older man into a honey trap, recording her seduction of the professor so that Sasaki might sell it to the media. Threatened with no sex by her boyfriend, Nao assents to the plan, seeking an autograph and an informal interview with the author over a most moving passage. No matter how casual and naturally Nao tries to make the act of closing the door for privacy, Segawa adheres to the school's "Door Wide Open" policy to discourage impropriety between teachers and students, but Nao persists in reading the explicit passage as students pass by in the hallway. When Segawa finally lets Nao close the door, the exchange that occurs between the two of them is sexually-charged but revealing in completely unexpected ways.

In the third story, Nana (MEatball Machine's Aoba Kawai) attends her high school's twenty year reunion. She is reticent to socialize, barely recalls the classmates she meets, and takes off early, refusing the invitation of the others to go to an after party. On her way to the train station the next day to go back to Tokyo, Nana recognizes Mika (Café Lumičre's Fusako Urabe) who was seemingly unaware of the reunion because she changed her name when she got married. Nana is at first disappointed when Mika makes the lame excuse that she cannot have lunch with her because she must be home in the afternoon to receive a package but Mika actually invites her back. As Mika prepares tea, Nana explores the public face of her friend's suburban home, appearing disappointed that Mika seems to disregard things Nana recalls her being passionate about during their school days. In turn, Mika's discomfiture with the importance Nana places upon who she believed they once were is not what it seems.

Started before production commenced on director Ryűsuke Hamaguchi's Oscar-winning Drive My Car and finished during that film's pandemic-related production haitus, Wheel of Fortune and Fantasyis a portmanteau film inspired as much by Éric Rohmer's short films – and his own portmanteau Rendezvous in Paris – as it is by the nouvelle vague director's thematic preoccupation with chance and the choices we often make fearful of uncertainty, and how we reconcile ourselves with the results. The circumstances that bring two characters together in each story seem quite contrived at first but are ultimately believable; and epiphanies definitely come to each character, but the degree to which it registers with them and with the audience, as well as what they do with it, is left open to interpretation. In "Magic (or Something Less Assuring)", one is not quite sure at first whether Meiko feels regret for how things ended with Kazuake after hearing Tsugumi's account of her date with him or if all she wants is to mock what she sees as false; however, the choice put in her hands of whether to win Kazuake back and destroy her friendship with Tsugumi, or turn down Kazuake now that he wants her back, empowers her inner growth rather than her ego. Just as Segawa adhering to the open door policy in "Door Wide Open" ensures Sasaki's humiliation when the failed student confronts him within earshot of his classmates, adhering to it initially with Nao does not humiliate her, and violating it renders both equally vulnerable. Chance rather than deed condemns them, and it is not until much, much later that Nao seemingly comes to realize that Segawa may not have been merely flattering her or projecting qualities onto her when he tells her of the inner strength he sees in her.

At least in Western terms, a story that hints at a lesbian affair and explicitly states that two women have holes to fill seems like a crude joke. Nana's accepting Mika's invitation into her home with the intent of looking for a hole does indeed seem predatory at first but then a bit selfish when one realizes that she wants to know that there is a hole in her friend's life equal to the one in her own; however, the first revelation that Mika is indeed not happy with her life is not seen by either as an invitation. Nana encapsulates the film's themes when she says that she "regrets not fighting for her feelings" even if the results had turned out the same. The additional twist does not make the feelings the two articulated to each other any less valid or authentic, and the clinch in the final shot is not romantic but it is immensely moving for a film of such understated emotions. Framing the third story within the fantastic concept of a computer virus that has made the world turn away from the internet seems quite extraneous to those of us old enough not to expect others of our age group to be constantly glued to their phones; and the fact that it is easy to forget about that element is testament to how compelling the interplay is between the two characters. Drive My Car may be the award winner, but Wheel of Fortune and Fantasy only seems like a minor work comparatively here in the West thanks to its greater festival play over theatrical distribution.

Video


Given brief theatrical distribution and festival sponsorship stateside late last year by Film Movement, Wheel of Fortune and Fantasy comes to Blu-ray stateside even before domestic Japanese home video release. The 1080p24 MPEG-4 AVC 1.78:1 widescreen transfer looks as spectacular as one would expect for a year-old film proficiently photographed and given neutral, naturalistic grading of overcast, soft-lit environments, a restrained color scheme, and rare moments of saturated color in décor, wardrobe, and even some background lighting.

Audio


Audio options include Japanese DTS-HD Master Audio 5.1 and Dolby Digital 5.1, and they are not particularly showy but do make use of the rears for atmosphere. The optional English subtitles are free of any noticeable errors.

Extras


Extras included an unrelated short film "The Chicken" (13:13) from Neo Sora, the film's theatrical trailer (1:47), bonus trailers, and an interview with writer/director Ryusuke Hamaguchi (13:57) who notes that short films in Japan are really more of a hobby since it is hard to get theatrical distribution for them as singular works. He recalls meeting Rohmer's editor at Cannes and asking how she and Rohmer approached his shorts and being inspired by the director's later portmanteau. He relates writing each short one at a time and sending them to the producer one after the other a week apart, approaching the filming and editing of each as separate works, and lensing the third when COVID shut down Drive My Car.

Packaging


Unlike the Film Movement Classics line, there is no booklet, but the inside of the cover includes a paragraph on why Film Movement selected the film as well as an excerpt from a text interview with the director.

Overall


Drive My Car may be the award winner, but Wheel of Fortune and Fantasy only seems like a minor work comparatively here in the West thanks to its greater festival play over theatrical distribution.