Execution in Autumn [Blu-ray]
Blu-ray B - United Kingdom - Eureka
Review written by and copyright: Eric Cotenas (30th May 2022).
The Film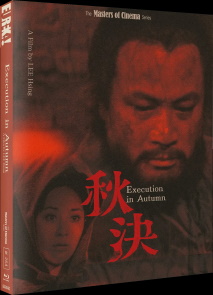 Pei Gang (Attack of the Kugn Fu Girls' Ou Wei) is in the local prison awaiting trial for a triple murder of his mistress (Men of the Hour's Li Hsing) and her two cousins. He is so confident that his powerful grandmother (Royal Fist's Bi-Hui Fu) will buy off his charges just as she has every time he has gotten into trouble before that he disregards a court official's advice in following his lead when pleading self-defense. He does indeed plead self-defense, claiming that the cousins were trying to extort him to pay for a child that was not his. As off-putting as his arrogance is in relating the skirmish, the magistrate accepts his self-defense plea for the two cousins but sentences him to death for the unnecessary and monstrous murder of his mistress. Since the autumn when executions are scheduled has already passed, Pei Gang has a year sentence to serve under the stern prison governor (Deadly China Doll's Hsiang-Ting Ko). His grandmother is just as certain that her influence will free him, and she is determined even if she must spend all of the family fortune since Pei Gang is her only grandson and she refuses to let the line die out. Her "Second Master" cousin (The World of Drunken Master's Wang Yu) accepts money to go to the imperial court and consult a connected friend, but she soon discovers that he never went to the court and drank away the money.

Pei Gang does not appreciate his grandmother's efforts, accusing her of not caring and resenting her visits despite the gentle castigations of Lian'Er (Fists for Revenge's Bao-Yun Tang), the daughter of a family friend who his grandmother took in and raised from childhood. Pei Gang attempts to escape multiple times, exclaiming to the governor that he would rather die than endure the torture of a long sentence. A court official confirms that Pei Gang's sentence cannot be appealed or overturned and instead advises her to find a girl to marry her grandson in prison and conceive a child. Against his own better judgment, the governor agrees to turn a blind eye if she can even find a girl willing to "destroy her future" with such an arrangement. In desperation, his grandmother reluctantly implores Lian'Er to agree to marry her grandson. The younger woman can hardly refuse out of loyalty and gratitude to the woman who raised her; however, it is the powerful will she finds within herself that sees her through the various obstacles she encounters (including Pei Gang himself).

Starting off like a typical Hong Kong historical martial arts pic and looking almost Japanese with its soundstage exterior settings against cyclorama sky backdrops, Execution in Autumn is actually quite atypical within the context of Taiwanese films that were not Hong Kong co-productions – Taiwanese audiences usually favoring comedies, musicals, and soapier melodramas – and in the filmography of Lee Hsing who dabbled in several genres working for the state-owned Central Motion Picture Corporation before founding his own company in the years preceding the Taiwanese New Wave of the eighties. Following the opening execution procession and an escape attempt by Pei Gang running in circles through a large soundstage forest, the film settles into its narrative strands. The film is saved from being a typical melodrama by way of a more considered approach to the motivations and drives of its characters. Pei Gang's tantrums and violence are those of a manchild but slowly reveal the actual child underneath – as well as a waking awareness of his better nature – while his cruel remarks to his grandmother provoke self-reproach to her as she reflects on her enabling while keeping up a proud exterior. It would be easy to pass off the grandmother relating the hopelessness of her endeavor to Lian'Er as a way of manipulating the younger girl, but the grandmother genuinely seems to care for the younger woman as more than a charge while Lian'Er's newfound strength when she becomes the new mistress of the family is definitely not borne out of greed since she herself admits that things will be hard on her and her child – it is only unfortunate that we do not get to see her confronting the rest of the family or her promise to Second Master to "pay him back" for the advantage he has taken of grandmother – and the question of her actual attraction to Pei Gang is addressed indirectly. The governor seems less sadistic than this guards but no less brutal in spite of the pensive and even saddened expressions with which he regards Pei Gang as he comes unraveled. His motivations are more traditionally melodramatic but they do explain the contradictions in his character and are movingly conveyed by the actor whose penultimate act threatens to take the drama into the realm of escapism. A common thief (The Shaolin Avengers' Hui-Lou Chen) and a scholar (The Master Sword's Chia Chi Wu) serving a year-long sentence in place of his elderly debt-ridden father provide the backdrop debate of Confucian humanism between the fleeting pleasures of life and the eventuality of death.

Video


Previously unreleased in English-speaking countries, Execution in Autumn comes to Blu-ray from Eureka in a 1080p24 MPEG-4 AVC 2.35:1 widescreen presentation "from a stunning 2K restoration of the original film elements undertaken by the Taiwan Film Institute" and the results are indeed stunning in spite of the lack of specificity with regards to what elements were used. The rustic settings are rich in browns, blacks, yellows, and occasional splashes of red and gold while the resolution captures emotional nuances in close-ups of the faces of characters stoic or raving.

Audio


The sole audio option is an LPCM 2.0 Mandarin mono track supportive to the clear post-synched dialogue, foley effects, and scoring that is possibly library music but definitely "Western" in its emotional underlining. Optional English subtitles are provided.

Extras


"Tony Rayns on Execution in Autumn" (44:09) is a video essay in which Rayns admits to not having seen as much Taiwanese domestic cinema as other Asian cinema but is of the opinion that a lot of it was of a lighter variety before the eighties New Wave. He also suggests that the films of Lee Hsing always exhibited a degree of interest in sociological observation, discussing some titles that appear to be impossible for Western audiences to see unless they are perhaps next on the list of Taiwan Film Institute restorations. He also provides some nice context about the Taiwan in which Lee Hsing and other anti-Communists who fled China arrived, how the "conservatism with a lower case 'c'" informed the country's cinema, and Lee Hsing's founding of his own company and their stated intentions upon the release of Execution in Autumn. The "Before and After Restoration Demonstration" (5:02) reveals some pretty severe fading – and suggests the menu screen image was taken from a pre-corrected shot – that has been handsomely corrected throughout.

Packaging


The first 2,000 copies include a limited edition O-card slipcover but the collector's booklet featuring new and archival writing housed with the disc has not been provided for review.


Overall




---
Rewind DVDCompare is a participant in the Amazon Services LLC Associates Program and the Amazon Europe S.a.r.l. Associates Programme, an affiliate advertising program designed to provide a means for sites to earn advertising fees by advertising and linking to amazon.co.uk, amazon.com, amazon.ca, amazon.fr, amazon.de, amazon.it and amazon.es . As an Amazon Associate, we earn from qualifying purchases.