The Film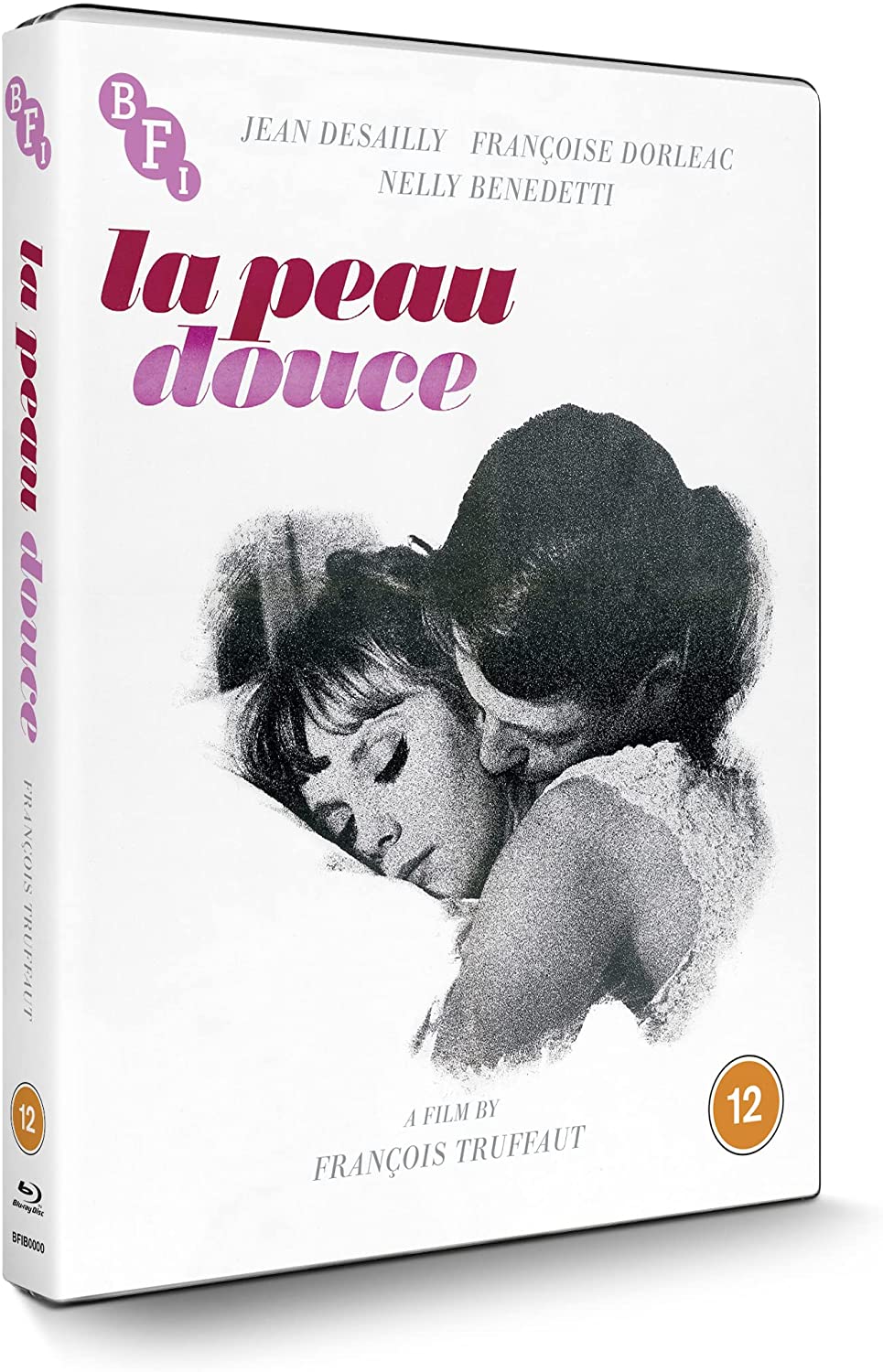 "La peau douce" (1964)

Pierre Lachenay (played by Jean Desailly) is a well known writer and speaker that travels from Paris to Lisbon by plane to speak at a convention. On the plane he is enchanted by a young flight attendant named Nicole (played by Françoise Dorléac), who happens to be staying at the same hotel as him. An invitation for a drink becomes a lengthy chat all night, which eventually leads the two to start a physical relationship. But Lachenay has a wife (played by Nelly Benedetti) and a daughter (played by Sabine Haudepin), and this sudden affair is going to change everything around him, for better or for worse.

Following the international critical and commercial success of "Jules et Jim" in 1963, director François Truffaut looked to making his next project an ambitious one, and that would be adapting writer Ray Bradbury's influential dystopian story "Fahrenheit 451" after he gained the adaptation rights. Unfortunately the process would take much longer than expected with the pre-production and funding, so he and co-writer Jean-Louis Richard decided to quickly write a completely original piece that could be made quickly while the bigger project was on hiatus, and that film would be "La peau douce", or "The Soft Skin" or "Silken Skin" as it was also known in English. Truffaut had an image in mind of an adult couple kissing in the back of a taxi, with their teeth clacking against each other while the vehicle is in motion. An extramarital affair for both, their secret time together became the basis for the script, though much would be changed in the writing process, as the initial idea's taxi scene would not be in the final script. And interestingly the finished film "La peau douce" would actually feature very few kissing scenes, and none with particularly deep passion.

Rather than focusing on both the man and the woman, "La peau douce" focuses almost entirely on the male gaze, through the eyes of Pierre. When he first encounters flight attendant Nicole on the airplane, he cannot turn his eyes away from her feet, slowly changing into heels just under the curtain. Her legs become the gateway to his infatuation including when he sees her at the hotel, where on his floor there are countless shoes of hotel patrons including heels that remind him of her beautiful legs. But he doesn't seem like a man that has frequently or if ever has had an affair. He may be well known, part of the upper class, and fairly good looking even when in his 40s, he doesn't immediately approach Nicole for intimacy. Their first time together is filled with conversation, and not just the usual intellectual conversation about academic speeches that he is used to. Possibly for the first time in a long time, Pierre is able to be himself rather than be a public figure. But of course this means he doesn't realize what the consequences are for starting a relationship with another woman in secret.

While sex may be on the mind of most viewers, the film is extremely light on sexual tension or sexual advances. Even their first time together is shown without a single kiss. Not to say there is no sexual tension, as the film takes many cues from the Alfred Hitchcock playbook of how to show sex without being implicit. From the editing to the lighting to the innuendos to the suggestions made by characters, there are numerous references to films such as "North by Northwest" (1959), "Vertigo" (1958), "The Wrong Man" in visual cues, yet "La peau douce" never feels like a Hitchcock clone and more of a film that pays homage with its secrecies of characters and its humor as well. The day that Pierre invites Nicole to one of his speeches becomes a comical day of them not being able to meet due to people that keep surrounding him and wanting to talk about his writing and Nicole not being able to find her way to him. He is constantly distracted by seeing her figure in the distance and being out of reach and she is frustrated that she has to wander around waiting. There are plenty of awkward moments in these sequences and shows a comedic and playful side that is quite refreshing.

But there are some things that don't quite work well in "La peau douce". For one it doesn't give much of a heart towards the main character Pierre. Though there are scenes with him at home with his wife and daughter, they don't seem to point in any direction towards him wanting to start an affair. His wife Franca is supportive of him and his daughter Sabine is adorable and loving, but he never seems to be returning their love at home. It's never clear why he has some distance from his actual loved ones but it is probably due to that that he starts an affair with Nicole. But again with Nicole, he does have some coldness to her, and this may be due to the fact that he doesn't know what to do. She is twenty years younger than him, she is much more modern, such as when she starts dancing at the club, he just sits and smiles since he probably doesn't know how to dance himself. He also has the odd tendency to think that the new relationship with her would become his main relationship but Nicole is obviously seeing this as a fling and not something to take truly seriously. She's not in it for his money and she's not after his heart but rather enjoying life in her early twenties and as she puts it, enjoys sex but it's not a necessity for her. But Nicole's side of the story takes a backseat here. There are glimpses with one moment of her father being seen, and some talks of her previous relations but there are far few scenes of her character to be fully developed when she may be the most interesting one in the film. The balance is slightly off, with the fun and free spirited one being given less, and the colder male figure with uncertainty given more. What does work is Truffaut's direction and Raoul Coutard's excellent cinematography, that uses a number of techniques, from first person view from Pierre's eyes, a constant moving camera, and very extreme lighting sequences playing with light and shadows. The editing by Claudine Bouché is also exceptional, especially in the opening sequence in the rush to the airport being filled with quick cuts, as well as the elevator scene using cutting techniques to draw out time and space as well as speeding things up with the visuals. It is a visually wonderful film, using traditional techniques with the Hitchcockian touch as mentined before.

Truffaut has said that the story is 20% autobiographical, 20% from people he knows, 20% from events he read in the news, and 40% from his own imagination. There are autobiographical moments, such as the Pierre character being a doppelganger of himself, as a famous person that is constantly surrounded by people wanting to speak to him and the effects that fame had on him. Truffaut did have reports of affairs and most likely were main reasons for his divorce from his wife in 1965. In addition the apartment of Pierre's is shot in Truffaut's own home, blurring the line between life and art. While a lot of his own experiences were placed into the film itself, the quickly written and quickly made film lacked a true focus of the main character and in a spoiler, made him a martyr when he probably shouldn't have. The ending, which is quite shocking had some inspiration from an incident from June 26th, 1963, in which Nicole Gérard murdered her husband Guy Gérard in cold blood at a restaurant with a shotgun in front of patrons in broad daylight, in which she afterwards sat and waited for the police to arrive as she accepted the consequences. While the ending to be mirrore on the event that was still ingrained in the minds of the French public, it doesn't quite work as well cinematically as it leaves more of a sour taste rather than a heartbreaking sendoff. The film's flaws and the very different tone that it had in comparison to "Jules & Jim" led it to become a critical and commercial failure for Truffaut. The film opened on April 20th, 1964 and played at the Canne Film Festival the following month. Though nominated for the Palme d'Or, it was not received well and was a major disappointment. Jean Desailly even stated that he regretted playing the lead, as subsequently it was harder to find leading roles again. The slump would continue with the eventual troubled production and release of "Fahrenheit 451", but in later years both that film and "La peau douce" would receive better critical favor, seeing the film for its positives rather than the empty emotional context.

The film has received a number of DVD and Blu-ray releases in the past in the UK, from Tartan, Artificial Eye, though now it comes from the BFI in a new Blu-ray edition, which has some vintage extras but adds a few new exclusives.

Note this is a region B Blu-ray

Video


The BFI presetns the film in the original 1.66:1 aspect ratio in 1080p AVC MPEG-4. The original 35mm camera negative was used for the 2K restoration, carried out by MK2 and Digimage. The transfer here is not a new one, as it is also what was used for previous Blu-ray editions of the film from nearly ten years ago. But that should not bring disappointment, as the 2K restoration was an excellenet one, bringing out rich dark portions as well as great detail in the light. The greyscale of the black and white image has depth and almost every scene, from night to day to interior to exterior. The image has been cleaned, leaving almost no damage marks to be found. There can occasionally be some incredibly minor flicker or instability, but it will be only there if one looks extremely hard. The transfer looks basically identical to the previous UK Blu-ray from Artificial Eye, with basically the same brightness and coming from the same master.

The film's runtime is 117:29.

Audio


French LPCM 2.0 mono
The original mono track is presented uncompressed. It was transferred from a 35mm magnetic track, and sounds good though it does have its imperfections. Some of the post-synchronized dialogue does sound a little off, though this is inherent to the original master. The music score composed by Georges Delerue actually sounds quite good, with fine depth and balance against the dialogue and effects. The dialogue can have a bit of an issue with fidelity especially with high pitched sounds, though it is a minor issue. There are no major hiss, pops, or crackle that can be heard in the restored track, leaving a clean audio track that fans should be pleased with.

There are optional English subtitles in a white font, timed accordingly and without errors.

Extras


Audio commentary with writer Jean-Louis Richard and film critic Serge Toubiana (2000)
In this audio commentary recorded in 2000 (the press release stated 2002 but this was on the 2000 DVD by MK2), Richard, who passed away in 2012 is joined by critc Serge Toubiana for a look back at the first of three films he wrote for Truffaut. Discussed are his initial meetings with Truffaut, the very quick writing process for the film, the lengthy work and delays for their eventual subsequent film "Fahrenheit 451", the use of editing techniques to stretch or compress time, the comical happenings against the dramatic scenes, and much more. Note this commentary previously appeared on various DVD and Blu-ray editions of the film.
in French LPCM 2.0 with optional English subtitles

"Between Masters at War" 2022 presentation by Dr Pasquale Iannone (17:53)
Dr Pasquale Iannone of the University of Edinburgh gave a pre-recorded remote presentation on Truffaut Study Day at the BFI Southbank on January 29th, 2022, as seen here. Here he talks about and compares the two directors that highly influenced Truffaut as a filmmaker - Alfred Hitchcock and Roberto Rossellini. By reading correspondence, words by Truffaut in written reviews, plus an audio clip of Truffaut at the AFI in 1979, it's a great look at two seemingly different auteurs equally but differently shaped another. For the original presentation, there were clips of "My Dad Is 100 Years Old" (2005) starring Isabella Rossellini, but replaced with stills here on the Blu-ray. The full short can be found in the BFI's Blu-ray of "The Roberto Rossellini + Ingrid Bergman Collection". The Truffaut audio clip can be found in its full video form on the Criterion Blu-ray of "Jules & Jim".
in 1080i60 AVC MPEG-4, in 1.78:1, in English LPCM 2.0 without subtitles

"Paris Through the Lens" shorts (with Play All) (7:55)
- "Paris Street Scene" (1900) (0:45)
- "A Bird's Eye View of Paris" (1910) (7:10)
Presented here are two vintage shorts from the BFI National Archive featuring images of Paris from over a century ago. The first clip is a short single shot of a street with pedestrians on their way. The second is a beautiful short featuring aerial shots taken from an airship over the city, featuring shots of the Eiffel Tower, the Notre Dame and more. The first short is without intertitles while the second includes English intertitles. Both shorts have quite a lot of damage marks and visible wear, but are still mesmerizing to see. Library music is used as background scores for the shorts.
in 1080p AVC MPEG-4, in 1.33:1, Music LPCM 2.0 with English intertitles

"Old Portugal at the Ocean's Edge" 1896 short (0:53)
Presented here are vintage shots of taken at the seaside in Portugal with some crashing waves and sometimes a few patrons appearing in frame. Obviously due to age it does have issues with clarity and with damage. Like the above shorts, library music is also used for background score.
in 1080p AVC MPEG-4, in 1.33:1, Music LPCM 2.0

Original Theatrical Trailer (3:50)
The original French trailer is presented here, with the narrator emphasizing Truffaut's previous features plus the themes of the film. It has been embedded below, courtesy of MK2.
in 1080p AVC MPEG-4, in 1.75:1, in French LPCM 2.0 with optional English subtitles



Booklet
A 20 page booklet is included for the first pressing. Included is the essay "Truffaut's Mirror" by critic and author Catherine Wheatley, discussing the film, the themes, the Hitchcock influence, and more. "A Certain Tendency: Truffaut as Film Critic" is a written piece by film writer and researcher Kieron McCormack that looks at Truffaut's influential career as a critic and how his views along with others changed how cinema was viewed. There are also full film credits, special features info, transfer info, acknowledgements, and stills.


This is the second release of "La peau douce" on Blu-ray in the UK. The first being from Artificial Eye from 2014, which included the commentary and trailer, but also had a presentation featurette by Serge Bromberg which was originally made for the 2000 French DVD release. In 2015, The Criterion Collection issued it in the United States, which had the commentary plus a few new and vintage featurettes. It took a while for a French release, which Carlotta released in 2021, which included the commentary, presentation, and trailer, plus three vintage television excerpts plus a new featurette.

Overall


"La peau douce" may have some flaws with its characterizations, but has a lot of positives to still be considered. Truffaut's first major failure critically and commercially has found better reception in later years, especially with Coutard's cinematography and the performance of the Françoise Dorléac. The BFI Blu-ray offers a great transfer of the 2K restoration with a good amount of vintage and new extras.
| | | | | |
| --- | --- | --- | --- | --- |
| The Film: B | Video: A- | Audio: A- | Extras: B | Overall: B+ |