The Film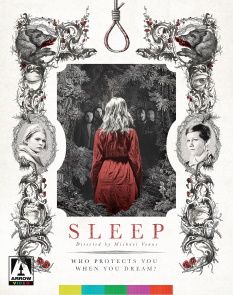 Best First Feature Award (Best First Feature): Michael Venus (nominated) - Berlin International Film Festival, 2020
German Film Critics Award (Best Screenplay): Thomas Friedrich and Michael Venus (nominated), Best Feature Film Debut: Michael Venus (nominated), and Best Editing: Silke Olthoff (nominated) - German Film Critics Association Awards, 2021
DSP Award (Best Supporting Actress): Marion Kracht (nominated) - German Screen Actors Awards, 2020

Flight attendant Marlene (Toni Erdmann's Sandra Hüller) has been having recurring nightmares in which she sees three men die under mysterious circumstances (and a potential fourth who is "stronger but growing weaker"). The dreams are vivid enough that she can recall details of the village in which they occurred as if it were a real place; which it seems to be when she comes across a brochure for the village of Stainbach that highlights its resort hotel. Her daughter Mona (Ever After's Gro Swantje Kohlhof) insists that that her mother's dreams are a sign that she should seek medical help since she only wakes when she stops breathing. Marlene lies about the destination of her next flight to Istanbul and instead travels to Stainbach and books a room at the hotel. Mona is unaware of this until she receives a call from a hospital near the village in which her mother has been admitted in a near-comatose state after suffering a nervous breakdown.

Mona books into the same off-season hotel, finding jovial owner Otto (Downfall's August Schmölzer) more welcoming than his wife Lore (Boarding School's Marion Kracht) whose family has owned the hotel for generations. Mona gets a warmer reception from young hotel maid Franzie (Caged Birds' Martina Schöne-Radunski) and local grocery shop cashier Christophe (The Captain's Max Hubacher) who happens to be the estranged son of Otto and Lore who has not followed in his father's footsteps. In secret, Franzie gives Mona a carved wooden boar sculpture with the name "Trude" etched into it that Marlene was clutching when she was found, warning Mona that Otto had thrown it away when he found it. When the little figurine triggers strange visions for Mona like those of her mother including a man who hanged himself in the hotel's attic, one who slit his wrists in the empty swimming pool, and another who blew his brains out in a store room, as well as a mysterious blond woman (The Innocents' Agata Buzek) who haunts the woods and a burnt-out cottage on the grounds.

When Mona starts investigating, Lore becomes colder but Otto readily reveals that the man who hung himself was his father-in-law, the one who slit his wrists a business partner, and the one who shot himself was his brother-in-law, both of the suicides he attributes to cracking under the strain of having the community's well-being dependent on them. Of the mysterious Trude, Otto and Lore claim not to know anyone by that name, instead offering up an old audio recording of young Christophe singing a local nursery rhyme about a witch named Trude who steals the breath of sleepers, particularly naughty children; but why would such a creature target Otto and his business partners, and what does Mona's mother have to do with any of this?

The feature debut of director Michael Venus, Sleep is not so much in the new mode of "folk horror" films in that its surface interest in ancient German lore than in something more recent and more insidious in the remnants of a Germany still reeling from the national embarrassment of the loss of World War II, apparently the generation after the one that benefited from the post-war econonmic boom, the ones whose cultural amnesia contributed to the rise of Neo-Nazi groups whose hatred was kept behind closed doors in like company or contained within their suburban cellars and rec rooms ("What national defeat did you experience?" Lore bitterly asks her husband as he boasts of the coming fruits of his "sacrifice"). Otto's slogan for making his hotel into a "wellness center" and "corporate retreat" as the centerpiece of the village is "fertile ground for wealth and progress," and his contempt for outsiders and outcasts is just under the surface of his rallying speeches delivered to the older patrons who hang around the hotel's pub in the afternoons and the black tie guests of his banquet during the climax of the film. The subtextual elements of the film are intellectually-stimulating enough that the horror and suspense portion of the story is less interesting, as are the younger protagonists in spite of what Kohlof, Hubacher, and Schöne-Radunski attempt with the material. The dreaming and nightmare sequences are less interesting for their visual trickery than for more subtle moments in which Mona and the audience are genuinely confused as to whether she is awake, sleeping, or has merely nodded off long enough for reality to skew. The business of the climax form the explanation to the physical confrontation feel rather rote and obligatory – with Franzie's punk anarchic twist on the evening seeming less like an act of defiance than a convenient narrative means of preventing several extras from intervening in the action taking place nearby – making Sleep less overall satisfying for its destination than the journey getting there.

Video


Digitally-photographed and mastered in 2K, Sleep looks stunningly crisp and colorful on Arrow's 1080p24 MPEG-4 AVC 2.39:1 widescreen Blu-ray, with deep blacks and definition in the darker scenes and those bathed in saturated primary hues – particularly red – suggesting that they were shot flat and graded as such in post as one would expect from a professional shoot. Digital effects work is seamless befitting those moments when reality slips away into dreams.

Audio


German DTS-HD Master Audio 5.1 and LPCM 2.0 stereo mixes are provided, and the sound design work is equally important in conveying the film's atmosphere of skewed reality in which front-oriented dialogue backed by subtle atmospheres suddenly startles from the rears less so as jump scares than suddenly enveloping the dreamer and the viewer into the unconscious. The optional English subtitles are free of any obvious errors.

Extras


Extras are plentiful for a film that has had little exposure to American and British audiences outside of film festival screenings, and Arrow's dual-territory Blu-ray is atypical for including optional English subtitles for all of the English-language extras and burnt-in English subtitles for the German ones (hopefully, we will see this in future Arrow releases but the practice does not seem to have extended to releases immediately following it). First up is an audio commentary by film critic and historian Kim Newman & author Sean Hogan who discuss the film in the context of the "heimat" genre of German filmmaking – a post-war genre that emphasized the folksy and nurturing elements of pastoral life popularized by Edgar Reitz's sprawling miniseries and its follow-ups – and the German New Wave response to it, suggesting that Sleep is an "anti-heimat" film exposing the dark underbelly of the countryside and drawing not entirely facetious parallels to Hot Fuzz and finding the real villains in those who want to "preserve" some notion of past greatness. In addition to noting director Venus' own cited film influences – particularly Mario Bava's Kill, Baby... Kill! – they also note other possible influences from David Lynch's Blue Velvet and Twin Peaks and H.P. Lovecraft's "The Shadow Over Innsmouth", The Shining (along with fellow German Jessica Hausner's Hotel), Stephen King's own amalgams of "Our Town" and "Peyton Place" in his New England fiction, the rural giallo sub-genre, and even the Polish possession film Demon in which wartime sins also overshadow the present. Rather than seeming like an attempt to fill out the running time of the track for a film whose director they admit they are unfamiliar with; rather, they are all quite stimulating to mull over as one mentally sorts out what is admirable and what at seems undeveloped or underdeveloped in the film.

"A Strange Dark Magic" (16:38) is a visual essay by film scholar Alexandra Heller-Nicholas who discusses the parallels with and departures from the Brothers Grimm tale "Frau Trude", the film's notions of tradition and ritual, as well as gender dynamics with fascistic male drives repeatedly undermined by female intervention. "Sleepwalking Through National Trauma" (22:13) is a visual essay by film critic Anton Bitel that seems to spend an inordinate amount of time discussing the significance of the film's Jenga game opening but eventually noting that the Otto's notion of progress exposes and erodes a shaky foundation that eventually collapses under its own weight in addition to reflecting on the imagery of the boar, parallels with the film Silent Hill, the "return of the repressed" notion of horror, as well as the "sacrifice" required to guard against threats to Otto's "Aryan integrity." "Dream & Folktale in Sleep" (11:13) is an interview with anthropologist, dream researcher, and filmmaker Louise S. Milne who discusses the similarities between dreams and ritual, as well as the psychologizing of faery tales from the nineteenth century onwards and its contribution to horror movies.

"This is No Dream..." (2:17) is an introduction prepared for this Blu-ray release by director Venus and star Kohlhof who also appear in "Talking in Their Sleep" (26:04), a remote conversation between Venus and Kohlhof (both speaking English and acknowledging that their pronunciation is effected by it). Venus reveals that the project took five years to develop but started to find a shape when their producer latched onto the burgeoning genre of "arthouse horror" which seemed a way of exploring "confronting ideas" and discovering in his own research that the horror genre has always been an influence on his work starting with his youthful reaction to the aformentioned Bava film. He mentions that the script's biggest yet quickest revision came once they discovered the hotel location and reconfigured the "creepy, cozy" little inn into what Kohlhof describes as Otto's "huge delusional project" and her own visceral reaction to the filming location. "A Dream We Dream Together" (16:07) is a compilation of film festival introductions created during lockdown by Venus and the cast which includes among other things Kracht giving a cooking tutorial in character as Lore while "Making Dreams Come True" (2:45) is a very short behind the scenes piece.

The four deleted scenes are thankfully given approximate timecode positions to where they would have been included in the menu with "An Invitation to Normality" (0:53) opening up the start of the film a bit with Mona feeling unable to socialize with a fellow student for worry of her mother, "Pest Control" (0:58) showing Otto dealing with a raccoon (with the menu explaining that raccoons are thought to be an invasive species in Germany), "When Wolfram Rules the World" (1:56) making Lore's brother (Paths in the Night's Andreas Anke) revealing his true colors whereas he seemed not much more than bumbling comic relief in the film, and "King Otto" (0:55) consisting of two takes of a scene preceding his soiree in which the names Obama and Trump are mentioned in a radio broadcast. The remainder of the extras consist of the eighty-six image "Marlene's Sketches" gallery, two more image galleries – promotional stills and posters (23 images) and behind the scenes (19 images) – and the film's theatrical trailer (1:39).

Packaging


Not provided for review were the reversible sleeve featuring original and newly commissioned artwork by Oink Creative, the double-sided foldout poster featuring newly commissioned artwork by Oink Creative, or the illustrated collector's booklet featuring new writing by Alison Peirse, an interview with director Michael Venus, and Brothers Grimm fairy tale "Frau Trude" (the latter two included only with the first pressing).

Overall


Social commentary masquerading as folk horror, Sleep is less satisfying for the destination than the journey.