The Film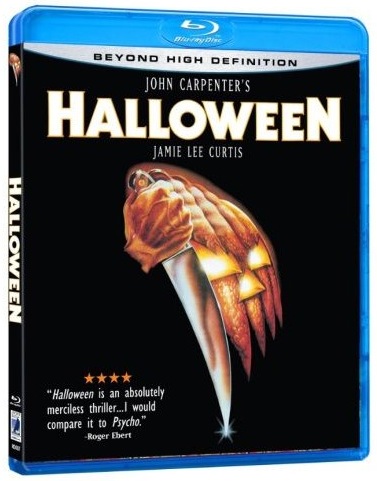 "I met him 15 years ago. I was told there was nothing left. No reason, no conscience, no understanding... and even the most rudimentary sense of life and death, of good or evil, right or wrong. I met this six year old child with this blank, pale, emotionless face and the blackest eyes...the Devil's eyes. I spent eight years trying to reach him and then another seven trying to keep him locked up because I realised that what was living behind that boy's eyes was purely and simply evil." - Dr Loomis, "Halloween"

"Halloween" is one of the best horror films of all time and John Carpenter is certainly a master of the genre. His use of the widescreen format creates much of the suspense and tension of the film. By skilfully placing action at the far edge of the picture, he fully encompasses and involves the audience and the method makes the scares all the more sudden and unexpected. He uses audio 'stings' throughout the film to heighten the moment and enhance the experience. Carpenter also makes terrific use of POV (Point Of View) Panaglide shots, especially in the opening sequence which, although commonly thought of as one continual shot, is three separate shots with two very clever cuts within the scene. The audience knows someone is watching the house and becomes that person. They also become guilty of murder as the scene progresses and when it ends, the shocking revelation is even more dramatic.

An independent, low budget ($300,000) film, it was made in the Spring of 1978. The crew hand painted leaves brown to make it look like October, scattering them on the ground to film and then picking them all up to re-use them at the next location. Filming finished on-time and it premiered on 25th October 1978 in Carpenter's home town of Bowling Green, Kentucky. The reviews were negative - many critics hated it. However, word of mouth and eventual critical praise saw the film become more popular every week. The distributors realized they had a hit and immediately pulled it from every cinema. Mounting a huge marketing campaign, they re-released the film the following year and it became the most successful independent film of all time. When that title was eventually lost in 1990 (to the mass marketed and hyped "Teenage Mutant Ninja Turtles"!) "Halloween" had grossed $80 million in the US alone.

The reason for the success can be largely attributed to Carpenter's chilling score. In fact, when the film was shown to a number of studio executives before the addition of the score, it was rejected as being not at all scary. This fantastic score is credited on the film to The Bowling Green Philharmonic Orchestra. However, this is a pseudonym for Carpenter and a group of friends!

The film credits also distinguish between the adult Michael Myers (played by Tony Moran) and "The Shape" (played by Nick Castle). They are the same character and Tony only appears at the end of the film when Laurie (Jamie Lee Curtis) rips off Michael's mask - which was actually a modified mask of William Shatner!

The film launched the career of a relatively unknown young actress, Jamie Lee Curtis. Her father is Tony Curtis and her mother is Janet Leigh, who was famous at that point for starring as the ill-fated Marion Crane in Hitchcock's "Psycho" (1960).

Carpenter paid tribute to Hitchcock by naming the character played by Donald Pleasence, Sam Loomis, after Marion's lover in "Psycho". The nurse assigned with the transfer of Michael at the beginning of "Halloween" is called Marion. Carpenter also 'honoured' the London Distributor of his previous film "Assault On Precinct 13" (1976) by naming the Michael Myers character after him.

I highly recommend "Halloween". Not only to horror fans but to those that enjoy a good thriller as well. And as for the squeamish, don't worry! As in all of Hitchcock's classics - SUGGESTION (NOT BLOOD AND GUTS) is the key to a REALLY good horror.


Video


Presented in the film's original theatrical ratio of 2.35:1, this transfer is delivered to viewers in high-definition 1080p 24/fps and has been created using AVC MPEG-4 compression. Much like other high-profile Anchor Bay releases this title has seen numerous releases on all formats going back to VHS. There have been countless DVD editions and also several transfers that restore the film's original ratio (and some that tarnish the color timing of the film as with the Divimax DVD release). That version was put under a lot of scrutiny by both reviewers and fans for not retaining the film's original color palette, it is that master which has been used to create this HD release... so for those hoping that this HD release would be the best and most accurate version available and those hoping for a sweet HD image will be disappointed that the Divimax master was used for this release. The biggest problem is that the deep blue hues have been washed to look white, taking away the tone and feel of the film to almost made-for-TV look which hurts it. Also the print itself is not the best quality and could use a proper full blown restoration, there's still some specks and dirt, crushing and heavy noise in parts. The detail is not as impressive as I'd like and depth feels limited as some shots appear a bit soft. Many of the shots look real good and retail detail well but it's not as consistent as I'd have liked. While on a technical level (not counting the color timing issue) the transfer is OK for an HD release and compared to the previous DVD is an improvement, but seeing as this transfer is not approved by either the director or cinematographer I find it hard to give it a decent grade.

Audio


Three audio tracks are included in English uncompressed PCM 5.1 surround mixed at 48kHz/16-Bit/4.6mbps as well as English Dolby Digital 5.1 surround and the film's original English Dolby Digital 1.0 Mono track. For the purposes of this review I chose to view the film with its PCM track. The track has been created as an up-mix from the mono elements. The problem with expanding a mono track to 5.1 is that you are dealing with limited sound elements to fill the space and that's what we have here. The track feels hollow and distant, although dialogue and music seem fine there's no depth and range is limited. Not exactly a great start for an HD title...
There are no optional subtitles available at all for this release.

Extras


Anchor Bay has released this film with an audio commentary, a documentary, the film's theatrical trailer, TV and Radio spots and a bonus trailer. Below is a closer look at these supplements.

First up is a feature-length audio commentary with writer/director John Carpenter, actress Jamie Lee Curtis and co-writer/producer Debra Hill. This is the track produced for the Criterion Laserdisc back in 1995 and has been included on this release for fans. It's a must for fans but there's nothing new to learn if you've obsessed over the film like I and may others have, Carpenter talks about the film, it's development, the casting and shooting as well as the iconic music, as Curtis comments on her character and recalls moments from the production as she shares her experiences with the viewer and Hill also provides some informative tidbits as well. These three seem to get along real well and their enthusiasm for the film hasn't diminished over the years. It's a great track worth listening to, well produced, never boring and always interesting.

Following that is "Halloween: A Cut Above The Rest" a feature-length documentary which runs for 87 minutes 7 seconds. And is the best extra on this release and a good example of how a making-of retrospective should be done. It's filled to the gills with interviews and footage from the series to please any fan. it covers just about everything you ever wanted to know about "Halloween", there's some archival footage here that'll be of interest to fans as well as production footage which is worth its weight in gold.

Next up is the film's original theatrical trailer which runs for 2 minutes 42 seconds as well as a collection of three TV spots with a 'Play All' option and include "Spot #1" which runs for 32 seconds, "Spot #2" which also runs for 32 seconds and "Spot #3" which runs for 12 seconds. ONce you've seen those you can skip to the three radio spots also with a 'Play All' option and includes: "Radio Spot #1" which runs for 29 seconds, "Radio Spot #2" which runs for 27 seconds and 'Radio Spot #3" which runs for 27 seconds.

Also featured on the disc is a high-definition exclusive feature, the "Fast Film Facts" trivia track which features pop-up information about the film as you watch it.

Rounding out the extras is a start-up bonus trailer for:

- "Upcoming Blu-ray Releases" spot which runs for 59 seconds.


Overall


Check out the article written about this film and its sequels by Adrian Busby here.
| | | | | |
| --- | --- | --- | --- | --- |
| The Film: A+ | Video: D | Audio: C- | Extras: A- | Overall: C+ |