The Film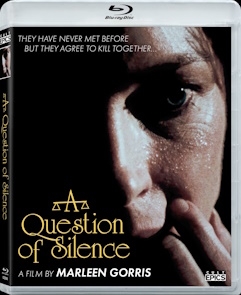 Golden Calf (Best Film): Marleen Gorris (winner) - Nerderlands Film Festival, 1982

Psychiatrist Janine Van Den Bos (Cox Habbema) is called in to a most peculiar case. Three women – housewife Christina (Edda Barends), secretary Andrea (Henriλtte Tol), and cafe owner An (Nelly Frijda) – have all been arrested for the murder of a clothing boutique manager (The Fourth Man's Dolf de Vries). Christina is in a stupor but Andrea and An readily confess to the killing; however, before the act none of them were previously acquainted, and none of them will provide a motive for the killing. Taken together with the unusual brutality of a crime committed by women, Janine must determine whether these women are competent to stand trial, whether they are insane now or at least were at the time of the killing.

Christina refuses to speak – and Janine believes that she cannot, at least for the moment – An wants to talk about everything but the crime, while Andrea ridicules Janine's line of questioning and the psychiatrist's belief that she is actually helping ("You don't really understand people at all; and certainly not women"). While her legal colleagues – including her own lawyer husband Ruud (Eddy Brugman) – readily accept that these women must be deranged, what Janine finds so maddening is that they appear to her to be the most ordinary women and not the "high-heeled army of furies" as described by the prosecutor (Erik Plooyer).

Gradually – too gradually for the wheels of justice – Janine develops portraits of three women ignored and dismissed by the men in their life: Christina in prison is just another inconvenience for her workaholic husband who foists his two children off on his mother and sister, Christina's boss tells her to rearrange his calendar before she goes in for police questioning, and An behind all her bluster about how glad she is to be rid of her husband and grown child is a deeply lonely woman who finds ways to fill the silence. Janine, however, still cannot understand why the boutique owner, why that moment, and why those three women; and, more so, why there were apparently witnesses who neither tried to intervene or report the crime. Getting close to these three women also causes Janine to examine her own "so so" marriage, especially when her husband expressed concern about her professional reputation is actually about his own.

The screenwriting and directorial debut of future Academy Award-winning filmmaker Marleen Gorris (Antonia's Line), A Question of Silence is as valid a feminist statement today as it was when it was released to much controversy (including fights breaking out between male and female festival audience members). The motive for the central murder remains ambiguous – we never really know if Christina shoplifting a dress and being caught was the cause of the crime or an act of provocation that it soon becomes after which An and Andrea each separately divert the manager's attention by doing the same – and one wonders whether their common experience of being dismissed and ignored by the men in their life means more to them or to Janine who as an upper class, intellectual, career woman seems to be the one experiencing an awakening of a sort to the reality of her devaluation by the men in her life.

During a dinner party with friends, Ruud counters his colleagues assertion that Holland is superior for having no censorship by noting that the information may all be there but people are "systematically taught not to look" and "what cannot give immediate pleasure is done away with, considered unimportant..." which we see illustrated in the Janine's pointedly "Freudian" line of questioning in search of a motive for the crime in Andrea's relationships with her father and mother and her reaction to discovering that Andrea had sex just after the crime with a man who mistook her for a prostitute. Andrea's certainty that Janine's report will have no effect on how the court treats them is uncomfortably echoed in another dinner party conversation in which Ruud describes criminal trials as being for show, that everything is arranged beforehand, and the actual trials are "legal retribution" designed to "hurt people in the name of justice."


However radical it seems for a lawyer to be saying such things – which Ruud defines as falling under "preserving the Status Quo" – it is all just intellectual chatter and he shows no actual signs of wanting to change things. That particular discussion is as much a casual dismissal of Janine's work and any effect of anything she has to say as her early casual meeting with the prosecutor who – to use an anachronistic term – "mansplains" his conclusions about the case as if she will eventually arrive at the same conclusions as any "decent-minded person" should. Her testimony should shock the three defendants but it is met with more incredulity by the prosecutor, the judges, and her own husband; especially the latter who describes her contrary position as holding "very peculiar ideas" and advises for the sake of her (actually, his) career that she should perhaps "express yourself less vehemently." The film's Dutch title actually translates as "The Silence Around Christina M." and just as An tells Janine that reason for her silence is simply "Nobody is listening," one wonders when Janine joins in the chorus of laughter shared by the three defendants and the four undeclared witnesses – a wealthy older white woman, a middle-aged black woman, and two young female punk rockers – whether she will make some less-disastrous but definitive life change or be another silent witness. Pastorale 1943's Frederik de Groot has a minor role here as the women's befuddled attorney.

Video


Following its film festival and film market screenings in 1982, A Question of Silence toured as part of the "Festival of Women's Film" and was picked up for U.S. theatrical release by Quartet Films in 1984 but did not secure a VHS release unlike some other titles from that arthouse distributor through RCA/Columbia or Nelson Entertainment. The original negative (Super 16?) and intermediate materials appear to be lost, so the Eye Filmmuseum had to resort to a 35mm projection print scanned in 2K and cleaned up to the best of their abilities. The 1080p24 MPEG-4 AVC 1.66:1 widescreen presentation features the American title card spliced in, but one assumes that this was done during the restoration since an actual vintage Quartet Films print would surely have included burnt-in English subtitles since the film was not dubbed into English and it seems highly unlikely that Eye Filmmuseum – as impressive as their restoration efforts are – digitally painted out the subtitles. The film's color scheme leans towards pastels apart from a few vibrant red and blues, but fading is evident, particularly along the edge of the frame. Infrequent damage remains but is only distracting during the final reel in which there is one large white splice as well as a handful of moments where footage has been slowed down for a few milliseconds to make up for missing frames.

Audio


Virtually identical Dutch mono tracks are provided in lossless DTS-HD Master Audio 2.0 and uncompressed LPCM 2.0 which evince some hiss but the dialogue is always intelligible and a few pointed sound effects make themselves known – like the sound of a coat hanger handle aggressively sliding across a rail or the various wounds inflicted on the manager just off-camera – while it is difficult to determine if aggressive electronic scoring is distorted deliberately or just clipped. Optional English subtitles are free of errors and differ slightly from those on Quartet prints.

Extras


The film is accompanied by a new audio commentary by film scholar Patrica Pisters who notes that the film's four principal women embody different classes of Dutch society, noting such touches as the "gendered drinks" during the Van Den Bos' dinner parties, the authentic prison setting as the country's attempt at a "more humaine" system aimed at reforming and reintegrating offenders – after budget cuts, it was labeled a "failed experiment" and has since been gentrified into a housing block – Gorris having no prior film or television experience but convincing producer Matthijs van Heijningen (The Lift) to greenlight her script and being advised to direct it herself by potential director Chantal Akerman (Jeanne Dielman, 23 Commerce Quay, 1080 Brussels). Pisters provides an overview of Gorris' subsequent filmography – noting that A Question of Silence forms a loose trilogy with her two follow-up films Broken Mirrors and The Last Island – and contrasting it with the "epic matriarchal fairy tale" Antonia's Line while also noting that although Gorris was the first female Academy Award-winning director, she is not often mentioned in the company of Jane Campion (The Piano), Kathryn Bigelow (The Hurt Locker), or Chloι Zhao (Nomadland).


Next up is an archival 1982 "Cinevisie" television interview with director Marleen Gorris (11:14) in which Gorris discusses the film's reception including the fights that broke out between male and female audience members – with the panel moderators throwing up their hands in defeat – and ruminating on the kinds of men and women likely to condemn the female characters or support them.

There is also a 1983 "Cinevisie" television interview with actress Cox Habbema (16:22) who had just appeared that year in the miniseries Armoede but discussion turns back to the Gorris film, its reception, and a discussion of the difference between acting in Holland and her adopted home in Germany. It seems at first opportunistic of the interviewer to turn the discussion over to other recent releases – Michelangelo Antonioni's Identification of a Woman and Erwin Keusch's So weit das Auge reicht – but it appears that she too has seen these films for the purposes of discussing them within the program.

The disc also includes a brief 1982 Polygoon Journal Newsreel Extract (0:46) of the film's premiere, a promotional gallery, the film's theatrical trailer (3:02), and trailers for six other Dutch titles from Cult Epics: the Nouchka van Brakel trio The Debut, A Woman Like Eve, and The Cool Lakes of Death – available separately or as part of the Nouchka van Brakel Trilogy – Pim de la Parra's Frank & Eva and Wim Verstappen's Blue Movie – also available separately or as part of the Scorpio Films: The Dutch Sex Wave Collection – and the most recent previous Cult Epics release AmnesiA (covered HERE).

Overall


The screenwriting and directorial debut of future Academy Award-winning filmmaker Marleen Gorris, A Question of Silence is as valid a feminist statement today as it was when it was released to much controversy.