The Film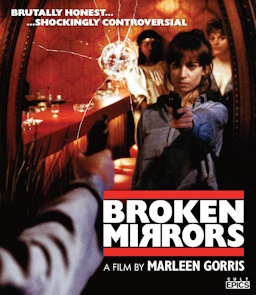 Audience Award (Best Feature Film): Marleen Gorris (nominee) - Warsaw International Film Festival, 1987
Audience Award: Marleen Gorris (winner) - Nederlands Film Festival, 1985
Audience Award (Best Feature): Marleen Gorris (winner) - San Francisco International Lesbian & Gay Film Festival, 1985
Gold Hugo (Best Feature): Marleen Gorris (nominee) - Chicago International Film Festival, 1985

Prostitution is a finely-honed routine at Club Happy House, an Amsterdam brothel managed up front by Ellen (Katie Tippel's Coby Stunnenberg) and behind a desk by "pimp" Frank (Brotherhood of the Wolf's Johan Leysen). Discussion of erratic and unacceptable work performances is handled alongside maintenance issues and the price of regularly replacing towels and bed sheets. Dora (Good Times, Bad Times' Henriëtte Tol), however, can no longer stand it and is planning to get out; but that may be all talk since she seems to enjoy the effect that her eloquent observations of the seamy side of their work has on Diane (The Girl with Red Hair's Lineke Rijxman), an art school acquaintance eager to make a lot of money quickly.

On the surface, Diane seems to adjust quickly to work, commiserating with the other women like an old hand; however, it is Dora who sees past her affected cynicism, awakening within herself a sense of commiseration she has only otherwise found with André (Pastorale 1943's Wim Wama), a recluse who lives in a shack near where her houseboat is docked (who is either ignorant of her job or non-judgmental about it given the amount of scripture he quotes within their morning conversations). While the prostitutes have to worry about abuse from drunken clients and "nice guys" seeking freebies, a serial killer who abducts and starves women to death is stalking the city. His latest victim is housewife Bea (The Assault's Edda Barends) whose routine he has followed for several days before grabbing her outside her apartment building. As Club Happy House hosts a series of conventions, Diane starts to see the "madness" in their routines of which Dora spoke, but also the dangers inherent in their line of work and how little even the most sympathetic of clients – any which of them could be the killer – really think of them.

Director Marleen Gorris' debut film A Question of Silence – which also featured Tol and Barends as well as Eddy Brugman here in a role that may very well only differ on the surface – was about an inexplicable murder committed by three women who had never met before and whose only resistance is deny their male prosecutors – as well as the female criminal psychologist brought in to analyze them – a motive satisfactory enough for them to be classified and dismissed again once justice has been dispensed. The women of Broken Mirrors live the existence that A Question of Silence' protagonist can only surmise and conjecture from her analyses. The world of Broken Mirrors is one where virtually all men are indifferent at best and rotten at worst – the more respectable seeming, the worse it appears since the killer is shown (face still concealed) returning home between work and tormenting his victims to a warm dinner and pleasant conversation with his blissfully-oblivious wife (Romy's Salon's Beppie Melissen) – and all women alike are treated like prostitutes ("Even housewives aren't safe," remarks one of the prostitutes upon hearing about the discovery of the killer's latest victim dumped by the river) from Dora by profession, Diane by her junkie boyfriend who either steals or wheedles money from her for a fix, to Bea who is expected to "perform" for the killer.

Unlike Frank Wedekind's Lulu whose final client is Jack the Ripper himself, the possibility of winding up dead has nothing to do with a woman's "moral" choices here. The one victim we see is not a "woman of easy virtue" but someone going about their daily routine and fixated upon by the killer; indeed, Bea offers herself to the killer out of fear and the hope that he will let her go. The paths of resistance of the women in this film is to refuse to "perform" from Dora and Diane icily humiliating a customer hoping to get a free lay by showing up the next day to "apologize" for the drunken behavior of his friends, a starving and dying Bea realizing that the killer can only make impotent threats when she refuses to react to his manipulation, to all of the prostitutes varying degrees of disgust expressed at a regular client – most satisfyingly by Tessa (Arline Renfurm), a Surinamese immigrant who otherwise seems to pretend not to understand racism directed at her by clients and co-workers alike – when he expects to be rewarded with sex in the aftermath of helping seek medical attention for a prostitute who has been stabbed by an unstable member of a student party ("I'd have done the same for a dog," he says when Dora thanks him for helping them). When Diane fires a gun over the shoulder of this customer and then defiantly into each of the mirrors of Club Happy House, we get the feeling that those are all just warning shots as Diane and Dora depart to carve out new place in the world; nevertheless, the bloody aftermath is just more work for the brothel's cleaning lady (Elja Pelgrom).


In contrast to the grainy 16mm look of A Question of Silence, Broken Mirrors – also produced by Matthijs van Heijningen who also backed Nouchka van Brakel's three major films The Debut, A Woman Like Eve, and The Cool Lakes of Death – contrasts a cool blue and gray look for the killer's scenes that anticipates "Nordic Noir" with the brothel interiors designed, lit, and photographed (by Obsessions' Frans Bromet) like the setting of a Rainer Werner Fassbinder chamber play film while possibly taking a cue from Walerian Borowczyk's The Streetwalker in montages that give the sex acts the same importance as disposing of condoms, changing sheets, cleaning up messes, and emptying the trash. While there are a nude women on the screen, the "gaze" is decidedly female (or "heterosexually female") in offering up more instances of male nudity in the clients than female. A Question of Silence also offered up primarily male nudity of a character who seems to expect admiration from his distracted female partner while the female nudity in Gorris' Antonia's Line unfolds under the female gaze of a character who suddenly realizes that she is attracted to women; indeed, had the film been set half a century earlier, one wonders if Diane and Dora would become part of that film's "female utopia."

Video


Not released in the United States until 1987 by art house theatrical label First Run Features, Broken Mirrors did not make its way to physical media when that company moved to VHS and then DVD, and the most widely-available edition was a German DVD that was not English-friendly. Whereas Cult Epics' Blu-ray of A Question of Silence was derived from an Eye Filmmusem restoration that utilized worn theatrical print materials, their restoration of Broken Mirrors comes from a gorgeous new transfer from the original 35mm camera negative and the results are gorgeously-faithful to the slicker look of the film. Reds are prevalent and saturated from the Club Happy House décor to the daytime scenes of the killer stalking his victim which are given a subtle sepia grade in which red is the only color that pops in the frame. Fine detail does suffer under some of the more severe lighting gels and brothel scenes heavy in cigarette smoke and diffusion but textures reveal themselves in facial close-ups, hair, and wardrobe (the clothing of the unseen killer reveals itself to be a telling clue later in the film). Damage is almost non-existent while natural grain is retained.

Audio


As with other recent Cult Epics Blu-rays, the same mono track is offered in both lossless DTS-HD Master Audio and uncompressed LPCM 2.0, and both offer up clear sync-sound dialogue, music, and effects without any distracting damage or overzealous digital clean-up. The sinister synths of composer Lodewijk de Boer occasionally give way to popular music, although usually at a volume low enough that it does not give "pleasure" to the viewer. Optional English subtitles are free of any glaring errors.

Extras


Extras start with an audio commentary by film scholar Peter Verstraten who discusses the difficulty of seeing the film, references a podcast on the restoration, and contrasts the film's depiction of prostitution with contemporaries like Paul Verhoeven's comedic Business is Business and Ken Russell's wickedly melodramatic Crimes of Passion, the significance of the only positive male character in the film amidst mostly "interchangeable" men, stylistic comparisons to Antonioni and Bresson in Gorris' refusal to endorse the male gaze with conventional cinema language, and how Gorris' sympathy for social outcasts carries over to Antonia's Line (which he reveals is narrated by this film's Rijxman).


The disc also includes an interview with U.S. sex worker Margo St. James (8:17) from 1984 in which she discusses her attempts to unionize prostitutes in the United States and solidarity with migrant and gay populations – noting that the profession was once run by women and attempts in America and Europe to legally regulate it were a means of men asserting control – and expresses admiration for Gorris' film without endorsing her view of prostitutes and clients.

The disc also include a promotional gallery and Cult Epics trailers.

Overall


Before unveiling the "female utopia" of her Oscar-winning Antonia's Line, director Marleen Gorris expressed a worldview of female sexual exploitation as reflected in Broken Mirrors.