The Film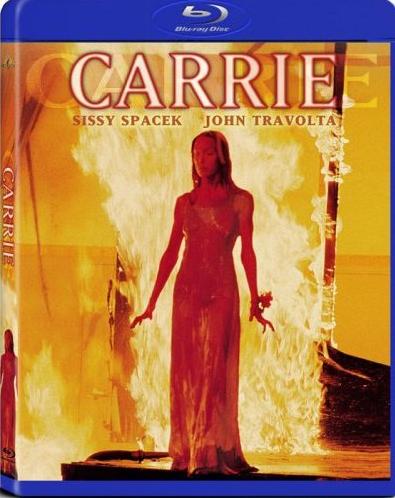 Brian De Palma's "Carrie," based on the Stephen King novel of the same name, is one of the benchmark horror films of American cinema. Unlike some other horror films of this time, such as "The Texas Chainsaw Massacre" (1974), "The Evil Dead" (1981) or "Day of the Dead" (1985), the gore is kept at a minimum. In fact, aside from the finale, there's none to speak of.

Sissy Spacek stars as Carrie, the shy, sheltered and socially awkward girl at school. During a frankly erotic locker-room shower scene, Carrie has her first period – something she obviously has no knowledge of. After freaking out at this mystery bleeding and the taunting of the other girls, Carrie is sent home to her religious nut-job of a mother (Piper Laurie). Carrie's mother harangues and harasses her, forcing her to read the sins of women and locking her in a cupboard to pray for her unforgivable sin of menstruation. What marks this out as different from your everyday run-of-the mill wallflower with a domineering mother is the fact that Carrie is telekinetic – she has the ability to move objects with her mind.

Instead of gore and frights, De Palma ratchets up the tension, setting it all up for that big finale. In fact, with a few cuts you could almost make "Carrie" the story of a shy girl finally being accepted by her peers – more a teen drama than a horror film. But then, of course, there's that bucket of pig's blood ready to tumble. The tense air of horrific expectation before the rope is yanked and the bucket falls becomes almost unbearable, De Palma cutting between the (briefly) happy Carrie, the jubilant crowd, the scheming class bitch and the gym teacher mistakenly pulling a helpful student away.

And lets not forget, this is a De Palma film (his first major one as well) so the look is stylish and there's his love of Hitchcock. He makes judicious use of deep focus and a masterly application of split screen during the Prom night finale – showing us the near catatonic Carrie, covered in pig's blood and at the same time the carnage her unleashed telekinesis is bringing about. The musical sting when Carrie uses her power is even lifted straight out of "Psycho" (1960). As with a lot of horrors, De Palma ties in the dove-tailing aspects of sex and violence – it's no coincidence Carrie's first instance of violent telekinesis occurs during her first period.

"Carrie" is easier to place in the Hitchcockian school of horror than in the edge of your seat extreme thrill ride of other popular horrors. With the recent explosion of superhero films, the TV show "Heroes" (2006-Present) and the brief flirtation with 'gornogrophy' a modern audience might be forgiven for expecting something completely different from a horror film about a girl murdering people with telekinesis. Accept that "Carrie" is a stylish coming-of-age horror film that has, so far, survived without having some bizarre remake.

Video


Presented in a widescreen ratio of 1.78:1 this transfer is delivered to fans in high-definition 1080p 24/fps and has been mastered using MPEG-2 compression. There have been multiple releases of this film going back to VHS, then Laserdisc and several DVD editions over the years since its release, and each new edition that gets released is better than the last, but as with films of this age they are never really perfect and do suffer from several problems. "Carrie" is one of these films that, although, looks pretty good in HD has quite a few flaws that prevent it from truly shinning on this format. I found that there was never any consistency of sharpness present here, there are soft shots all over the show, and detail was limited at times as well. Some aspects of the transfer look good, wide shots retain detail well and color is pretty solid. There were also instances of speck, dirt and heavy grain in parts, blacks seem a bit crushed as well.

Audio


There are four audio tracks present on this disc, an English Lossless DTS-HD Master Audio 5.1 track presented in 48khz/16-bit as well as standard Dolby Digital 5.1 track in French and Dolby Digital 1.0 mono tracks in both English or Spanish. Much like the video the audio does fare too well either, the up-mixed track from its original mono recording lacks depth, range and feel hollow. There's not much happening in the surrounds and the score feels tinny and lacking a punch. The dialogue is clear, and this is really the only positive thing I can say about this lackluster audio track. Thankfully for fans and purists, the film's original mono track is included on this release.
Optional subtitles are included in English for the hearing impaired, French, Spanish, Korean, and Cantonese.

Extras


MGM has only included the film's original theatrical trailer which runs for 2 minutes 6 seconds and bonus trailers for: "The Amityville Horror" which runs for 2 minutes 25 seconds and "The Terminator" which runs for 1 minute 51 seconds.

Overall


Usually I don't tend to comment in this 'overall' section as the reviews tend to speak for themselves and a round-up of the criticisms is not entirely necessary but after reviewing this disc I am compelled to comment on the shameful lack of supplements on this release. MGM have done this before with some other catalog titles that have excellent DVD presentation with a plethora of extras yet when time comes to release on Blu-ray everything is stripped bare. Carrie not only has a few well produced extras on DVD (there are also some which The Criterion Collection produced for their excellent Lasderdisc release which for some reason have not been licensed for DVD use... come on MGM get on the ball!). I am thoroughly disappointed with this release and hope that the studio can remedy this in the near future.
| | | | | |
| --- | --- | --- | --- | --- |
| The Film: A+ | Video: C- | Audio: D | Extras: F | Overall: D+ |