The Show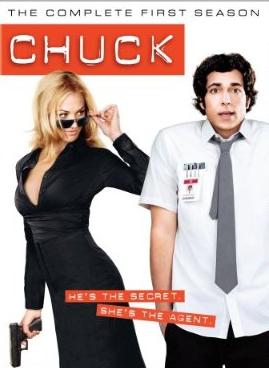 "Chuck" ran in New Zealand on Wednesday night at 8:30pm taking over the slot left open by "Lost" (2004-Present). Each episode ran the commercial hour, which in DVD terms works out at approximately 40-42 minutes. Each episode contains a complete story with minimal serialization to hook the series together. Each episode runs to a clear formula based around the classic three act narrative structure. To all intents and purposes this series is very clearly derivative and serves to satisfy the appetite of its audience by being predictable, reassuring and entertaining in a way that doesn't challenge either the intellect or the morals of its projected demographic.

Chuck himself (Zachary Levi) is an unassuming nerd full of intellect but has no ability to commit himself to anything real or to move effectively through his life. He is stuck in a between place- the Buy More. Enter Bryce (Matthew Bomer); a CIA agent who manages to lodge in Chuck's brain the sum total of the 'Intersect'- a supercomputer's data and formulae. Suddenly Chuck is able to use images to 'flash' together various pieces of Intel into a cohesive whole that will allow him to save the free world. Naturally this makes him a person of interest to both foreign and domestic intelligence communities. Enter his minders- Sarah (Yvonne Strahovski) and Casey (Adam Baldwin). Much fun ensues.

It seems to me that at least some of this should be a little too obvious. "The Greatest American Hero" (1981-1983) did a similar thing in 1981 when William Katt played Ralph Hinkley (for a time Hanley because of similarity to Reagan's assassin) who is gifted a super suit without any instructions, and an FBI agent, Bill Maxwell (Robert Culp), to baby-sit him. There was even a love interest- though not another secret agent.

"Chuck" however does have a couple of deviations from the previous iterations, thank goodness. Chuck is surrounded by a pseudo 'family' of characters betraying how this drama-comedy owes more to sitcoms than to the kind of romp seen in previous incarnations. Chuck straddles the gap between his work fellows who are all worse than he is and his home life where his sister and her boyfriend are clearly high achievers. His minders have more in common with his home life and yet are forced to generally operate in his work life. Naturally in common with the sitcom and the episodic series there can be no resolution to the problems that Chuck and his 'family' face and only the slightest of learning/change can go on since any movement would challenge the underlying conceit of the series.

Thus a quite clever illustration of the conundrum many of us face between home and work is drawn. But this is very gentle satire and therefore allows more recognition than challenge about the way modern life exists. Without the bite that would make us pause and take stock we are subtly reassured that we're not as bad as the clowns being followed in the series.

Gentle satire seems the name of the game here as Chuck's workplace 'Buy More' is a thinly disguised 'Best Buy' clone. This set plays a major part in the storyline as does the apartment building where Chuck lives. In fact there is very little location work in this series- one suspects that the cast and crew seldom leave the lot. This probably serves to make "Chuck" the cheap production it seems to want to look like and certainly doesn't fulfill the various usages that current technology invites production houses to utilize.

However it must be noted that this programme has been brought off with considerable professionalism. Clearly the producers are getting as much bang for their buck as they can- with so much lot bound action they can control the cost of the production quite well. And they have cast well. Levi as out title character comes off the sitcom trail having played Kipp in "Less than Perfect" (2002-2006) for 79 episodes. New Aussie import Yvonne Strahovski has a shorter career but brings considerable capacity to play the range required and serves very well as Casey's foil and Chuck's long-term unrequited sexual tension (LUST). Most precious perhaps and most sad is Adam Baldwin who once again plays a role he seems to have taken for his own. Like William Shatner, Baldwin has perfected a role, which supplies him with considerable work. He has a charming way of expressing emotion through the veneer of threat when he is playing this style of lawman. It is not however as good as his turn as a man called Jayne in Joss Whedon's short lived "Firefly" (2002-2003) and I desperately want someone of vision to explore what else this very watchable actor has to offer- after all Shatner got Denny Crane.

This makes this series the perfect fodder for the 'get-home-late', 'don't-want-to-think' brigade. And this is where these programmes can become quite worrying. Chuck is wearing a particular set of values on its sleeve. America seems to be saying that it is OK to place enormous power in the hands of an innocent since the checks and balances that surround him will keep him on the straight and narrow. So far so good but it ignores the question of whether this great power should exist at all.

Programmes such as these serve to reassure a population that they are safe- as crime and medical dramas serve to establish that our civilization has an enviable omnipotence- such programmes as "Chuck" and "The Greatest American Hero" reassure us that our military and intelligence agencies are omnisciently working in our best interests- even when, in Spock's words "the needs of the many outweigh the needs of the one." Even the possibility of Chuck either being killed or interned doesn't feel like a real enough threat to invest any real time on.

And in the end it is the charming innocence of it all that saves this show- it is great adolescent entertainment! We can be taken away by the mooning of Chuck over Sarah, the slightly outrageousness of his nerdy friends (which never really ascends out of the puerile), the uncomfortable alliance between Casey and Sarah as they become increasingly unable to remain aloof from the innocent charm of Chuck and, finally, the reassurance that good and evil never involves blood and that we, through these stand-ins, are involved in keeping the world safe for those who prefer others to make the moral choices for them.

This first season set contains all 13 episodes, they are:

- "Pilot" in which chuck has the e-mail digitized into his brain, is powers set up, and we meet the main cast of the show.
- "Chuck Versus the Helicopter" in which a government doctor who is hired to extract Chuck's memory files, betrays the group.
- "Chuck Versus the Tango" in which Chuck and Sarah must infiltrate an art show to find a terrorist.
- "Chuck Versus the Wookie" in which Chuck tracks down a stolen diamond, and is drawn to another government agent.
- "Chuck Versus the Sizzling Shrimp, in which Chuck accidentally screws up the plans of a Chinese spy, and has to help in return.
- "Chuck Versus the Sandworm" in which Chuck crosses paths with a person in a very similar predicament to his.
- "Chuck Versus the Alma Mater" in which Chuck returns to Stanford to aid an old professor, who turns out to be a government agent.
- "Chuck Versus the Truth" in which Chuck begins to realize his feelings for Sarah, while meeting a new girl who seems to be interested in him.
- "Chuck Versus the Imported Hard Salami" in which Chuck begins dating another woman, who is tied up in a weapon smuggling ring.
- "Chuck Versus the Nemesis" in which Chuck in which a person previously thought dead returns.
- "Chuck Versus the Crown Vic" in which Chuck and Sarah must foil a counterfeiter.
- "Chuck Versus the Undercover Lover" in which Chuck pesters Casey about his relationship with a Russian operative.
- "Chuck Versus the Marlin" in which Chuck loses his soon-to-be brother in law's ring to his sister, and learns that those who seek to harm him are getting closer.

Video


Presented in the show's original broadcast ratio of 1.78:1 this anamorphic transfer is pretty average on the scale of things. The image is mostly sharp with some soft spots here and there, usually pertaining to shots that feature CGI effects. Colors are bold and vibrant, skin tones appear natural, black levels are decent but feature some noise. There's some grain present and some shots seem flatter than others. Overall it's a fine image, it's just not incredible.

Audio


A single audio track is included in English Dolby Digital 5.1 surround, like most recent TV shows the audio mix sounds pretty good. The range is excellent, handling the various transitions of dialogue and subtle sounds right through to the action scenes which feature a more aggressive sound field. The show's music cues are loud and pumping, and are sometimes a little annoying, especially when they use the same piece of music over and over again. Otherwise it's a decent sound mix that suits the show quite well.
Optional subtitles are included in both English and Dutch.

Extras


The extras for the 1st season of "Chuck" are spread amongst the four discs, including deleted scenes, interviews, a featurette, webisodes and a gag reel. They are examined more closely below:

DISC ONE:

The first disc only contains a string of deleted scenes, or "Declassified Scenes" which runs for 1 minute and 30 seconds. I found it odd that the deleted scenes were not separated by which episode they belonged to, but rather one continuous clip. As for the actual content of the deleted scenes, I didn't find them to be too funny, but didn't think they were any worse than what was already in the show.

DISC TWO:

More deleted scenes or "Declassified Scenes" are included on this disc, presented in a reel which runs for 4 minutes 15 seconds, offering a string of scenes omitted.

DISC THREE:

The third disc offers "Chuck's World" a series of 6 character specific examinations, interviewing crew and actors, offering insight into the process of casting for each character, what they hoped to accomplish with this character, and what the actor brought to the character. While I didn't find it particularly interesting, it was nice to see that at least SOME thought was put into why each character existed. The segments are for:

- "Chuck" which runs for 2 minutes and 31 second.
- "Morgan" which runs for 3 minutes and 9 seconds.
- "Sarah" which runs for 2 minutes and 30 seconds.
- "Casey" which runs for 1 minute and 52 seconds.
- "Ellie" which runs for 2 minutes and 47 seconds.
- "Devon A.K.A "Captain Awesome"" which runs for an even 2 minutes.

This disc also includes its own set of "Declassified Scenes" deleted scenes, and these ones run for a paltry 2 minutes and 1 second.

DISC FOUR:

The main event of the final disc's extras is "Chuck on Chuck" featurette, which runs for 26 minutes and 56 seconds. This is a round table discussion with series creators Josh Schwartz and Chris Fedak, and they are joined by Zachary Levi and Joshua Gomez. Each group picks their favorite scenes from the show, and the four comment on them, much like a standard commentary. This was probably my favorite feature of the set, as the people present here seem like personable guys, and I enjoyed hearing them discuss the scenes in question. When I heard them talk, I felt like they were much more capable of a better show. Who knows, a part of me thinks that they could potentially pick things up in the show's second season.

"Chuck Versus the Chuckles" A.K.A: The Gag Reel, which runs for 7 minutes and 16 seconds, and is just that. If anyone reads my reviews, they will know by now that I hate these reels. It is always flubbed lines set to wacky music. Also, you know that your gag reel is in trouble when a shot ends with someone yelling "That's for a special on the DVD!" This makes me think that people are acting wacky, knowing that this will be on a gag reel, while the best bloopers from movies are always the most unexpected, and shouldn't need wacky music to make them funny.

The third disc also includes a set of "Declassified Scenes" deleted scenes, which run for 2 minutes and 6 seconds.

Lastly, the third disc offers "Chuck's Online World", a series of webisodes created for the internet, starring some of Chuck's co-workers at the Nerd Herd. They are shot in vlog fashion, as if they were something that would be uploaded to YouTube. I found them to be inoffensive, but not really funny either. They merely act as extensions to characters that I don't really care about. They include:

- "Meet Jeff" which runs for 1 minute and 20 seconds.
- "Morgan's Vlog: Movie Villains" which runs for 3 minutes and 8 seconds.
- "Anna's Amazing Talents: Karate Moves" which runs for 24 seconds.
- "Anna's Amazing Talents: Sword Skills" which runs for 36 seconds.

Packaging


This 4-disc set is packaged in a standard amaray case.

Overall


The show has been reviewed by Gregor Cameron, the extras by Andreas Petersen and the image/audio portion has been reviewed by Noor Razzak.
| | | | | |
| --- | --- | --- | --- | --- |
| The Show: B- | Video: B- | Audio: B | Extras: B | Overall: B |