NEWS
CRITERION (USA)
Tuesday 19th September 2017 - posted by Samuel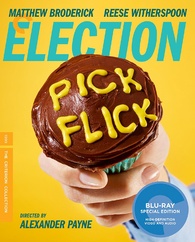 Criterion have announced some exciting titles for release in the near future, the biggest title of which will arguably be Election which will feature a whole host of extras:
- New 4K transfer
- Audio commentary from 2008 featuring Payne
- New interview with Payne
- New interview with actor Reese Witherspoon
- The Passion of Martin, Payne's 1991 UCLA senior thesis film
- TruInside: 'Election,' a 2016 documentary featuring on-set footage and interviews with cast and crew
- Omaha local-news reports on the film's production
- Trailer
You can pre-order this title HERE.
Criterion will also be releasing The Complete Monterey Pop Festival with a new 16-bit 4K transfer, 100 Years of Olympic Films (32 discs!), and General Idi Amin: A Self Portrait.
FABULOUS FILMS UK
Tuesday 19th September 2017 - posted by Samuel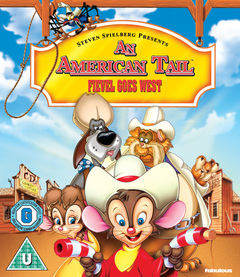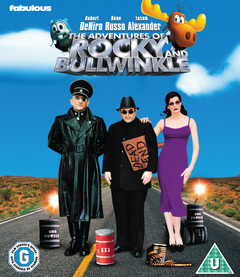 25th September will see An American Tail: Fievel Goes West come to Blu-ray courtesy of Fabulous Films. From legendary filmmaker Steven Spielberg, this delightful full-length animated feature continues the adventures of Fievel, the brave young mouse who captured audiences' hearts in An American Tail. Lured out west by the crafty Cat R. Waul, Fievel joins forces with famed lawdog Wylie Burp to thwart a sinister plot to transform unsuspecting settlers into …mouseburgers! The heartwarming family filmfeatures the voices of Dom DeLuise, Jimmy Stewart and Amy Irving with an original score , including "Dreams to Dream" sung by Linda Ronstadt. Pre-order HERE.
This Monday also sees the worldwide Blu-ray debut of The Adventures of Rocky and Bullwinkle. When two of the world's favourite cartoon characters suddenly find themselves sucked out of their cartoon existence into the real world, you know you're in for one of the most enjoyable family blockbusters of recent years. Yes, that's right, Rocky and Bullwinkle, our hapless heroes are at it again, but this time they must save the world from the evil Fearless Leader (Robert De Niro) and his sinister sidekicks Boris Badenoff (Jason Alexander) and Natasha Fatale (Rene Russo). Knowing that their enemies will stop at nothing to see their feindish plan succeed, our cartoon crime fighters prepare to fight to the death or at least the final reel for truth, justice and the American way! Pre-order HERE.
Last but not least, Fabulous will release Hannibal Brooks on to DVD. Hannibal Brooks (Oliver Reed) is a British prisoner of war assigned to care for an elephant in a zoo in Munich. When the zoo is bombed by the Americans, Brooks is ordered to transport the elephant to a safer zoo in Innsbruck. En route to Innsbruck, Brooks accidentally kills the Nazi member of the escort ( Peter Carsten) and the sets off with an American (Michael J.Pollard) and an Austrian (Helmuth Lohner), the trio escapes with the elephant and head for the Swiss border and freedom. Pre-order HERE.
JEAN-LUC GODARD + JEAN-PIERRE GORIN (ARROW FILMS)
Monday 18th September 2017 - posted by Samuel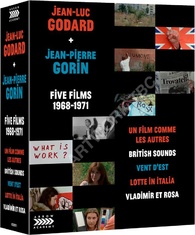 After finishing his film Weekend in 1967, Jean-Luc Godard shifted gears to embark on engaging more directly with the radical political movements of the era, and thus create a new kind of film, or, as he eventually put it: "new ideas distributed in a new way." This new method in part involved collaborating with the precocious young critic and journalist, Jean-Pierre Gorin. Both as a two-person unit, and as part of the loose collective known as the Groupe Dziga Vertov (named after the early 20th-century Russian filmmaker and theoretician), Godard and Gorin would realize "some political possibilities for the practice of cinema" and craft new frameworks for investigating the relationships between image and sound, spectator and subject, cinema and society.
Included here are five films, all originally shot in 16mm celluloid, that serve as examples of Godard and Gorin's revolutionary project.
Extras include
- A conversation with Jean-Luc Godard
– Interview with Jean-Luc Godard from 2010 by Dominique Maillet and Pierre-Henri Gibert
- 100-page full-colour book containing English translations for the first time of writing by, and interviews with, Godard and Gorin, and more
Pre-order this set HERE for UK and HERE for USA.
KINO LORBER TITLES (USA)
Sunday 17th September 2017 - posted by Samuel
Kino Lorber have announced a whole host of titles as part of their Studio Classics range. China Moon (1994) will include a commentary and trailer, Cop-Out (1967) a trailer, Death Rides a Horse (1966) a commentary by Alex Cox and a trailer, The Wrong Guy (1997) a cast and crew commentary and trailer, Cease Fire (1953) receives a 3D presentation, a video essay, introductions, and newly restored three channel stereophonic audio, Driftwood (1947) a commentary and trailer, Hangover Square (1945) gets two commentaries, a featurette and a vintage radio show, The High Commissioner (1968) a trailer, I'll be Seeing You (1944) a commentary and trailer, The Man Who Died Twice a commentary and trailer, Nightkill gets a commentary, trailer, and an interview with actress Jaclyn Smith, and finally This World, Then the Fireworks (1997) gets some interviews and a trailer.
So there you have it. Kino have a busy schedule ahead with lots of titles never seen on Blu-ray before!
BETJEMAN BOX SET (UK)
Thursday 14th September 2017 - posted by Samuel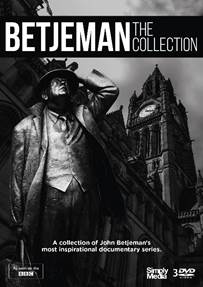 Simply Media are delighted to announce the release of the Betjeman Collection containing three of the BBC's finest documentaries, presented by the much-loved TV personality Sir John Betjeman. The three titles are: A Passion for Churches, A Bird's Eye View and Four with Betjeman: Victorian Architects and Architecture. This collection will be released on DVD together for the first time 23rd October 2017.
Each documentary is presented by Sir John Betjeman, one of the country's most revered television personalities. A prolific writer, poet, broadcaster, and active architectural campaigner and conservationist, Britain's former Poet Laureate was also celebrated for his unwavering devotion and life-long passion for traditional architecture. And his enthusiasm for the subject drew in a large audience.
A champion of British heritage, Betjeman worked closely with the BBC to produce many critically acclaimed documentaries. Known for unhesitantly voicing his wry and honest opinions, he travelled to places of great architectural and historical importance and eloquently explained their significance to viewers. He helped to open our eyes to the true value of the buildings and places around us...
To celebrate his legacy, extraordinary work and undeniable passion towards British heritage, this collection brings together three of Betjeman's celebrated BBC documentaries. Each programme displays Betjeman's infectious enthusiasm for architecture, and showcases his enduring appeal.
You can pre-order this release HERE.
WARNER STEELBOOKS (FRANCE)
Tuesday 12th September 2017 - posted by Samuel
Warner Home Video are releasing another wave of limited edition steelbooks in France. Titles include Bullitt, Dog Day Afternoon, Forbidden Planet, The Last Samurai, Mad Max: Fury Road, and Zodiac (Director's Cut).
FERRARI: RACE TO IMMORTALITY (UK)
Tuesday 12th September 2017 - posted by Samuel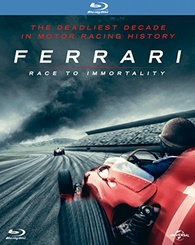 FERRARI: RACE TO IMMORTALITY tells the story of the Scuderia Ferrari's tumultuous early years in the 1950s, giving audiences extraordinary insight into the iconic brand, which celebrates its 70th anniversary this year. The film will be released in cinemas on Friday 3 November and available on Blu-ray, DVD and digital platforms on Monday 6 November.
It's the 1950s… the dawn of the iconic Scuderia Ferrari in the Formula One World Championship and deadliest decade in motor racing history. As cars pushed the limits of human ingenuity, drivers lived on a knife edge between life and death.
At the centre of it all was Enzo Ferrari, a towering figure in motor racing and patriarch of Ferrari who dared to dream about speed in ways nobody else could. Amidst the stiff competition within his team, two of its stars, Peter Collins and Mike Hawthorn, decided that their friendship was as important as winning the next race. The film also features archive footage of Eugenio Castellotti, Luigi Musso and Alfonso de Portago – all legends of the Scuderia Ferrari team.
Directed by sports filmmaker, Daryl Goodrich, and produced by Julia Taylor Stanley (Coriolanus, The Tempest), the award-winning Kevin Loader (The Lady in the Van, The Death of Stalin) and Maggie Monteith (Brotherhood, Searching for Sugar Man), FERRARI: RACE TO IMMORTALITY tells the story of the loves and losses, triumphs and tragedy of Ferrari's most decorated drivers in an era where it was la dolce vita during the week and a coin toss of whether they lived or died on the weekend.
Pre-order this title HERE.
SPONSORS


Scream Magazine - 100% Horror.



Real Groovy - a New Zealand based DVD retailer.

FULL REVIEWS
TECHNICAL REVIEWS