My Straight Son AKA Azul y no tan rosa AKA Blue and Not So Pink
R1 - America - Canteen Outlaws / TLA Releasing
Review written by and copyright: Eric Cotenas (13th December 2014).
The Film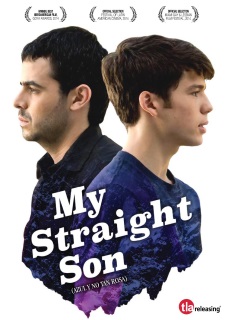 Despite the presence of a pistol-packing, gay-basher-ass-kicking transgender singer as one of the principal characaters, My Straight Son is not a campy Almodovar's-esque comedy, but a melodramatic yet poignant comedy about growth and self-acceptance. Venezuelan photographer Diego (Guillermo García) is planning to propose to his doctor boyfriend Fabrizio (Sócrates Serrano), which may be even more of a shock to his boyfriend than Diego's conservative family who grudgingly acknowledge that he is a "maracon" (even though his nephew does not know the meaning of the slur). When Fabrizio fails to show up to Diego's farewell to the night life at a local club, Diego is horrified to discover that his boyfriend has been badly beaten by a trio of local gay bashers. The police are unable to hold them because Diego did not witness the act and Fabrizio's parents hold him responsible for leading their son astray. While Fabrizio remains in a coma, Diego's transgender singer friend Delirio del Rio (Hilda Abrahamz) and his assistant Perla Marina (Carolina Torres) try to convince him to get back to work. When his high school girlfriend decides to attend a school program in London, she ships their son Armando (Ignacio Montes) over from Spain, and Diego finds himself returning to work if only to dance around the issue of his sexuality. Diego is surprised, however, to discover that his son does not resent him because he is gay but for his absence for much of his childhood. Still unable to see Fabrizio, Diego tries to put his foot down with Armando, making sure he eats and occasionally making him help on shoots. When he discovers that Armando is talking online to a girl and using a photograph of one of his models in his profile, Diego is at first angered. He then becomes concerned that Armando's deception might be more than a lack of self-confidence when he sees a talk show story about body dysmorphic disorder. Although Armando scoffs at his concern, the boy does reveal that he is extremely self-conscious both inside and out. As Diego tries to teach Armando how to talk to women (he contends that some approaches work for both sexes), Delirio also badgers the boy into learning how to tango for his online sweetie Laura (Clarissa Sanchez). While Diego's love story does not end as happily as hoped, he resolves to help Armando with his love life while honoring Fabrizio.; and the road trip he takes with his son, Delirio, and Perla Marina – who has discovered that she is pregnant with her abusive boyfriend's child – proves enlightening and renewing for all of them.

Video


TLA Releasing off-shoot Canteen Outlaws' single-layer disc sports an attractive if not spectacular progressive, anamorphic 2.35:1 widescreen transfer of this Red One-photographed film. Detail is decent for the most part, with a degree of "filmic" softening evident, with banding evident in the more saturated color lighting (which also sport blown-out highlights).

Audio


Audio is Spanish Dolby Digital 2.0 stereo only, although it's very likely that the original mix is 5.1. The downmixed track on hand finely renders the dialogue and music without surround effects overwhelming the mix. The English subtitles are burnt-in but unobtrusive.

Extras


There are no extras other than the American theatrical trailer (2:17) as well as trailers for other Canteen Outlaws titles: Floating Skyscrapers and Love or Whatever.

Packaging


Standard keep case with the less colorful American poster art which - in keeping with the English title - features only Diego and Armando, whereas the Spanish poster artwork features them as well as Delirio and Perla against purple background.

Overall


My Straight Son ends up being rather lightweight (festival-friendly) and contrived in its dramatics, but it is a likable comedy with good performances, gorgeous photography, and confident direction.
| | | | | |
| --- | --- | --- | --- | --- |
| The Film: B+ | Video: C+ | Audio: C+ | Extras: F | Overall: C |

---
Rewind DVDCompare is a participant in the Amazon Services LLC Associates Program and the Amazon Europe S.a.r.l. Associates Programme, an affiliate advertising program designed to provide a means for sites to earn advertising fees by advertising and linking to amazon.co.uk, amazon.com, amazon.ca, amazon.fr, amazon.de, amazon.it and amazon.es . As an Amazon Associate, we earn from qualifying purchases.