The Film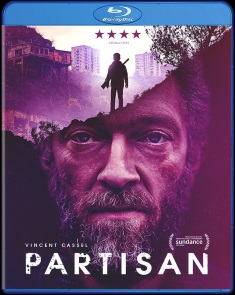 Eleven-year-old Alexander (Jeremy Chabriel) has lived his entire life in a secret compound with his birth mother Suzanna (Florence Mezzara), brother Leo (Alex Balaganskiy) as well as several co-mothers and their children under the guidance and protection of Gregori (Vincent Cassel, Irreversible). Having sought out and taken in battered, abandoned, and otherwise marginalized women who have recently given birth, Gregori is stepfather to some, birth father to others, and mentor to all. Alexander was the first and has been Gregori's star pupil – inspiring admiration rather than jealousy from his "siblings" – an efficient and accurate juvenile assassin. As adolescents are wont to do, Alexander pushes back against Gregori's authority with minor, playful infractions that Gregori indulges; but Gregori becomes increasingly concerned about the ways in which Alexander's growing curiosity about the outside world expresses itself in secret keepsakes, squirreled pocket money, and lies by omission. Alexander's younger autistic brother Leo, with his "damaged brain", has become a source of frustration to Gregori who sees his blunt statements of fact during lessons as contradictions. When Leo sees the women kill one of the chickens for that evening's meal, however, he sets up camp inside the coop and attacks Gregori when he tries to reason with him. Although Gregori maintains his composure in front of the rest of the group while forbidding the others to interact with Leo, Alexander sees for the first time the cracks in his father figure's benevolent façade. When Gregori tells the commune the next day that Leo has run away, possibly with Rosa (Rosa Voto) who has inexplicably left her own child behind, Alexander comes to believe that the real threat to his family – now down to his mother and her newborn son – is not outside of the compound, and Alexander has been trained and armed to defend them.

Partisan is not a thriller about child assassins, and we never really learn come to understand Gregori's motivations (only that they come from a place of deep rooted pain) or whether the men on his hit-list are the ones who abused and/or abandoned the commune's women or if they are tied to his money-making endeavors with the mysterious Uncle Charlie (Frank Moylan); although, based on Gregori's us vs them dichotomy, the victims could just as well be live practice targets. What the film does quite cleverly and compellingly is examine from both sides the coming of age in which the child becomes aware of, disillusioned, and even devastated by the parent's flaws. The parent, in turn, has a difficult time reconciling the child they have come to know and love with defiant behavior that partially stems from the child's own difficulties with how they feel about these revelations. The cult setting and the assassin angle raise the stakes considerably for the final showdown (which is understated in execution but still satisfying). Child actor Chabriel gives a surprisingly good yet understated performance, but the screen belongs to Cassel; and the suspense is constant as the audience comes to understand just the importance of his benevolent manner not only to hold sway over his family but also to his self-control (even the lie he tells Leo about taking him to look for tangier feathers could be interpreted as a different kind of ploy to try to engage his interests rather than to deceive him). A constant sense of dread pervades the latter half of the film as we wait for him to finally snap; and it is a testament to the writing and Cassel's expressive performance that his feelings of estrangement from his son/pupil are ultimately more interesting (and perhaps more relatable) than Alexander's realizations. The slow-burn approach may not satisfy viewers otherwise drawn in by Cassel's style of slick and complex villainy, but Partisan really is more stimulating than it is frustrating.

Video


Well Go USA's single-layer MPEG-4 AVC 2.35:1 widescreen encode is a typically solid offering, cleanly rendering the digital cinematography which favors warm skin tones and naturalistic lighting (apart from a few scenes lit with gelled party lights) and deep shadows.

Audio


Audio options include a rather conservative lossless DTS-HD Master Audio 5.1 mix which is effective not for immersive surround experience but for the relative quietness and the tension we dread will explode visually and aurally at any moment. A Dolby Digital 2.0 stereo downmix and optional English SDH subtitles (which alternately refer to Cassel's character as "Gregori" and "Grigori") are also included.

Extras


The principal extras are two interviews. Director Ariel Kleiman (15:00) discusses his beginnings at film school and his successful shorts before mounting his first feature here. He cites as his inspirations a newspaper story about a fourteen-year-old Columbian assassin as well as Carlos Saura's film Cria Cuervos and its basis in the Spanish proverb "Raise ravens and they'll pluck your eyes out." Neither the director nor his co-writer Sarah Cyngler felt they could do justice to the Columbian setting and political context, so they chose a more ambiguous setting and restricted details to the perspective of its sheltered protagonist. Actor Vincent Cassel (9:08) recalls being impressed by the unusual concept but had to turn it down because of other obligations. He was impressed by the director's short films and accepted the role when they expressed a willingness to work around his schedule. He also discusses working with inexperienced actors and the first time feature director (the interview was shot early on in production). The film's trailer (2:08) is also included.

Overall


The slow-burn approach may not satisfy viewers otherwise drawn in by Cassel's style of slick and complex villainy, but Partisan really is more stimulating than it is frustrating.