The Film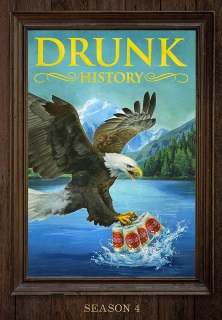 Inexplicably in its fourth season, the web series turned Comedy Central show by Derek Waters (Hall Pass) and Jeremy Konner (Another Period) finds Waters hosting appearances by drunk subjects who recount their versions of historical events which are in turn reenacted and lip-synched by celebrities who seem to think any exposure is good exposure. Season four kicks off with "Great Escapes" (21:22), casting Reno 911: The Movie's Thomas Lennon as LSD pioneer Timothy Leary escaping from prison, Silicon Valley's Thomas Middleditch as sailor William Willis who broke into Devil's Island to engineer the escape of wrongly-convicted Bernard Carnot, and Anchorman: The Legend of Ron Burgundy's Chris Parnell as Titanic baker Charles Joughin and attributes his habit of imbibing whiskey to his miraculous survival after spending hours in frigid waters waiting to be rescued. "Legends" (21:17) seems more disparate in its subject matter with Neighbors 2: Sorority Rising's Kyle Mooney as America's first daredevil Sam Patch making death-defying dives off of Niagara Falls with his pet bear (Waters), Atonement's Juno Temple as Marilyn Monroe forming a life-long friendship with Ella Fitzgerald (Precious's Gabourey Sidibe) that facilitated the latter appearance at the Mocambo in 1954 where she had once been refused because she was black, and Arrested Development's Tony Hale as Buster Keaton applying his ability to take a hit into literal slapstick comedy on the cinema screen. "Bar Fights" (21:20) casts Trainwreck's Vanessa Bayer as pre-Prohibition "saloon smasher" Carry Nation, Superbad's Michael Cera as future president Andrew Jackson "who had, at some point, shot at several people in a non-battlefield situation", and Transparent's Alexandra Grey as drag queen Marsha P. Johnson who threw the first volley in the Stonewall Riots. "The Roosevelts" (21:20) reveals how Teddy Roosevelt (21 Jump Street's Rob Riggle) revolutionized the sport of football (and reduced the number of its casualties), how FDR (The Mighty Boosh's Rich Fulcher) and Winston Churchill (comic Louie Anderson) bonded over a Christmastime drinking binge, and how Eleanor Roosevelt (Cougar Town's Busy Philipps) was inspired by meeting female Soviet sniper Lyudmila Pavlichenko (The Perks of Being a Wallflower's Mae Whitman) to champion women's rights. The fifth episode's "Scoundrels" (21:20) are Black Mass' Jesse Plemons as Charles Ponzi, The Office's Ed Helms as Scottish conman William McMasters, and 2 Broke Girls' Kat Dennings as Hudson River pirate Sadie the Goat.

The theme of the sixth episode is "Siblings" (21:18) with Blades of Glory's Jenna Fischer as Katherine Wright whose contributions to the first airplane built by brothers Orville (Freddy vs Jason's Jason Ritter) and Wilber (Waters) went unnoticed by history, Jumper's Rachel Bilson and Martha Marcy May Marlene's Elizabeth Olsen as two of the three Kopp sisters who get armed and dangerous in the face of harassment and extortion at the turn of the century, and How to Be Single's Sarah Ramos and Mike and Dave Need Wedding Dates' Sugar Lyn Beard as the founders of nineteenth-century spiritualism. "Landmarks (21:18) details how first female engineer Emily Roebling (Orange is the New Black's Taylor Schilling) took over the construction of the Brooklyn Bridge when her husband (Bachelorette's Andrew Rannells) became bed-ridden, Ray Donovan's Liev Schreiber as the man who sold the Eiffel Tower (twice), and William Shakespeare's (Harold and Kumar Go to White Castle's John Cho) part in "The Great Theatre Heist of 1598." In "Food" (21:20), Mayor La Guardia (Freaks and Geeks's Samm Levine) goes to war with the mob over artichokes, the double life of Julia Child (Casual's Michaela Watkins) is exposed, and Arthur Jell's (Clue's Michel McKean) part in the "Great Molasses Flood of 1915." The timely "Hamilton" (21:20) casts Alia Shawkat (Green Room) as Alexander Hamilton in the story of his duel with Aaron Burr (Parks and Recreation's Aubrey Plaza). Bokeem Woodbine (Jason's Lyric), David Wain (Wet Hot American Summer), and Tony Hale also appear as, respectively, George Washington, Thomas Jefferson, and James Monroe. In the final episode of the season is "S**t Shows" (21:21), Joshy's Jenny Slate provides the most consistent laughs as she narrates the story of "The Cherry Sisters" the worst vaudeville act in American history while American Edwin Forest (Get Smart's David Koechner) and British William Maccready (30 Rock's Jack McBrayer) cause the bloody "Shakespeare Riots", and Bob Odenkirk (Better Call Saul) proves to be the most entertaining storyteller in vividly depicting 1979ís Disco Demolition Night. The real stars are, of course, the drunken narrators whose words are mouthed by the actors; but, like the drunks we know and meet in real life, their stories are only intermittently funny and some are more punchable than others. However inaccurate the accounts, they at least serve to rouse the interest of closet history buffs.

Video


Despite the brevity of the shows, both discs in this set have been given a dual-layer encoding, serving the photographic challenges of the reenactments (mostly various filters applied in post to give entire scenes or individual shots an "old timey" feel) while the host segments look a little noisier due to the natural lighting which tends towards the low-key.

Audio


English Dolby Digital 5.1 and 2.0 stereo tracks are included, and both are serviceable since none of the episodes make extensive use of the surround field apart from some atmosphere and direction effects (which suit the patchwork quality of the visuals). Optional English SDH subtitles are also included to help understand the slurred dialogue.

Extras


Extras start off with the "Election Special" (21:20) which was chronologically the seventh episode of the season but is presented here as a supplement; and rightly so, since it is basically a clip show of the series' presidential-themed stories with new host footage by Waters and Steve Berg. While of little value to fans of the series, it provides newcomers with a digest of past highlights. Twenty-three minutes of deleted scenes (with a "Play All" option that encompasses the aforementioned special) are included and indexed by episode for those viewers who thought any of these stories should be longer.

Overall


However inaccurate the accounts, Drunk History may at least serve to rouse the interest of closet history buffs.