The Film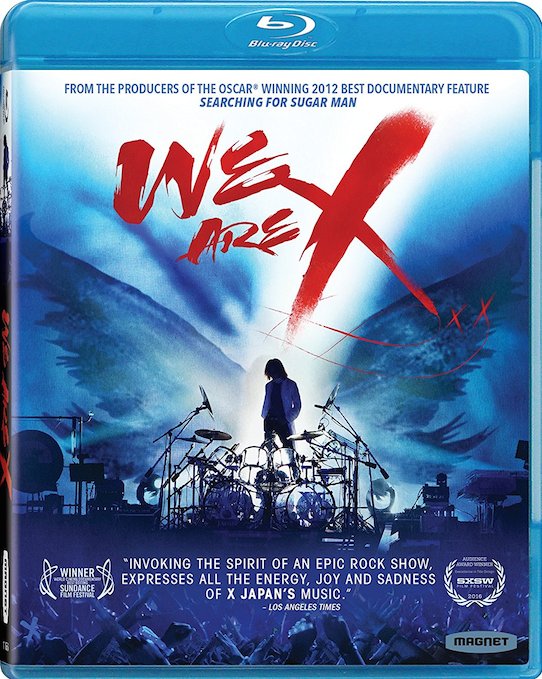 Rock documentaries are a dime a dozen, but try finding one that not only is well done, but is insightful into its subject, and immediately you run into a problem. How does the director not bog us down with archival footage and candid photographs of the band back stage while displaying a parade of talking head celebrities that offer nothing but compliments to the talent, but shy away from the real juicy material that we want to know about? Now what if we have a band that has millions of fans, but is literally unheard of in the states, how do you present this phenomenon to the average film goer? I must admit that I am a bit of a metal head, but I had never heard of this band before. Yes, I did think that it was going to be about the band X from Los Angeles, but after a quick scan of the box artwork, I realized that I was wrong. So what is my verdict? X Japan seems to be the real deal. Imagine a cross between Iron Maiden and Rush with the theatrics of KISS and the result would be X Japan, but they have sold over 30 million singles and albums (more than The Beatles and The Rolling Stones combined!). It was difficult to judge the music from this film alone, but I am sure that this will be the start of a new era of fandom just based on the personalities of the band members alone.

We start the film with the band kicking off a performance at a sold out Madison Garden arena in 2016, and then we are shown the various members of the band way back in the 80's, when they sported some outrageous hair styles and makeup that is referenced as being from the "visual kei" school of fashion. I keep thinking that these guys would have fit right in the hair metal scene in Los Angeles with Mötley Crüe and Poison, but apparently there is a lot more to them than just their crazy appearance. The band formed back in 1982 between a couple of classmates that attended the same school, the central core being the friendship between drummer/classically-trained composer/bandleader Yoshiki and lead singer Toshi. Yoshiki is clearly the dominant force among the musicians and he bravely speaks about discovering the body of his suicidal father at age 10, an incident that had a huge effect upon the drummer, and continues to color his thoughts to this day. The band rocked the house from 1982 to 1997, when they disbanded for a number of reasons, including the use of mind numbing thought control of the lead singer by a religious cult. Along the way two other band members committed suicide, including the guitarist Hide after he was fired from the band for unstated reasons. Director Stephen Kijak cuts from present day footage to timeline pretty seamlessly, allowing us to follow the musicians through a variety of looks and sounds, bringing us up to date with the extensive preparations behind the scenes at MSG. The band performs bits of several songs and we get to see plenty of concert footage from various venues, usually in front of enthusiastic fans, including lots of sobbing Asian schoolgirls.

What held my attention the most was the enormous effort and exhausting effect that performing had on Yoshiki, including cortisone injections into his arms and hands and the necessary application of oxygen tanks to the musician after a concert. We see various physicians attending to Yoshiki, examining x-rays of his hands and arms, and essentially telling him not to exert such effort while playing. Sure, the price is a high one, but the idea of the artist actually listening to the doctors is laughable. That's like telling an athlete not to run, or someone with asthma not to breathe. Director Kijak is no stranger to the rock documentary field, and he has previously helmed projects focusing on The Rolling Stones, Backstreet Boys, and Scott Walker of Stone Temple Pilots fame. Obviously a labor of love, Kijak must have watched plenty of archived footage, including a never released footage of director David Lynch shooting a video with Yoshiki. We get a promotional shoot with Stan "The Man" Lee of Marvel fame and there is a talking head promotional clip of Gene Simmons saying "that if they were born in the West they would have been the biggest band in the world." I am pretty sure that that was a paid endorsement, because the bassist for Kiss does nothing for free.

It was interesting to hear from the many fans that credited the band and their music with saving their lives or helped them make it through difficult times. This is more than just a music documentary; this film side steps the usual talk about sex and drugs and alcohol and instead focuses on the emotional roller-coaster of the band and their real-life trials and tribulations, and is ultimately a valentine to the fans that have supported the band throughout the years. There is plenty of material here for newcomers to the band and all members are given camera time to speak about their experiences.

X Japan's music is stylistically impressive; a mix of thrash metal, glam rock and soaring symphonic ballads, and it is very easy to see why the band has some serious die-hard fans. Throughout the film, we are shown clips of various songs and the band truly rocks hard, but at the same time, Yoshiki's gentler side is revealed through his piano driven ballads. It is Yoshiki's guiding influence that tempers the band as he is the composer and producer of most of the songs, and it is more than evident that he is incredibly productive. "Pain doesn't age," Yoshiki remarks at one point in the film, and he is not just referring to the pain in his body, but also in his soul.

The movie was produced by John Battsek, Diane Becker, Jonathan McHugh and Jonathan Platt, and edited by Mako Kamitsuna and John Maringouin. The cinematography was done by Sean Kirby and John Maringouin, and the music score was composed by Yoshiki.

Video


Presented in 1.78:1 widescreen HD 1080p 24/fps mastered in AVC MPEG-4 compression, lots of interviews and concert footage makes this a X Japan's dream come true. Solid image presentation for a rock documentary.

Audio


There's a single English/Japanese DTS-HD Master Audio 5.1 surround track, this is an extremely well done audio track, the surround sound is nice and full but not overwhelming. The portions of the film in Japanese feature player generated subtitles. Subtitles are included in English SDH and Spanish.

Extras


Magnet has released this film with a collection of deleted scenes, deleted interviews, live performances, a fan video, and bonus trailers. Below is a closer look.

Deleted scenes included are:

- "Yoshiki and the creator of Hello Kitty" (6:43) This includes a segment on how a Yoshiki Kitty character was developed.

- "Yoshiki at the Hello Kitty Convention" (9:32) is an interview with Hello Kitty designer Yuko Yamaguchi which includes clips from Kitty Con.

- "Yoshiki at the New Economy Summit" (13:35) guest appearance at an economy conference.

- "Yoshiki at the beach" (17:18) Yoshiki at the beach interview clip.

- "Yoshiki visits an X museum" (19:32) Yoshiki visits a museum where lots of early memorabilia is featured.

There are seven deleted interview vignettes with:

- Yoshiki (10:50) emotional leader of the band on how he feels about their new global awareness and trying to conquer the world. he writes all the songs, he produces the material, he is fragile and very much the driving force behind the band's success.

- Toshi (9:25) the voice of X Japan. He doesn't really say much that hasn't already been covered earlier, the friendship between him and Yoshiki is very important.

- Pata (5:42) a guitarist that speaks about how he came to the band.

- Heath (5:68) a guitarist that came later to the band, he speaks of his early musical influences.

- Sugizo (2:44) serious guitar dude, lots of shots of him shredding and playing some serious riffs.

Yoshiki on We Are X: A series of brief interviews (10:00) on why this film matters to him, what the fans support means to him, he breaks down and cries repeatedly.

"Forever Love" live performance from 1997's "The Last Live" Concert at Tokyo Dome (7:55) is a soaring ballad that features Yoshiki playing the piano.

"Kurenai" live performance from 1997's "The Last Live" Concert at Tokyo Dome (7:00) more speed metal with a dramatic intensity.

"Born to be Free" is a fan video (6:07) fans try to express what the band means to them, features lots of fan footage from around the world.

Bonus trailers for:

- "Officer Downe"
- "Don't Fall"

Overall


At times a tad self-serving and self-congratulatory (hey, it's rock and roll), this is a fascinating look at a band that is huge in Japan and has a gazillion fans that are practically rabid.
| | | | | |
| --- | --- | --- | --- | --- |
| The Film: B+ | Video: A | Audio: A | Extras: A | Overall: A- |