New World [Blu-ray]
Blu-ray B - United Kingdom - Eureka
Review written by and copyright: Eric Cotenas (16th January 2018).
The Film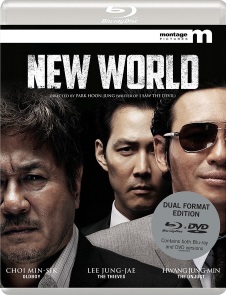 Just hours after the chairman of Goldmoon – a front for the Korean/Chinese Jaebum gang – Seok (Memories of the Sword's Kyeong-yeong Lee) is freed due to insufficient evidence on felony charges of corruption, his car drives into the path of a garbage truck and he is killed. With a vacancy at the top, the two rivals vying for the position of chairman are flamboyant heir apparent Jung Chung (The Wailing's Jung-min Hwang) from Shanghai and arrogant Korean managing director Joong-gu (For the Emperor's Sung-woong Park). Outraged with the court's leniency with Seok and their failure to prosecute, the police – represented by newly-promoted Section Chief Kang (I Saw the Devil's Min-sik Choi) and Commissioner Ko (The Thieves' Jin-mo Joo) – decide to manipulate the outcome of the vote to their advantage with the help of Chinese-descended Ja-sung (Assassination's Jung-jae Lee), Seok's even-tempered second-in-command who is actually a police officer who has been in deep undercover with the gang for ten years. Ja-sung is angered by this request since Kang had promised him a special ops assignment overseas once Seok was dead, and he is expecting a child with wife Joo-kyung (Seo-yeon Park). Frustrated with Kang and his handler Shin-woo (Wishing Stairs' Ji-hyo Song) and feeling that the gangsters trust him more than his police brothers – and also unaware that his wife is reluctantly reporting to Kang his every move out of obligation for helping her dope fiend father – Ja-sung reluctantly maintains his cover and gives the impression of remaining objective while also backing Jung Chung. Kang takes intel that Ja-sung was able to get to him about Joong-gu to arrest him on corruption charges that will likely not stick but will have him believing that Jung Chung snitched on him while giving the latter a false sense of security. When Kang refuses to be bribed and angers Jung Chung by expecting him to "know your place", Jung Chung hacks the police database and exposes Shin-woo – who has posed as Ja-sung's chess teacher – and another police mole within the organization. With the possibility that Ja-sung's identity has also been revealed in the files (which have been digitally erased but may exist on paper), Kang decides that a third candidate may need to be inserted and that Ja-sung may need to get closer to the top at a time when he wants to be free of the mob and the police. As Kang tries to have Jung Chung "removed" before he can go after Ja-sung or Joong-gu's gang war takes everyone out.

The third directorial effort of Hoon-jung Park following the two historical films The Showdown and The Tiger, New World is an epic-length but fast-moving melodrama of deep cover and multiple betrayals. The protagonist's inner conflicts really are given no more depth, but the typically cynical ending is refreshingly a matter of having nothing left to lose than the usual "absolute power corrupts absolutely" resolution. That the film remains compelling and exciting at the right times is an effect of the actors inhabiting their undemanding characterizations effortlessly – be it Lee's or Choi's stoicism, Park's bellowing, or Hwang's smirking – as slickly lensed by Chung-hoon Chung (Stoker) and accompanied by the scoring of moody scoring of Yeong-wook Jo (Oldboy). While the plotting is paint-by-numbers and the action staging and fight choreography feels like it is going through the motions, it does so well enough to make one believe that it is a well-constructed and momentous effort during its two-hour-plus running time (rumor has it that a remake is in the works).

Video


Released on Blu-ray in 2013 stateside by Well Go USA, New World comes to Blu-ray in the UK courtesy of Eureka Video offshoot Montage Pictures in a spectacular 1080p24 MPEG-4 AVC 2.40:1 widescreen encode of an expectedly immaculate HD master of this Red One-lensed film. Greys, blacks, and blues predominate but faces and skin textures have great definition in the film's intense and contemplative close-ups while some CGI blood is the only time the digital visual effects compositing makes itself obvious.

Audio


Audio options include nicely immersive DTS-HD Master Audio 5.1 and LPCM 2.0 stereo tracks in which the gentle scoring gives way to directional car crashes, gunshots, slashing, and battering. Optional English subtitles are also provided.

Extras


The sole extra is the film's trailer (1:35), although the short EPK featurettes on the US release are likley not enough for fans to seek out the import.

Overall




---
DVD Compare is a participant in the Amazon Services LLC Associates Program and the Amazon Europe S.a.r.l. Associates Programme, an affiliate advertising program designed to provide a means for sites to earn advertising fees by advertising and linking to amazon.co.uk, amazon.com, amazon.ca, amazon.fr, and amazon.de.