The Film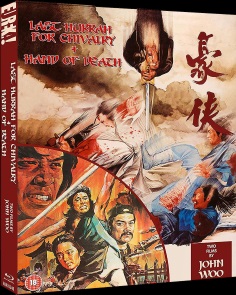 Last Hurrah for Chivalry: The wedding of scholarly young Lord Kao (Hard Boiled's Kong Lau) is crashed by Pak Chun-Tong (Project A's Hoi Sang Lee), the moral enemy of his father who uses the slight of not being invited to the wedding to reclaim the land stolen by Kao's revered father. Not only does he unleash his ninjas upon the wedding party, he has also paid Kao's wife – his favored courtesan purchased from a brothel – to betray him. A wounded Kao manages to escape with his family retainer (God of Killers' Homer Cheung) to the care of his former master who refuses him the use of the Moonlight Sword because he lacks discipline and that the sword can only do evil in someone so consumed with thoughts of revenge. Kao's retainer suggests that they seek out the help of a swordsman powerful enough to beat Pak Chun-Tong. After witnessing a gallant act of fighting against an arrogant merchant in defense of some street children by Chang San (The Five Deadly Venoms' Pai Wei), Kao ingratiates himself into the man's family – his sister and her struggling fiancé – by first arranging for treatment for his ailing mother and then paying for her funeral, obligating Chang San to help him. Kao further tests Chang San's abilities by paying wandering swordsman Pray (Dragon Lord's Hark-On Fung) to attack his master's house, mortally wounding the old man and challenging Chang San to a duel. While Kao's master suspects the truth, Chang San does not as he fights and defeats Pray. Chang San also makes the acquaintance of Green Suit (Royal Tramp's Damian Lau), a drunkard swordsman lacking a cause until he befriends Chang San and offers to team up with him against Pak Chun-Tong without realizing that they are playing into Kao's plan to defeat his enemy and reclaim his lands without having to lift a finger.

A precursor to director John Woo's – then credited as "John Y.S. Woo" and before that "Wu Yu Sheng" – "heroic bloodshed" Hong Kong crime films, Last Hurrah for Chivalry seems shopworn upon first viewing, with a dull hour of exposition spiked by a couple fight scenes – their choreography and graphic violence blunted by the Shaw Brothers-esque studio backdrops and Woo's scope camera coverage which favors long takes and moving camera over the fast edits we associate with Woo's gunplay films and later eighties Hong Kong action cinema in general. Woo's own comments about the film help the viewer to reassess his intentions with his desire to make a gangster film at a time when Golden Harvest had him typecast as a comedy director and while the studios were still milking the waning popularity of period swordplay films, as well as Woo's admiration for classic Japanese samurai films (the influence of which is very evident upon second viewing not only in that studied cinematographic form but the stoic performances and non-action choreographed movements) and Hollywood noir with the film's scheming and double-crossing. The aforementioned first hour is a trial in that Woo does subvert the expectations of Kao as an untested youth who must become disciplined if he is to avenge himself and his father's reputation; however, his presentation of Kao as craven and pathetic including a fake suicide attempt because of his depression of over his dishonor to manipulate Chang San into taking on his enemy – before ultimately revealing just how vile a character Kao is once he has power – makes him only slightly less compelling than the two skilled swordsmen who are at their best in actual combat rather than in romantic scenes with a caring courtesan (Bonnie Ngai who is window dressing as can be expected of women in Woo films) or in comic relief scenes. The final forty-minutes of the film, on the other hand, is a masterful series of fight scenes as the two swordsmen make their way through a variety of opponent obstacles – including a "sleeping swordsman" – on their way to a fiery confrontation with Pak Chun-Tong and then face off with Kao who gains some "wire fu" powers with the possession of the Moonlight sword. Woo's concern with chivalry may make his two swordsmen less interesting than the villains but the contrast is clear with Pak Chun-Tong's skilled trickery ultimately no more honorable than Kao's machinations (Pray being the exception as he is motivated to treachery by a desire for a fair fight with Chang San which he loses with dignity); and the film's climax certainly prefigures Woo's later more popular films while being at true "last hurrah for chivalry."


Hand of Death: The Manchu government's attempt to control the Shaolin religion and its martial arts included such treachery as the destruction of its schools and betrayal of its leaders by those among their own who hunger for power like Shih Shao-Feng (The Big Boss's James Tien) who ambushed his own school and murdered his mentor. One of the few survivors of the massacre Yun Fei (Revenge of the Shaolin Master's Tao-Liang Tan) completes his training in secret and is tasked with the dual duties of tracking down and killing Shih Shao-Feng as well as intercepting Shaolin scholar Cheng I (director John Woo) who is on his way to a gathering of Shaolin rebels to lead them in a rebellion against the Manchu and see him safely to his destination with the knowledge that Shih Shao-Feng is also hunting him down. Arriving in a town under siege by Shih Shao-Feng's army and defended by the rebels, he rescues an informant from execution who then offers his life to help Yun Fei infiltrate Shih Shao-Feng's fortress as a captive to impress his general Tu Ching (The Victim's Sammo Kam-Bo Hung). When Yun Fei's true intentions are revealed, he is rescued from torture by woodsman Tan Feng (Police Story's Jackie Chan) whose brother was murdered by the Manchu, and teams up with him, Cheng I, two Shaolin students sent as reinforcements, as well as "Zorro" (The Valiant Ones' Wei Yang) – a wandering swordsman who had until recently kept his sword sheathed and his mouth shut after accidentally killing a courtesan (Tomorrow is Another Day's Ching Chu) he loved while defending her from Shih Shao-Feng – to divide and conquer the enemy's eight Tiger Guards, setting up a final confrontation between Yun Fei and Shih Shao-Feng.

A far more conventional martial arts adventure than Last Hurrah for Chivalry, Woo's Hand of Death – its title just easily overlooked amidst the glut of films from this period with similar titles – is also overall more entertaining, owing less to the charisma of the hero or villain than for the very welcome presence of then lesser known supporting players Jackie Chan and Sammo Hung along with fellow Peking Opera "brother" Yuen Biao/a> (The Way of the Dragon) during the time when he was a background player (here as a number of anonymous fighters killed in various ways). While Chan gives a relatively straight performance apart from a couple familiar pulled faces during some comic scenes, Hung's performance is more humorous with a pair of buck teeth and a character who is intended to be pompous when he has the upper hand and craven when his decisions are questioned by his master. Although the tone is fractionally lighter than the other film, the stoic heroes are still honorable and die with more dignity than their foes. The Golden Harvest production is more dependent on locations resulting in a more picturesque production, and the diverse scoring of Joseph Koo (A Better Tomorrow) seems more suited to the production than the Frankie Chan (Chungking Express) score slathered over Last Hurrah for Chivalry. What Hand of Death lacks in imagination and innovation, it makes up for in just about every other way.

Video


Last Hurrah for Chivalry: Previously released stateside by Tai Seng in a non-anamorphic letterboxed transfer with 5.1 upmixes of the Cantonese, Mandarin, and English dubs and then an anamorphic Dragon Dynasty edition featuring new Fortune Star surround remixes, and in the U.K. from Hong Kong Legends, Last Hurrah for Chivalry was one of the Golden Harvest ties to skip an upscaled Chinese Blu-ray release and makes its Blu-ray debut here from a new 2K restoration and the 1080p24 MPEG-4 AVC 2.35:1 widescreen presentation is spotless with vividly saturated wardrobe colors and rich greenery in the few natural settings like the dual between Chang San and Pray while the enhanced detail also calls attention to the artiface of the studio settings (where the production compares to its Shaw Brothers ilk).

Hand of Death: Released in its Fortune Star remaster to DVD in the U.S. from Twentieth Century Fox and Hong Kong Legends in the U.K., Hand of Death's 2K restoration for Eureka's 1080p24 MPEG-4 AVC 2.35:1 widescreen Blu-ray is also a quality upgrade with no apparent damage, rock solid areas of high frequency detail (brickwork and shingled roofs of the temples), and bloodshed that is saturated while skin tones remain naturalistic.

Audio


Last Hurrah for Chivalry: Previous editions included the original Cantonese track in mono as well as Fortune Star's 5.1 remix as well as the English dub in 5.1 while Eureka's disc includes the Cantonese track in both LPCM 2.0 stereo and 1.0 mono as well as the English track in LPCM 1.0 mono and the Mandarin dub in LPCM 2.0 stereo. While the 1.0 Cantonese track is welcome, the 2.0 stereo version is a nice treat due to the spread of the music while the foley effects are not as exaggerated as some of Fortune Star's remixes. The Mandarin and English dubs feature only an instrumental version of the main title song, the Cantonese lyrics of which are translated on the sole English subtitle track.

Hand of Death: The American Fox release had DTS and Dolby Digital 5.1 Mandarin and redubberd English tracks along with the original Mandarin in mono while the Hong Kong Legends U.K. disc had 5.1 Mandarin and English tracks along with a mono encode of the former. Eureka's Blu-ray features the Mandarin track in LPCM 2.0 stereo and original 1.0 mono as well as a Cantonese LPCM 2.0 stereo dub while the Fortune Star English redub is presented in LPCM 2.0 stereo and the "classic" English dub is presented in LPCM 1.0. Either 1.0 or 2.0 Mandarin will do this time around while the choice of English dubs is a toss-up of bad line readings on the classic dub and flavorless ones on the redub. The optional English subtitles correspond to the Mandarin track.

Extras


Last Hurrah for Chivalry: First up is an audio commentary by martial-arts cinema authority Mike Leeder and Arne Venema who discuss Woo's early Golden Harvest career, his career ambitions with the film and how its lack of success found him banished to Taiwan to direct more comedies. They also note that this was also the period when Woo met Tsui Hark (Once Upon a Time in China) who would revive his career. They also mention that the original title translates as "Galantry" and provide context for both the film and what would come to be known as the "heroic bloodshed" genre. Ported over from the French DVD of Hand of Death (packed with Last Hurrah for Chivalry) is an interview with director John Woo (15:17) in which he discusses his desire at the time to make a gangster film, the waning popularity of martial arts films during the period, how the film was constructed as a vehicle for an actor discovered by colleague Chang Cheh (House of Traps), and his influences from Japanese cinema to spaghetti westerns along with his "stage play" style of shooting scenes. The disc also includes the film's theatrical trailer (4:34).

Hand of Death: Another audio commentary by martial-arts cinema authority Mike Leeder and Arne Venema notes the variety of titles for the film from the generic Chinese "Shaolin Gate" and "Countdown in Kung Fu" to the American "Strike of Death" and German "Dragons Forever" (as well as the video reissue title "Just Jackie" in light of Chan's popularity). While they do fawn over Hung, Chan, and Biao, they also provide background on some of the less familiar Chinese performers but are not as informed about the Korean supporting players (which is understandable as the film was shot in South Korea for budgetary reasons but was not a Korean co-production so the Chinese film did not place as much importance on those performers). They also note the thread of apparent homoeroticism that runs through Woo's "all men are brothers" films and how easy it is to read too much into shared glances and lines of dialogue. They also note that a few jump cuts present in the film that are easy to mistake as missing frames (like some of the ropier Shaw Brothers restorations that run shorter than earlier editions without censorship) are indeed intentional stylistic effects. Ported over from the Hong Kong Legends DVD of Woo's Heroes Shed No Tears – itself forthcoming on American Blu-ray from Film Movement – is "From Hong Kong to Hollywood" (22:50), another interview with Woo which has some remarks from him but spends much of its time comparing his more popular American works with earlier examples of his style of "kinetic chaos" including the two films in this Blu-ray set and the aforementioned Heroes Shed No Tears. The disc also includes the film's theatrical trailer (3:58).

Overall


While the early John Woo works Last Hurrah for Chivalry and Hand of Death may compare less favorably to his better-known Hong Kong "heroic bloodshed" and American mainstream works, they are indicative of the director's promise as well as the constraints under which he had to work in the studio system of the seventies.