The Lighthouse [Blu-ray]
Blu-ray ALL - United Kingdom - Second Run
Review written by and copyright: Eric Cotenas (5th October 2021).
The Film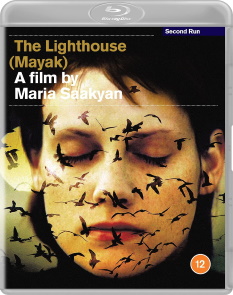 With the war in Caucasus getting closer and closer to the village of her birth, Lena (Anna Kapaleva) travels back from Russia where she has been living for the past few years in order to convince her grandparents to leave with her. She discovers that the village has been virtually abandoned by much of the younger population. Her grandmother (Olga Yakovleva) still teaches piano to a sole child in the empty school. Her grandfather (Solaris' Sos Sargsyan) wanders the village scavenging for food in between the rare deliveries. Neither wants to leave their friends or their home behind. Her aunt Kosiana (The Color of Pomegranates's Sofiko Chiaureli) worries that breaking only a few of her windows would indicate to looters that her house was abandoned but not yet ransacked while breaking all of the windows would be too cold at night. Lena also finds it difficult to leave since the train either does not come or does not stop as she learns each day accompanying middle-aged widow Roza (Ruzana Avetisyan) daily to the train station with her belongings. Passing the time with memories of a happier time, Lena finds that there is always something to remind her that this is no longer her home (whether she will be able to leave or not).

The feature directorial debut of female Armenian director Mariya Saakyan (I'm Going to Change My Name), The Lighthouse is as masterful a film about the simultaneous longing for and inability to return home even in spirit; indeed, on the surface, it seems very much like a work with nationalistic interests in representing a lost idea of homeland while pushing the details of the war to the periphery. Lena discovers throughout the film that life goes on even in a warzone; and, worse yet, they no longer need her. Lena encounters her aunt first upon arriving but the narrative does not seem to be in any hurry to bring her to her grandmother, and it is nearly forty-odd minutes before she runs into her grandfather casually. One starts to wonder where reality and memories blur together, and if the two scenes when her grandfather entreats her to go away to safety and reiterates to her that they do not want to leave are happening in the present or recollected to justify her choice to leave and to have stayed away for so long. The viewer is even shown Lena's own subconscious attempts to "return" in attempting to mend a light fixture in her bedroom even though we have already learned that fuel deliveries to the village have stopped. Just as the sounds of the train during her opening journey intrude on her dream – possibly transporting the group of folk dancing villagers to a train track – so to do radio news reports background her reveries either as reminders of the present or the reason she left in the first place. If the juggling between past and present does not seem quite as intricate and clever as it at first appears, the gradually loosening structure of the film seems to mirror the growing sense of futility in Lena's endeavor and what the war has done to the personal and national memory. Saakyan only directed two other features and produced some large scale stage productions before passing away at the young age of thirty-seven in 2018.

Video


Although produced in 2005 and released internationally in 2006 – with an English-friendly DVD edition from Second Run in 2011 – the original camera negative, interpositive, and dupe negatives have since vanished, and the Hamo Bek-Nazarov Project had to utilize two 35mm theatrical prints for a 2K restoration from a 4K scan. While parts of the image appeared to have undergone some creative processing to distinguish the flashbacks from the present, the 1080p24 MPEG-4 AVC 1.85:1 widescreen Blu-ray's image with its generational loss and increased contrast seems to push such effects to extremes with fleeting instances where the opening flashback seems to verge on solarization and facial features seem to get lost in the highlights in some sunny natural light interiors including the reunion between Lena and her grandmother (although it is just as possible that some of the effects might have been dialed back in the timing of the older PAL digital master used for the DVD). It is still a visually-striking film with a sense of filmic texture that seems to come from an earlier era, especially in the increasingly digital 2000s.

Audio


The sole audio option is an LPCM 2.0 stereo mix of Russian and Armenian dialogue in which scoring gets the most spread in a soundscape where passing helicopters and offscreen explosions only make themselves known sporadically. Optional English subtitles are provided.

Extras


Ported over from the DVD edition is Saakyan's 2003 short film Farewell (Proshchanie) (25:43), a nonlinear tale of a relationship that has some occasional instances of Russian dialogue left unsubtitled here (although a subtitle track is enabled that appears to be blank, possibly an error or an authoring default). New to the disc is Surviving Memories (7:17), a visual essay by Alessandro Luchetti and Manuela Lazic that muses on the themes of leaving the nest, the pull of the past, and the notion of home as anchor – as well as the film's bird symbolism – and the destabilizing effect of war on these universal modes of memory. The disc also includes a pair of theatrical trailers (0:55 and 1:54).

Packaging


Housed with the disc is a 28-page booklet featuring an archival interview with the director – who contrasts the film's reception in Georgia and Russia, noting the greater competition in the homeland's smaller industry – as well as a poetic essays by writer/curator So Mayer who notes that the film overturns narrative expectations with a female protagonist as wanderer and the associations of such a character when not tied to western archetypal notions of the home, and an essay by film historian Vigen Galstyan on Saakyan's short career including her non-cinematic projects.

Overall


On the surface, The Lighthouse seems very much like a work with nationalistic interests in representing a lost idea of homeland while pushing the details of the war to the periphery; however, the feature directorial debut of female Armenian director Mariya Saakyan is as masterful a film about the simultaneous longing for and inability to return home even in spirit.

---
Rewind DVDCompare is a participant in the Amazon Services LLC Associates Program and the Amazon Europe S.a.r.l. Associates Programme, an affiliate advertising program designed to provide a means for sites to earn advertising fees by advertising and linking to amazon.co.uk, amazon.com, amazon.ca, amazon.fr, amazon.de, amazon.it and amazon.es . As an Amazon Associate, we earn from qualifying purchases.