The Film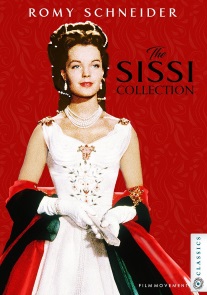 Although little known to English-speaking viewers, the life of Elisabeth of Bavaria, wife of Emperor Franz Joseph I, Empress of Austria and Queen of Hungary, has been a favorite subject for German and Austrian cinema, whether as the wife of an emperor, the cousin and unrequited childhood love of Mad King Ludwig of Bavaria, or as the tragic mother of Archduke Rudolf of "The Mayerling Affair." Historically inaccurate but the most ravishingly beautiful of studio costume pictures that easily rivals those of the golden age of Hollywood just a decade or two before, the Sissi trilogy of Ernst Marischka brought co-star Karlheinz Böhm international recognition (he is best known stateside for his more malevolent turns in Rainer Werner Fassbinder's Martha and Peeping Tom as Carl Boehm) and made Romy Schneider (That Most Important Thing: Love) a star with a role that would overshadow her for the rest of her sadly short career (she was once quoted as saying "Sissi sticks to me like oatmeal," and, indeed, even her latter day guest turn as the same character in a much more somber characterization in Luchino Visconti's Ludwig is sold in Germany as part of the "Romy Schneider Sissi Edition").

Sissi opens in Bavaria as Duchess Ludovika (Schneider's mother Magda Schneider, Eva, the Factory Girl) receives word from her sister Archduchess Sophie of Austria (Uncle Tom's Cabin's Vilma Degischer) that she would like to arrange the engagement of her son Emperor Franz Joseph (Böhm) to Ludovika's eldest daughter Helene (Villa Borghese's Uta Franz) and requests they meet at Bad Ischl. Wary of her husband Duke Max's (The Nylon Noose's Gustav Knuth) reputation in the family for carousing with the common folk and Max's own dislike of his stuffy sister-in-law, Ludovika and Helene contrive an innocent trip to Bad Ischl for Franz Joseph's birthday celebration by taking youner sister Sissi (Schneider) along with them; although she will be kept away from the festivities as her aunt Sophie regards her as still just a child, and an uncouth one at that. Locked in her room by her mother to literally keep her out of Helene's hair, Sissi climbs out the window and literally hooks Franz Joseph with her fishing rod as his carriage passes a stream. When she realizes that he does not know who she is, she plays along and lets him call her "Liesl" as they stray away from the hunt be alone. Just as she finds herself falling in love with him, Sissi is devastated to learn that he is to be engaged to her sister and runs off. Sissi's decision to return to Bavaria on her own is thwarted when her Sophie decides to let her attend the ball, and her mother forces her to do so lest she insult her aunt's hospitality. Franz Joseph is, of course, shocked when she is introduced as his cousin Princess Elisabeth, and even more dismayed when she refuses his affection for fear of ruining her sister's happiness. When Franz Joseph forces Sissi's hand by announcing their engagement publically, what should be a moment of great happiness is soured by Helene's devastation and Sophie's outrage.

Sissi: The Young Empress opens with Sissi "living in a gilded cage" at the palace in Austria while pining for Bavaria, feeling neglected by an endless busy Franz Joseph – who has declared amnesty for Hungary against the advice of his council of ministers – and frustrating her mother-in-law Sophie's attempts to "hew an empress out of a country girl." Intimidated by all of her new responsibilities and the hours spent daily to become well-rounded with training in multiple languages, Sissi has developed a great feeling for the Hungarian people and their cause, believing it to be her mission to help Franz Joseph "reconcile with kindness" relations between Austria and Hungary. Sissi publically defies her mother-in-law with her first act of cover diplomacy after Sophie offends the Hungarian Count Andrassy (The Indian Tomb's Walther Reyer) who threatens to a demonstrative departure from the ball meant to welcome the Hungarian delegates. When Sissi takes ill during the dance, she and Franz Joseph are overjoyed to discover that she is expecting a child. Their happiness is short-lived as Sophie seizes custody of their daughter once she is born, reasoning that Sissi is still a child herself and that the duties of an empress must take precedence. Refusing to think badly of his mother, Franz Joseph agrees with her, causing Sissi to leave the palace and return to Bavaria. Sissi confides in her father, but her mother does not learn of her unhappiness until Franz Joseph follows to retrieve her. Upon learning of the regard with which Hungarians hold her as their "guiding angel," Sissi weighs her happiness against the sacrifices required of her as an empress.

Sissi: The Fateful Years of an Empress finds Sissi living in Hungary with her young daughter and touring the country with Count Andrassy, a fact that Sophie brings up to Franz Joseph to sow the seeds of jealousy; however, Sissi leaves Hungary when she finds out that the count is indeed in love with her (but not before mending bridges with the resistance party). Mother, daughter, and father are reunited midway as lonely (and jealous) Franz Joseph was on his way to them as they were on their way back home, but their happiness is once again short-lived when Sissi starts experiencing debilitating shortness of breath. When Dr. Seeburger (Hans Ziegler) reveals that Sissi has a lung infection and requires a total change of climate, Sissi learns it not from him but from Sophie as she overhears her mother-in-law breaking the news to Franz Joseph in the most dire means possible, noting that Sissi in her current condition is a danger to him and their daughter, while also reminding him of the imperative that he have a son to carry on his name. A defeated Sissi repairs to sunny Madeira doubtful of ever seeing her family again. While Ludovika frets over Sissi's health and the effect Franz Joseph's rejection had on Helene's subsequent courtships, Max plots with Franz Joseph's father Archduke Franz-Karl (Erich Nikowitz) to ennoble the actress (Bluebeard's Sonia Sorel) with which eldest son Ludwig(She Devils of the SS's Klaus Knuth) – that is, Ludwig Wilhelm, not Sissi's cousin, the future "Mad King Ludwig" – has secretly eloped two years previously and had a daughter.

Relegating matters of state to dialogue (with references in dialogue to the execution of students from the 1848 Prague Uprising as well as the executions in other countries that Franz Joseph might not have personally ordered but were carried out in his name) or subplots in which the political naiveté of Sissi saves the day, the conflict of the film's trilogy's love story comes mainly from court intrigues instigated by the "mean mother-in-law" (as Sophie refers to herself in her usual role of delivering bad news to her son about his wife) with the narrative structure seemingly built around visually-stunning a series of set-pieces from balls and ceremonies to hunts and country romps, not to mention the many costume changes for Schneider shot at authentic exteriors locations and expansive studio sets as captured by cinematographer Bruno Mondi (whose career stretches all the way back to Fritz Lang's Destiny) to the rich scoring of Anton Profes. Light comedy comes in the form of bumbling of Major Böckl (The Cardinal's Josef Meinrad) who first tries to arrest Sissi as a suspected dissident in the first film, falls in love with her when she requests his transfer to Austria in the second film, and whose love-life provides some levity in the third film – Duke Max putting up with his wife's social concerns, German and Hungarian nobility falling over themselves at Sissi's beauty, and most humorously of all, Sissi's response to the anti-Austrian nobility of Milan sending their servants in their place to opera to perform Verdi's slave's chorus from Nabucco as a demonstration against the Emperor's visit. Whatever the narrative failings of the trilogy – Sissi's ways of solving problems are almost comparable to the "you can catch more flies with honey" type of homespun wisdom even though her rustic Bavarian upbringing still seems relatively luxurious, and the third installment's "fateful years" stop well short of addressing all of the unhappiness to come in the Empress' life (her firstborn Sophie Friederike Dorothea Maria Josepha Habsburg-Lothringen actually died in infancy long before the age she was in the third film) – the films are quite enjoyable and moving as sort of live action fairy tales in the Disney mold without the more fantastic elements.

Victoria in Dover – also known as The Story of Vickie for its 1958 English-dubbed American release from Disney subsidiary Buena Vista, and based on the play "Mädchenjahre einer Königin (The Girlhood of a Queen)" by Sil Vara – finds young Victoria (Schneider) being groomed to be the future Queen of England without knowledge of it by her scheming mother: the Duchess of Kent (The Last Waltz's Christl Mardayn). When King William IV dies, the duchess and her advisor Sir Conroy (Stefan Skodler) advise Victoria to order that Prime Minister Lord Melbourne (The Ways of Love Are Strange's Karl Ludwig Diehl) step down; however, a suspicious Victoria instead dismisses Sir Conroy and relies on Melbourne to guide her through her coronation and on her governess and confidante Baroness Lehzen (Magda Schneider) to keep Melbourne in check. While Victoria's earnestness proves inspiring to the court and the nation, Melbourne is wary of her "delusion" that she can change the world. When Victoria puts her foot down and insists that those she has knighted and appointed actually hold themselves up to the oaths they have made (which they regard as a formality), Melbourne initiates a string of social reforms to make the lives of the poor more bearable but also determines that Victoria should marry. When Victoria learns that she is to be confronted by three suitors at her birthday celebration – Prince Henry of Orange (The Viking Who Became a Bigamist's Peter Weck) as desired by her mother, Archduke Alexander of Russia (Effi Brest's Rudolf Lenz) as desired by uncle Leopold, King of Belgium (Marika's Fred Liewehr), and Prince Albert of Saxe-Coburg (The White Hell of Pitz Palu's Adrian Hoven), the pick agreed-upon by Lord Melbourne and the Baroness Lehzen – she flees with the Baroness Lehzen and steward George (Rudolf Vogel) bound for Paris. Forced by a torrential downpour to take shelter at a tavern in Dover, Victoria finds herself falling in love with a handsome German student who is actually Prince Albert traveling with guardian Professor Landman (The Third Man's Paul Hörbiger) and composer/conductor Johan Strauss (the composer's real life descendent Eduard Strauss) who intends to introduce the waltz to England at Victoria's birthday party.

A precursor to the Sissi series produced a year earlier than the first film with Marischka, mother and daughter Schneider, cinematographer Mondi, composer Profes, producer Karl Ehrlich (The Hands of Orlac), production designer Fritz Jüptner-Jonstorff (Heidi), and costume designers Leo Bei (The Little Czar) and the "Austrian Edith Head" Gerdago (Kiss Me Casanova) already in place, Victoria in Dover actually feels fresher after viewing the third Sissi film in which the formula felt particularly stale despite the wider scope and scale of its production. While Schneider is just as radiant here, her naiveté feels more problematic in a script which never has her questioning whether fatherly Lord Melbourne (who does treat her like a child by trying to distract her with card tricks at one point) is really any less manipulative of her than her mother and Sir Conroy, and has her so easily satisfied signing off his social reforms without even looking at them (as well as the way self-governance of the colonies is decided with the stroke of her quill). Vogel's George provides the equivalent comic relief of Sissi's Major Böckl and Hoven – less familiar to this reviewer for his early matinee idol works or his later Fassbinder roles than his excursion into exploitation filmmaking in the sixties with producer Peir A. Caminnecci (Castle of the Creeping Flesh) and director Jess Franco (Sadisterotica) before his infamous production Mark of the Devil – is suitably charming if not quite on the level of Böhm's Franz Joseph. The emphasis on pageantry – along with two waltz sequences – and Schneider's wardrobe changes is already in evidence, while the blossoming of love between two people concealing their identities would of course be reused and refined in the first Sissi film. While not an actual Sissi film, its inclusion in this set (Victoria in Dover is not part of the German set) is fitting due to the shared cast and crew as well as the thematic similarities.

Video


Not released theatrically in the United States until 1962 in an English-dubbed two-and-a-half-hour condensation titled Forever My Love, the Sissi films were not available stateside in their separate German versions until 2007 when Koch Lorber put out a a five-disc DVD boxed set featuring original aspect ratio fullscreen transfers. Kino Lorber did not pick up the films when German rights owner Beta Film mounted 2K restorations in both fullscreen and 1.78:1 widescreen. The 2K restorations of the Sissi films were first released in 2011 in Germany by Studio Canal as the Royal Blue Edition featuring the 1.78:1 widescreen transfers while the 2016 boxed set featured both widescreen and fullscreen versions. Film Movement's boxed set offers the three Sissi films in 1080p24 MPEG-4 AVC 1.78:1 widescreen and 1.33:1 pillarboxed fullscreen versions utilizing the same restoration. Although 1.37:1 was the original aspect ratio, the 1.78:1 widescreen versions are rarely ruinous to the stately compositions, more often than not cropping architectural accents that lend some compositions a sense of balance, with the widescreen frames seeming to artlessly focus on the performers while the fullscreen ones conveying a better sense of environment. All three of the films were shot in Agfacolor and look quite different from the Technicolor expected of such studio epics (the included booklet describes the process as "softer" and "flatter" while also handling pastels better than Technicolor in addition to achieving "the hyper-real quality of lavish book illustrations"). Colors are rich but never really pop – including the many regal reds and royal blues, and the over-brightness of the forest exteriors suggests not a timing issue but the reliance on studio lights not so much to augment the sunlight and maintain light levels as to obliterate any shadows that might take away from the glamor of Schneider's unblemished skin. Noticeable on the second film are two digital glitches lasting a few frames on the widescreen version (the same scenes are unaffected in the fullscreen version). At the moment, Victoria in Dover is only available on DVD in Germany and, although 1.33:1 is the original aspect ratio, Film Movement's 1080p24 MPEG-4 AVC transfer only offers the 1.78:1 option, but it does not seem compositionally impaired (at least without a fullscreen version with which to compare). Colors and detail are similar to the Sissi films, although it is more apparent than in the later films that some softness is due to focus shifts in which it appears that the depth of field of the lenses was not enough to maintain focus throughout the range of the blocking in some static wide angle setups despite high key studio lighting. The restoration has not been as meticulous here as with the Sissi films as a frame tear is present for the entirety of a shot from 40:16 to 41:04.

Audio


Audio options eschew original mono for the 5.1 remixes created by the rights holder – available on all discs as DTS-HD Master Audio 5.1 and Dolby Digital 5.1 – which are generally front-oriented with some score and a few effects spread to the surrounds. Incidental Hungarian dialogue on the second film is not subtitled (while Hungarian characters in the third film all speak German regardless of class) while incidental Portuguese, Greek, and Italian dialogue is left unsubtitled on the third film (all of the Italian aristocrats and royalty speak German even outside the presence of any German characters). A translation error in the third film has a minister suggesting a visit to "Milan and Vienna" rather than "Milan and Venice". Victoria in Dover is likewise outfitted with DTS-HD Master Audio and Dolby Digital 5.1 tracks of similar quality. The optional English subtitles are free of any glaring errors.

Extras


Extras are relegated to a bonus fifth disc DVD starting with Forever My Love (145:12), a 1962 English-dubbed condensation of the trilogy released by Paramount Pictures with a theme song by Burt Bacharach. However interesting this variant edition is, the Technicolor print source is pale, worn, possibly a 16mm reduction, and very likely the same master provided for the Koch Lorber DVD set. "From Romy to Sissi" (19:21) is a vintage 1956 featurette on the making of the films with an emphasis on Schneider (seen in clips from the film and black and white behind the scenes footage) while "Sissi's Great-Grandson at the Movies" (4:21) is self-explanatory with Peter Altenberg views clips from the films and discuss the ways in which they "miss the mark" in portraying Sissi and Franz Joseph. There are no trailers for the films, but the bonus disc does include trailers for the already-covered The Best Intentions, Pelle the Conqueror, and Antonia's Line. A twenty-page commemorative booklet includes synopses for the four films, cast and crew listings, and a new essay by film critic Farran Smith Nehme who scatters some of the unhappier events in the life of the historical Sissi throughout a discussion of the films' "unabashed sentimentality" and the behind the scenes information (including the impact Schneider's refusal to do a fourth Sissi film had on the relationship with her mother).

Packaging


All five discs are packaged in a wide case with the four Blu-rays on the hinged inserts and the DVD on the inner rear of the case along with the booklet.

Overall


Whatever the narrative failings of the films in The Sissi Collection, the films are quite enjoyable and moving as sort of live action fairy tales in the Disney mold without the more fantastic elements.