The Film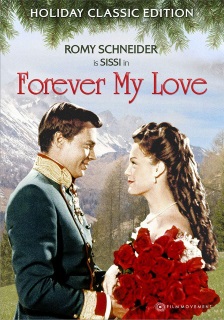 Although little known to English-speaking viewers, the life of Elisabeth of Bavaria, wife of Emperor Franz Joseph I, Empress of Austria and Queen of Hungary, has been a favorite subject for German and Austrian cinema, whether as the wife of an emperor, the cousin and unrequited childhood love of Mad King Ludwig of Bavaria, or as the tragic mother of Archduke Rudolf of "The Mayerling Affair." Historically inaccurate but the most ravishingly beautiful of studio costume pictures that easily rivals those of the golden age of Hollywood just a decade or two before, the Sissi trilogy (1955-1957) of Ernst Marischka brought co-star Karlheinz Böhm international recognition (he is best known stateside for his more malevolent turns in Rainer Werner Fassbinder's Martha and Peeping Tom as Carl Boehm) and made Romy Schneider (That Most Important Thing: Love) a star with a role that would overshadow her for the rest of her sadly short career (she was once quoted as saying "Sissi sticks to me like oatmeal," and, indeed, even her latter day guest turn as the same character in a much more somber characterization in Luchino Visconti's Ludwig is sold in Germany as part of the "Romy Schneider Sissi Edition"). The three films were released abroad individually but did not reach the United States and the United Kingdom until 1962 when Paramount Pictures put out Forever My Love, a two-and-a-half-hour condensation of the three films dubbed into English and augmenting Profes' score with a theme song by Burt Bacharach. The feature was included on a bonus DVD on Film Movement's "The Sissi Collection" Blu-ray and DVD (which also included the series precursor Victoria in Dover which cast Schneider as young Queen Victoria.

Sissi opens in Bavaria as Duchess Ludovika (Schneider's mother Magda Schneider, Eva, the Factory Girl) receives word from her sister Archduchess Sophie of Austria (Uncle Tom's Cabin's Vilma Degischer) that she would like to arrange the engagement of her son Emperor Franz Joseph (Böhm) to Ludovika's eldest daughter Helene (Villa Borghese's Uta Franz) and requests they meet at Bad Ischl. Wary of her husband Duke Max's (The Nylon Noose's Gustav Knuth) reputation in the family for carousing with the common folk and Max's own dislike of his stuffy sister-in-law, Ludovika and Helene contrive an innocent trip to Bad Ischl for Franz Joseph's birthday celebration by taking youner sister Sissi (Schneider) along with them; although she will be kept away from the festivities as her aunt Sophie regards her as still just a child, and an uncouth one at that. Locked in her room by her mother to literally keep her out of Helene's hair, Sissi climbs out the window and literally hooks Franz Joseph with her fishing rod as his carriage passes a stream. When she realizes that he does not know who she is, she plays along and lets him call her "Liesl" as they stray away from the hunt be alone. Just as she finds herself falling in love with him, Sissi is devastated to learn that he is to be engaged to her sister and runs off. Sissi's decision to return to Bavaria on her own is thwarted when her Sophie decides to let her attend the ball, and her mother forces her to do so lest she insult her aunt's hospitality. Franz Joseph is, of course, shocked when she is introduced as his cousin Princess Elisabeth, and even more dismayed when she refuses his affection for fear of ruining her sister's happiness. When Franz Joseph forces Sissi's hand by announcing their engagement publically, what should be a moment of great happiness is soured by Helene's devastation and Sophie's outrage.


Sissi: The Young Empress opens with Sissi "living in a gilded cage" at the palace in Austria while pining for Bavaria, feeling neglected by an endless busy Franz Joseph – who has declared amnesty for Hungary against the advice of his council of ministers – and frustrating her mother-in-law Sophie's attempts to "hew an empress out of a country girl." Intimidated by all of her new responsibilities and the hours spent daily to become well-rounded with training in multiple languages, Sissi has developed a great feeling for the Hungarian people and their cause, believing it to be her mission to help Franz Joseph "reconcile with kindness" relations between Austria and Hungary. Sissi publically defies her mother-in-law with her first act of cover diplomacy after Sophie offends the Hungarian Count Andrassy (The Indian Tomb's Walther Reyer) who threatens to a demonstrative departure from the ball meant to welcome the Hungarian delegates. When Sissi takes ill during the dance, she and Franz Joseph are overjoyed to discover that she is expecting a child. Their happiness is short-lived as Sophie seizes custody of their daughter once she is born, reasoning that Sissi is still a child herself and that the duties of an empress must take precedence. Refusing to think badly of his mother, Franz Joseph agrees with her, causing Sissi to leave the palace and return to Bavaria. Sissi confides in her father, but her mother does not learn of her unhappiness until Franz Joseph follows to retrieve her. Upon learning of the regard with which Hungarians hold her as their "guiding angel," Sissi weighs her happiness against the sacrifices required of her as an empress. Sissi: The Fateful Years of an Empress finds Sissi living in Hungary with her young daughter and touring the country with Count Andrassy, a fact that Sophie brings up to Franz Joseph to sow the seeds of jealousy; however, Sissi leaves Hungary when she finds out that the count is indeed in love with her (but not before mending bridges with the resistance party). Mother, daughter, and father are reunited midway as lonely (and jealous) Franz Joseph was on his way to them as they were on their way back home, but their happiness is once again short-lived when Sissi starts experiencing debilitating shortness of breath. When Dr. Seeburger (Hans Ziegler) reveals that Sissi has a lung infection and requires a total change of climate, Sissi learns it not from him but from Sophie as she overhears her mother-in-law breaking the news to Franz Joseph in the most dire means possible, noting that Sissi in her current condition is a danger to him and their daughter, while also reminding him of the imperative that he have a son to carry on his name. A defeated Sissi repairs to sunny Madeira doubtful of ever seeing her family again. While Ludovika frets over Sissi's health and the effect Franz Joseph's rejection had on Helene's subsequent courtships, Max plots with Franz Joseph's father Archduke Franz-Karl (Erich Nikowitz) to ennoble the actress (Bluebeard's Sonia Sorel) with which eldest son Ludwig(She Devils of the SS's Klaus Knuth) – that is, Ludwig Wilhelm, not Sissi's cousin, the future "Mad King Ludwig" – has secretly eloped two years previously and had a daughter.

Relegating matters of state to dialogue (with references in dialogue to the execution of students from the 1848 Prague Uprising as well as the executions in other countries that Franz Joseph might not have personally ordered but were carried out in his name) or subplots in which the political naiveté of Sissi saves the day, the conflict of the film's trilogy's love story comes mainly from court intrigues instigated by the "mean mother-in-law" (as Sophie refers to herself in her usual role of delivering bad news to her son about his wife) with the narrative structure seemingly built around visually-stunning a series of set-pieces from balls and ceremonies to hunts and country romps, not to mention the many costume changes for Schneider shot at authentic exteriors locations and expansive studio sets as captured by cinematographer Bruno Mondi (whose career stretches all the way back to Fritz Lang's Destiny) to the rich scoring of Anton Profes. Light comedy comes in the form of bumbling of Major Böckl (The Cardinal's Josef Meinrad) who first tries to arrest Sissi as a suspected dissident in the first film, falls in love with her when she requests his transfer to Austria in the second film, and whose love-life provides some levity in the third film – Duke Max putting up with his wife's social concerns, German and Hungarian nobility falling over themselves at Sissi's beauty, and most humorously of all, Sissi's response to the anti-Austrian nobility of Milan sending their servants in their place to opera to perform Verdi's slave's chorus from Nabucco as a demonstration against the Emperor's visit. Whatever the narrative failings of the trilogy – Sissi's ways of solving problems are almost comparable to the "you can catch more flies with honey" type of homespun wisdom even though her rustic Bavarian upbringing still seems relatively luxurious, and the third installment's "fateful years" stop well short of addressing all of the unhappiness to come in the Empress' life (her firstborn Sophie Friederike Dorothea Maria Josepha Habsburg-Lothringen actually died in infancy long before the age she was in the third film) – the films are quite enjoyable and moving as sort of live action fairy tales in the Disney mold without the more fantastic elements.

Video


While the Sissi trilogy was treated to 2K restorations in 1.78:1 and 1.33:1, Forever My Love's repackaging here looks no better than before with the Technicolor print source looking pale, worn, possibly a 16mm reduction, and very likely the same master provided for the earlier Koch Lorber boxed set.

Audio


The Dolby Digital 2.0 mono track has undergone little restoration, sounding fair but very much appropriate to the condition of the image. There are no subtitles or captions.

Extras


The bonus DVD of the Film Movement sets contained the film's extras in addition to Forever My Love and they have been carried over here. "From Romy to Sissi" (19:21) is a vintage 1956 featurette on the making of the films with an emphasis on Schneider (seen in clips from the film and black and white behind the scenes footage) while "Sissi's Great-Grandson at the Movies" (4:21) is self-explanatory with Peter Altenberg views clips from the films and discuss the ways in which they "miss the mark" in portraying Sissi and Franz Joseph. There are no trailers for the films, but the bonus disc does include trailers for the already-covered The Best Intentions, Pelle the Conqueror, and Antonia's Line. The twenty-page commemorative booklet from the set has not been carried over.

Overall


A crass repackaging of the bonus disc from Film Movement's The Sissi Collection as a "Holiday Classic Edition", Forever My Love might satisfy those curious about the series and subtitle-phobic - as well as Burt Bacharach fans - but comes nowhere close to visual and aural grandeur of the original films and their boxed set restorations.