The Film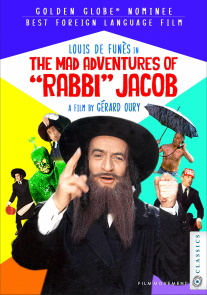 Golden Globe (Best Foreign Film): France (nominated) - Golden Globes, 1975

On the day before his daughter's wedding, industrialist Victor Pivert (Fantomas's Louis de Funès) is rushing back to the city from a fishing trip, blaming holidaying foreigners for the weekend traffic. Despite his bigoted attitude, he is okay with his chauffeur Salomon (Flic Story's Henri Guybet) being Jewish; that is, until their detour ends up with the Citroën in the lake – upside down and still floating on Pivert's boat tied to the roof – and Solomon having to stop tugging the boat out of the water at midnight to observe the Shabbat whereupon Pivert fires him. Salomon gladly leaves Pivert to fend for himself, and the older man stumbles upon a gum factory in search of a phone. He is not alone, he discovers, as Arab revolutionary Mohamed Larbi Slimane (Angélique's Claude Giraud) has been captured by Colonel Farès (Massacre in Rome's Renzo Montagnani) and members of their country's counterrevolutionary army to be discretely killed after Farès gets the identities of Slimane's collaborators out of him. Pivert breaks into an office and tries to call the police but forgets to dial out, alerting Farès to his identity and his intent. In a madcap sequence, Pivert is able to evade capture and escape to the safety of his boat, not realizing that Slimane has stowed away until he shoots two soldiers firing at them from land. Salomon has contacted the local police to pick up Pivert and they arrive in time to believe the old man has gone mad and murdered to people. Slimane takes Pivert as a hostage with the plan of making it to the airport and getting back to his country, but Police Commissioner Andreani (The Discreet Charm of the Bourgeoisie's Claude Piéplu) learns of their plans when Pivert's wife Germaine (Quai des Orfèvres's Suzy Delair) calls him and he makes the excuse that he is leaving her for another woman, and Farès and his men learn about it by paying a visit to Germaine as soon as the police leave. Chased through the airport by both the cops and counterrevolutionaries, Slimane and Pivert steal the clothes and facial hair of a pair of Hassidic Jews and Pivert is mistakenly identified as Rabbi Jacob Schmoll, visiting Normandy for the first time in thirty years after living in New York for the bar mitzvah of his nephew David (Lionel Spielman) who just happens to be Saloman's younger brother. Slimane convinces Pivert to go along with it while he poses as Rabbi Zeiligman, so named when dotty grandmother Tzipé (God's Little Acre's Janet Brandt) mishears his actual surname while the real Rabbi Jacob (Sabrina's Marcel Dalio) and his nephew Moishe (The Pianist's Popeck) are also victims of mistaken identity by the police and Farès.

A vehicle for famed French comedian de Funès, the dicey racial and political subtexts of The Mad Adventures of Rabbi Jacob are played purely for comedy and succeeds wildly (not that there are not elements with which to be incensed like the kangaroo court set up by Farès to interrogate and execute Slimane). Although anti-Semitism is an element of French war and postwar history, Pivert – whose name means woodpecker as de Funès demonstrates with comedic charades – is presented as a buffoon who hates anyone who is not French and Catholic ("Doesn't matter, I'll keep you on anyway," he says of Saloman after his initial shock of learning that not only is he Jewish but also an uncle he has identified as being a rabbi), with him being just as incredulous at an interracial wedding as to the non-reaction of a local gendarme when he points out the spectacle ("Not café au lait, but black! And he's white"). Other than a blackface joke involving Pivert and an exhaust pipe, and Arab Slimane's initial discomfort with having to dress up as a Hassidic Jew, the film saves the predictability of Pivert shedding his prejudices for the end since it is just a framework on which to hang a chase comedy comprised of a series of comic set-pieces mounted mostly on a large scale but barreling along on de Funès manic energy, Giraud's charm, and the scoring of Vladimir Cosma (La Boum). Miou-Miou (La Lectrice) has little to in an early role as Pivert's daughter, while Gérard Darmon as one of Farès' henchmen would make more of an impression in later French cult films like Diva and Betty Blue.

Video


Released theatrically in the United States by Fox in an English-dubbed version, the film went unreleased on VHS, coming to domestic home video on DVD from Facets in typically dodgy quality while better editions have been available in Europe without English translation (a Canadian DVD also exists). The recent 4K restoration debuted on Blu-ray in France from TF1 and German from Filmjuwelen without English subtitles or audio understandably. Film Movement's 1080p24 MPEG-4 AVC 1.66:1 widescreen Blu-ray comes from the same master, revealing more grain during the opening credits opticals overlaying New York second unit footage and the Air France stock footage while the remainder of the photography of the great Henri Decaë (Le Samouraï) looks crisp with bold hues, particularly in the bubble gum sequence and the sequences featuring Slimane's fetish for red hair.

Audio


Film Movement has only included the original French mono track in LPCM 2.0, but dialogue is always clear while the gunshots, popping bubble, and Cosima's score all have adequate presence. The optional English subtitles do not translate any of the instances of Hebrew dialogue.

Extras


Extras start off with an interview with co-screenwriter Danièle Thompson (13:37), daughter of director Gérard Oury (Ace of Aces), who felt like she was part of his writing collaborative even as a child, becoming an official part of the team at age twenty-four. She recalls the fear and trepidation they had with the film coming out during the Arab-Israeli Yom Kippur War but the film ended up being a critical and audience success. Although they were not practicing Jews, she recalls her father seeking the input of television rabbi Josy Eisenberg as technical consultant and writing collaborator so as not to offend Jewish viewers by getting anything wrong. Thompson's other non-Oury major credits include Cousin cousine, La Boum and its sequel, as well as Queen Margot and Those Who Love Me Can Take the Train. The disc also includes the film's theatrical trailer (1:21) and bonus trailers for three other films: The Tall Blond Man with One Black Shoe, Full Moon in Paris, and Ugly, Dirty and Bad.. Also included is a booklet by Phoebe Maltz Bovy with an essay on the film and the way it addresses racial issues without mention of the Holocaust.

Overall