REWIND FEATURE: "Beat by Beat - An appreciation of Beat Takeshi"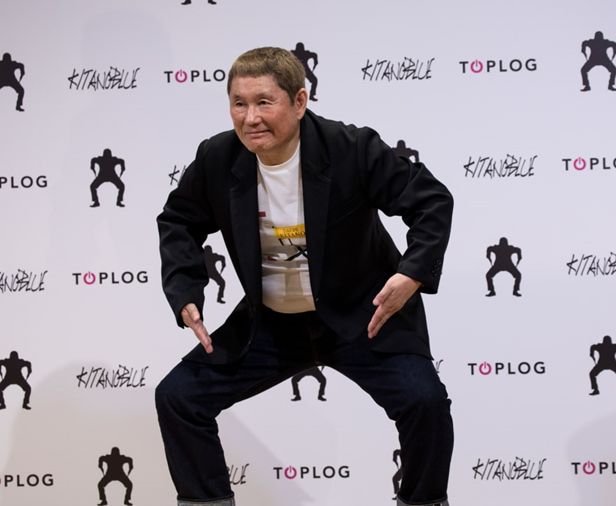 Note in this article Takeshi Kitano AKA Beat Takeshi will mostly be referred to by his first name "Takeshi" rather than by his family name "Kitano" as that is his preference and is what most people in Japan call him.
Growing up in Japan in the 1980s, the weekends were usually a time that my family would take a weekend trip to our grandmother's house in Adachi Ward, in the northern part of Tokyo. About an hour by car or by train, extended relatives gathered together as we sat around the television to watch some of our favorite variety shows. Friday evenings at 8PM were a highlight, as it was time for "Takeshi's Castle" (Fûun! Takeshi Jô) 「風雲たけし城」, a game show that ran from 1986 to 1989, led by the one and only Beat Takeshi. The game show had 100 contestants challenge against daring obstacle courses one by one, with many failing disastrously to the delight of audiences as well as Takeshi. People would fall face first into mud pits, get crushed by fake boulders, or get smacked in the face with a volleyball shot from a cannon for example. As kids we would be constantly rolling on the floor with laughter. With international audiences, many would have caught the show in dubbed and truncated formats in the early to mid 1990s, and America receiving it quite late being retitled "MXC - Most Extreme Elimination Challenge" in the late 1990s. With the humorous comments and slapstick humor from Takeshi between the games, he was one of the funniest and wackiest people I had ever seen in my relatively young life. But when I learned from my relatives that he was actually born in raised in Adachi Ward, there was an oddly closer connection. Beat Takeshi, whose real name is Takeshi Kitano, was basically a neighbor. "A superstar on television, who's from right around here? Wow!"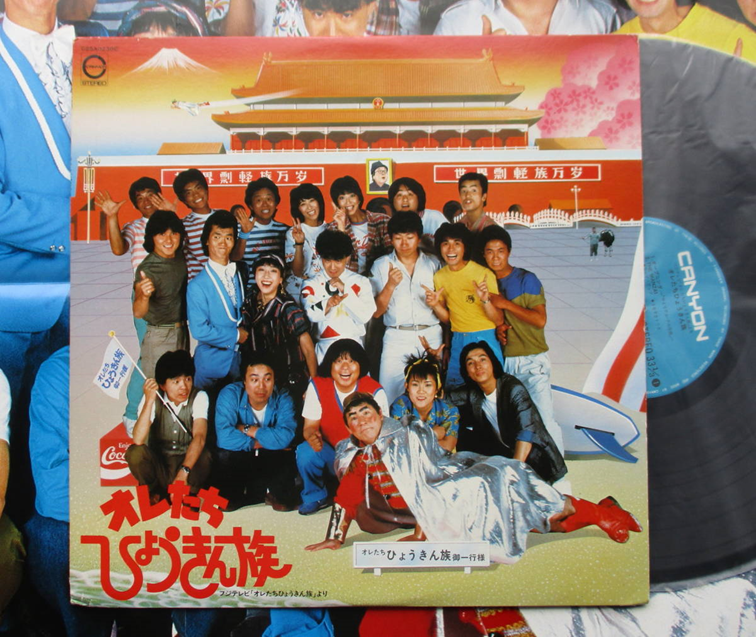 Saturday evenings at 8PM was a time period that divided Japanese television audiences. For my family, as the kids we were young, we watched the TBS channel shows featuring the five-piece comedy group Drifters. Their show "It's 8 o'clock! Everyone Gather Round" (Hachiji dayo! Zenin shugo!) 「8時だよ!全員集合」 was one of the most popular programs during its lengthy run from 1969 to 1986, with an average 27.8% of television audiences tuning in weekly, and some broadcasts even surpassing 50% total viewership nationwide. After the show ended, it was replaced with "Fun TV with Kato & Ken" (Kato-chan Ken-chan Gokigen TV) 「加トちゃんケンちゃんごきげんテレビ」, featuring the youngest two members of Drifters, Cha Kato and Ken Shimura (the latter who tragically became Japan's first celebrity loss to COVID-19 in late March 2020). While these two shows dominated the broadcast airwaves, there was another show on at the same time on Saturdays that also took in a significant number in the ratings, and that was "We Are Hyokinzoku" (Oretachi Hyokinzoku) 「オレたちひょうきん族」. This show starred Beat Takeshi alongside a slew of other contemporary comedians. With an average viewership of 17.8% during its run from 1981 to 1989, it was always second in numbers compared to the Drifters' shows, but was a powerhouse nonetheless. These shows featured on-stage sketches in front of live studio audiences, taped segments, and musical guests. With Drifters, they were more family friendly in nature, though there were some segments that might be considered risqué today in suggestive adult content and sexist attitudes. With Takeshi's show, they took things further as it was targeted more for a young adult audience. Burning the faces of other cast members with scalding hot food, pulling each other's pants down for audience screams, and other raunchy and dangerous acts to bring out the laughs would be a few of the expected antics on the show. The late 1980s was a period of "anything goes" on Japanese television, and there were even things broadcast then that could never be shown on television now. Topless women on variety shows, fully naked children on commercials for bathing goods, extremely dangerous situations on variety programs involving non-professionals, etc. It was because of these kinds of programming that Japanese television became more restrictive in the recent decades. Though, it should be noted that wacky stunts and cruel challenges are still often seen on modern Japanese television.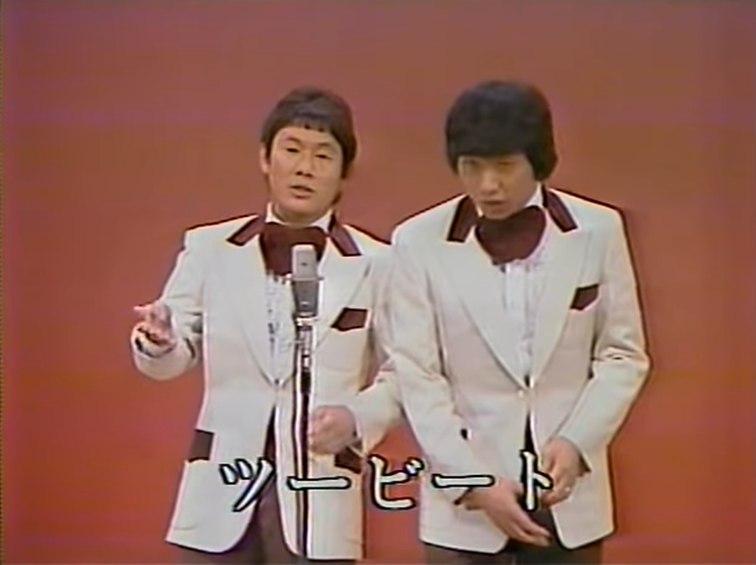 Beat Takeshi, whose birth name is Takeshi Kitano, made his first appearance on television in 1975 at the age of 28 as part of the comedy duo Two Beat with his partner Beat Kiyoshi (whose birth name is Niro Kaneko), in which Takeshi was the funny man and Kiyoshi was the straight man. While both appeared together in "Hyokinzoku", the number of times the two performed on stage together became a rare occurrence over the years. Technically they have never split up, and the two still use the "Beat" moniker to this day. But when I was a kid, I didn't even know that Takeshi was even part of a duo as his stature was always like a king and his partner was not frequently seen. He was extremely popular, though not exactly loved by everyone. During the years that Two Beat performed, Takeshi in his rapid fire stand-up routines would call the elderly by insulting terms and would use words like "dumb" or "idiot" frequently. He would physically hit and insult people directly, make sexual references and throw in toilet humor whenever he could, and these factors did not particularly sit well with conservatives, the elderly, or with women. While many saw the behavior as an exaggerated comedian riling up audiences for laughs, things took a more serious and controversial turn in 1986. He and some fellow comedians stormed the offices of the tabloid magazine Friday and assaulted the staff, as the magazine published an article and photos of Takeshi for having an affair with a younger woman. The involved party were subsequently suspended from appearing on television for some time, which led to awkward temporary recastings, such as a man with a foam head looking like a cartoon Takeshi appearing on "Takeshi's Castle" for a few months. I certainly remember the foam head Takeshi during the period, and while I thought it looked funny, I was not aware of the reason of the replacement as I was too young to have any interest in watching the news. There were critics of his violent attitude and his dark humor, but even after the incident, he was still incredibly popular with young people and highly influential for other up and coming comedians.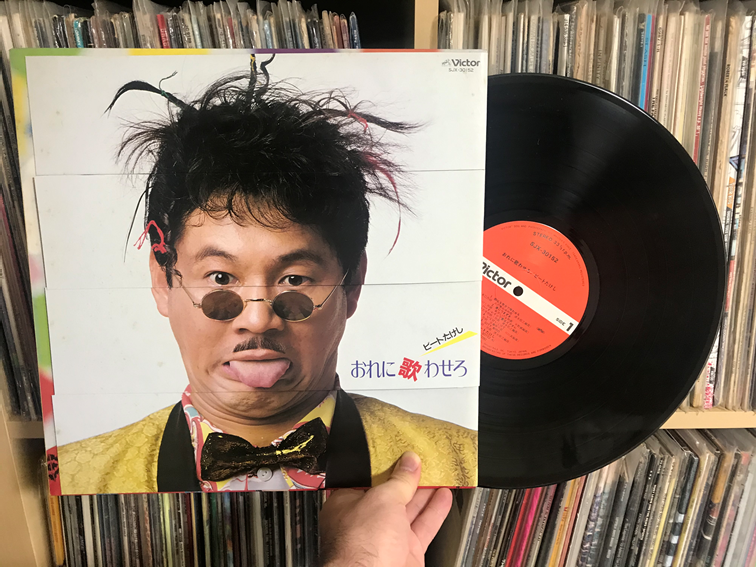 Not only was Takeshi making a mark on just television, but also in other forms of media. He released six full albums in the 1980s and had quite a hit with the 1986 single "Asakusa Kid" 「浅草キッド」, and produced video games for the Nintendo Famicom with the adaptation of "Takeshi's Castle" as well as the notoriously unusual and cryptic "Takeshi's Challenge" 「たけしの挑戦状」. Takeshi made a few appearances in movies early his career, with his most well known role as the masochistic Japanese soldier in Nagisa Oshima's 1983 war film "Merry Christmas Mr. Lawrence". His career would take a major turn in the world of Japanese cinema in 1989, when he was cast in the lead for the first time in "Violent Cop" 「その男、凶暴につき」, a police comedy to be directed by Kinji Fukasaku from a screenplay by Hisashi Nozawa. Due to scheduling conflicts Fukasaku stepped down, but Takeshi suggested to Shochiku Films about taking over the production as director while also continuing to play the lead. It was a gamble for Shochiku Productions to give such creative freedom to a troublesome performer who had never directed a film before, but it was given the greenlight to move forward in the new direction. Audiences knew that he could do something comedic. As for something dramatic, he would have to prove it to them, and so it led to a complete overhaul of the script. The story's new tone put more emphasis on the drama, the violence, and the consequences of the characters' actions, with a lot incorporated from improvisation sessions. Though the original screenwriter Nozawa was credited with the screenplay, the material was so far removed from his original work that it's surprising that his name was left as the sole credit for the screenplay. In 2004, Nozawa was able to publish the original version of the story in a novelized form, re-titled as "The Moon in a Fury" (Rekka no tsuki) 「烈火の月」.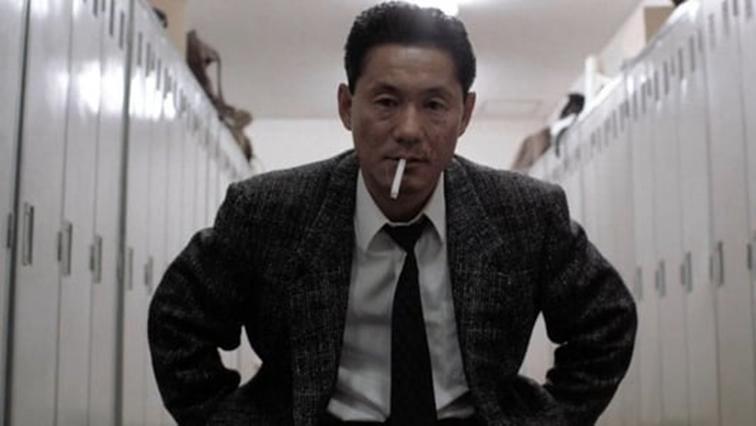 "Violent Cop" opened theatrically in Japan on August 12th, 1989. For Japanese audiences experiencing the film for the first time, it was quite a different experience in comparison to non-Japanese viewers. When Takeshi first appears on screen and terrorizes the young kid with a few slaps and verbal insults, it is at first reminiscent of the way he often treated younger up and coming comedians. In the scene in which he escort's his sister's lover to the bus stop and frequently starts kicking the guy's ankles while walking to purposefully make him trip is also a sequence that brings laughter for Japanese audiences. These scenes viewed by non-Japanese audiences show bitterly cruel acts to foreshadow the more violent acts to come, but for Japanese audiences, they were going to experience something more unexpected and shocking. The sequence of Takeshi slapping the bludgeoned guy in the bathroom for information is where Japanese audiences change. The first few slaps are funny. But it goes on and on. Twenty three aggressive slaps to the face in total. There is nothing funny about the scene, and from thereon out the Japanese audiences became utterly uncomfortable. This was not "Takeshi's Castle" or "Hyokinzoku" As the credits state, this was a film directed by "Takeshi Kitano", establishing the difference between his persona as a wacky comedian (with his stage name) and his persona as a serious filmmaker (with his given name).
Although it had a confusing reaction from audiences, the film was still somewhat a hit, making a profit for Shochiku Films. Critical reaction was just as mixed but there were some positive praises, even ranking as the eighth best Japanese film of the year by Kinema Junpo and winning Best Director at the Yokohama Film Festival. Kinji Fukasaku stated that he thoroughly enjoyed Takeshi's version of the film, and fellow comedian and later filmmaker Hitoshi Matsumoto has said that "Violent Cop" was his favorite of Takeshi's films. It was right after my family moved to the United States that Takeshi would start directing movies, so I was unaware of his cinematic works as a kid. The only way to watch Japanese television for us was through VHS tapes sent to us by relatives, and Japanese movies were relegated to animated works such as Lupin the Third or Studio Ghibli productions for us kids. Years later in 1995, it was huge news for me that Takeshi would be appearing in a big budget Hollywood production of "Johnny Mnemonic". Of course none of my non-Japanese friends knew who he was but it was a massive deal to my eyes to be able to see Takeshi on the big screen. The movie itself may have been a disappointment as a whole, but it was from there I found out that Takeshi did have a career in movies as not only an actor but also as a director. During promotion for "JM", on a Japanese show Takeshi quizzed his fellow comedians to name five films he had been in before "JM". The comedians named a few including "Merry Christmas Mr. Lawrence" (which was the first time I had ever heard the title, "Takeshi in a Christmas movie?"), but could not name five. After a few hits on their heads, Takeshi yelled saying "You could've named more of the movies I directed, you idiots!" My mind was blown. He had a whole other career that I was unaware of and I was intrigued. But being overseas as a kid in the pre-Internet age, watching his directed works was not a possibility.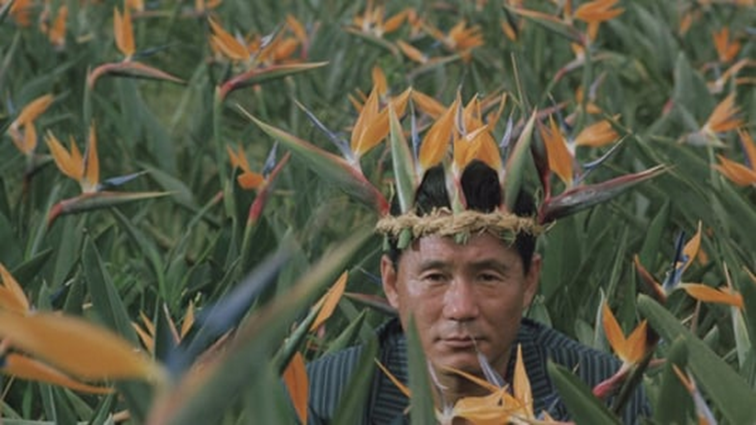 It wasn't until the late 1990s that I was able to see a "Takeshi Kitano" directed film, and that was the 1997 international breakthrough "Hana-bi". Hearing that he was receiving critical attraction internationally intrigued me heavily, even though I was not a cinephile at the time. After the first viewing of "Hana-bi" I was confused yet fascinated. There were many Takeshi-isms on screen with the mix of violence and dark comedy which led to some anticipated laughs. In contrast, the fairly slow pace, instances of silence and serenity were the exact opposite of the quick witted fast talking Beat Takeshi. I expected some violence, but the violent shootouts in slow motion were very visceral and shocking. Traumatic memories, vengeance, debts owed to the ones loved and the ones lost. It was certainly a film filled with metaphors, brutality, and beauty, and one I couldn't fully appreciate entirely. Where was the half-assed loud mouth? Where was the slapstick? Instead we got chopsticks shoved up a bloody nose. It was nothing like I had ever seen before, and I was not prepared for it in the slightest. The biggest issue was my preconceived notion of what a Takeshi directed movie would be like. I was expecting "Beat Takeshi" and could only see him as that. It would take a few years to revisit it, but I knew I had to eventually.
In 2000 I saw that Takeshi's latest film, 1999's "Kikujiro" 「菊次郎の夏」 came to DVD in the United States. An easy choice for a rental, this became an instant favorite for me. Unlike "Hana-bi", "Kikujiro" had the writer/director/star much closer to the humorous tone of his comical side while also bringing an intriguing and emotionally heartfelt story. There were tons of slapstick scenes that made me laugh hysterically, such as the confrontation with the pedophile, the interaction he has with his wife, the swimming pool scene, stealing the taxi, and so much more. It had appearances from some familiar faces from his past including members of "Takeshi's Castle" as well as a short but memorable interaction with his long distant partner Beat Kiyoshi at the bus stop. In Japan "Kikujiro" proved to be a breakthrough film for him, bridging the gap between his television audience's sensibilities while also proving to be an excellent storyteller with heart, yet not shying away from more serious topics like childhood abandonment, child abuse, and disorderly conduct at the same time.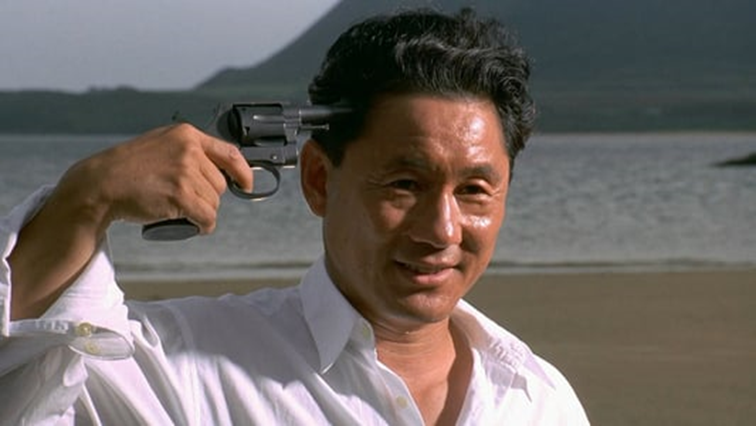 After moving back to Japan in the early 2000s, I was able to re-educate myself with the cinematic works of Takeshi, watching his earlier works while also watching more recent at the time entries like the poetic "Dolls" 「ドールズ」 and the massively successful "Zatoichi" 「座頭市」 reboot. "Violent Cop" was a certainly fascinating early work, but like any Japanese audience member would, I also started with laughs and later broke into shock with the tone getting darker and more disturbing. "Boiling Point" 「3-4X10月」 from 1990 was and still is a divisive film for me. Takeshi tried breaking from convention with the dark comedy-drama with a narrative structure that seemed straightforward being linear, but there would be some odd situations and choices throughout. Takeshi's character of Uehara appeared after more than halfway into the story. The main character of Masaki (in which I happen to share a name with) is a fairly uninteresting and uninterested character to be following from job to job and on the runaround, but the film is more about the odd situations he gets into such as the run-in with a yakuza member at a gas station and meeting the gangster Uehara. It's not always about the centerpiece but about the conflicts and situations surrounding him. Drawing equal influence from filmmakers Jean-Luc Godard and John Woo while still instilling a style of his own with his own script and supervising editing duties, "Boiling Point" is almost a mess of a production. There are some very memorable scenes and characters but none are completely fleshed out fully with their personalities, backgrounds, or full intentions, yet somehow it is one of the more fascinating of his works as a filmmaker. Though not a huge hit at the Japanese box office, it did have some critical attention, placing 7th in the Kinema Junpo's top ten Japanese films of the year and fourth Japanese film at the Yokohama Film Festival.
In 1991 Kitano directed "A Scene at the Sea" 「あの夏、いちばん静かな海。」 (which I reviewed the Third Window Films Blu-ray here), and was quite a departure from his first two works. This would be the first and one of three films that he would direct and write but not appear in. The others were "Kids Return" 「キッズ・リターン」 in 1996 ( which I also reviewed the Third Window Films Blu-ray Blu-ray) and "Dolls" in 2002 (another of which I also reviewed the Third Window Films Blu-ray here). An absolute gem of a film, it takes the formula of the youth drama with a pair of mute characters and surfing at the center, with occasional comical and heartfelt moments that have little bearing to the director's two previous films. In addition, this would be the first collaboration of many with famed composer Joe Hisaishi, who would later create some of the memorable compositions heard in "Hana-bi", "Kikujiro", "Zatoichi", and others. While it received great attention critically in Japan, it wasn't until his following film, 1993's "Sonatine" 「ソナチネ」 was given more attention from international critics. Taken from the musical term "sonatina", and mirroring the actions character of Murakawa (played by Takeshi), the story follows the mid-level Yakuza member on a trip to Okinawa to settle a clan dispute, but with unexpected and unfortunately bloody circumstances has him and some of his men taking refuge at a beautiful rural seaside location. Closer in tone to Takeshi's first two works with the tension and brutality seen in "Violent Cop" as well as the Okinawa setting from "Boiling Point", "Sonatine" also had more in terms of lightheartedness especially with some of the more relaxed sequences in the middle, such as the memorable paper sumo sequence which gives a smile to anyone who sees it. Again it was not a big hit commercially in Japan, but did receive accolades critically, with Joe Hisaishi's score winning best score at the Japanese Academy Awards, ranking 4th best Japanese film by Kinema Junpo and 3rd best Japanese film at the Yokohama Film Festival. Overseas it was screened at the Cannes Film Festival to wide acclaim, ranked 7th best film by Cahiers du Cinéma, and later the distribution rights snagged by filmmaker Quentin Tarantino for Miramax Films, giving the film a video release stateside.
Takeshi stated that he made "Sonatine" with the intention of it being the last film he would make, and so he put his all into the production and doing everything he wanted to do without outside involvement. In August 1994, Takeshi was nearly killed in a motorscooter accident, which partially paralyzed the right side of his face. All of Japan was deeply concerned for his well being and his recovery, which took some time following extensive physical rehabilitation. When he returned to television, he was twitching, was not as biting as he once was, and people were much more careful around him. It seemed like the Takeshi that audiences knew would be gone forever. But that would not be for long as the film he had worked on prior to the accident would be released in February of 1995 - "Getting Any?" 「みんな〜やってるか!」. As the tagline stated, this would be "The First Film Directed by Beat Takeshi", rather than "Takeshi Kitano" like his previous works. So what did this mean? "Getting Any?" was a wacky comedy featuring a Walter Mitty-like daydreaming character, but the only thing on his mind was sex. Get the money, get the car, get the girl. What seems like a simple premise was a slapstick nonsense film with one of the most bizarre end sequences in any comedy film, which would be in a way payed homage by fellow comedian/filmmaker Hitoshi Matsumoto in "Big Man Japan" 「大日本人」. Referencing everything from alien and superhero films to commercials and everything in between, the film is absolutely bonkers and what could be closest to the wackiness of the Beat Takeshi that Japanese audiences were expecting, including tits and ass. Even though it was released during his recovery period, the film was panned outright by critics and audiences, though it has eventually found a cult following in later years.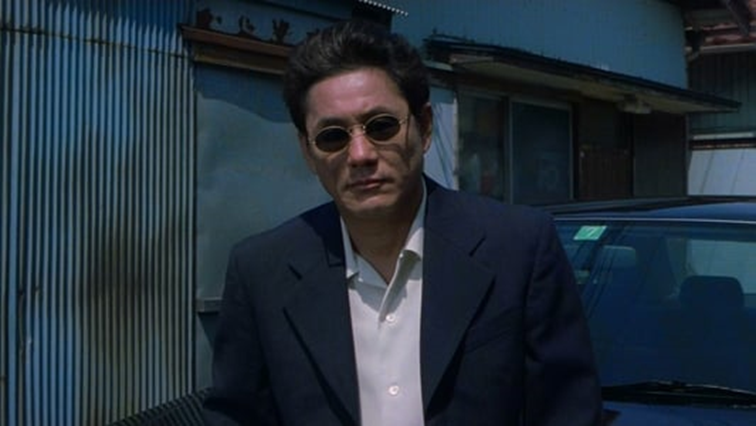 Even after the critical mauling of "Getting Any?", he was quick to work on a new film, which would be a very personal work with "Kids Return" in 1996. Following two high schoolers through manzai comedy (like his duo Two Beat) and boxing, the story focused on youthful carelessness, comedy, and toughness - all aspects of Takeshi that all have known for, and came together wonderfully. It certainly put his name back on the lists of Japanese critics with numerous wins and nominations, including several acting nods for Masanobu Ando and a Best Director award at the Japanese Professional Movie Awards. As mentioned before, his following film "Hana-bi" from 1997 was another important stepping stone as it was his return to starring in a movie for the first time since his 1994 accident. When considering everything he had gone through in his professional life, both in his wacky television persona as well as his cinematic one, plus his personal life recovering from a near death experience, Hana-bi" is much deeper than what was seen on the surface level. My first encounter was not particularly the most ideal. Preconceptions and expectations were there, but re-watching it later on with a sense of the art of cinema and taking it in as a singular piece of art, it was obviously quite different and much more fascinating than my first encounter. For international audiences it was a major breakthrough, screening at overseas festivals and winning prestigious awards such as The Golden Lion in Venice and placing in the top 10 list by Cahiers du Cinéma.
Just like filmmaker Akira Kurosawa, it wasn't until international critics and awards ceremonies began to praise Takeshi's works that domestic Japanese audiences seriously caught on. As Kurosawa stated in his autobiography, "Why is it that Japanese people have no confidence in the worth of Japan? Why do they elevate everything foreign and denigrate everything Japanese?" This mentality applied very truthfully to the Japanese and their approach to seeing the early Takeshi films, as they had a preconceived notion and could not take him seriously as an artist. And I admit, the teenage me was also in that category. It took some time for me to objectively see the cinematic works of Takeshi Kitano as they are. I certainly appreciate his works now as artistic pieces that carefully balance violence and peace, that showcase dark humor to entice audiences, and unafraid to experiment by playing with expectations. It's been 45 years since Beat Takeshi first appeared on Japanese television and to this day he is on over a dozen programs every week, ranging from comedy shows to news programs. With such a busy schedule over the decades he has somehow been able to appear and produce constantly on TV, appear in commercials and films, produce and appear in video games, and also direct, writer, and produce eighteen of his own feature films with most to great acclaim and even with commercial success in the 2000s (which could be an idea for a future article). I'll never be able to see any of his films without thinking about those wonderful memories of the weekends as a kid, going to my grandmother's place and laughing with relatives in front of the TV set. And I wouldn't have it any other way.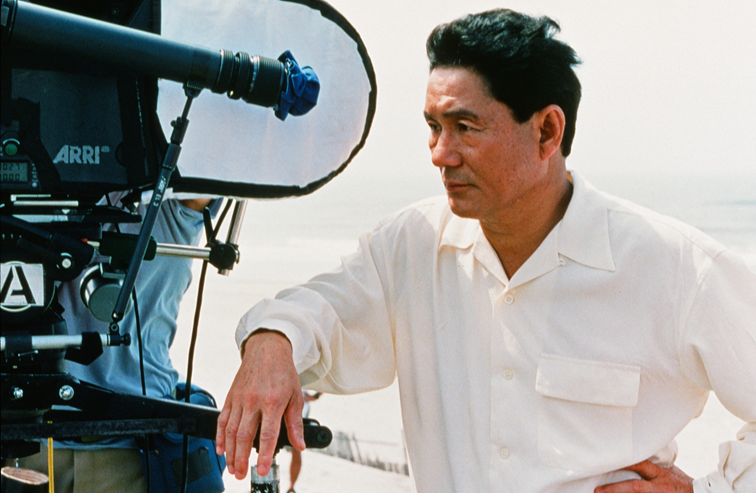 Films directed by Takeshi Kitano on Blu-ray
- "Violent Cop" (1989)
- "Boiling Point" (1990
- "A Scene at the Sea" (1991)
- "Sonatine" (1993)
- "Getting Any?" (1995)
- "Kids Return" (1996)
- "Hana-bi" (1997)
- "Kikujiro" (1999)
- "Brother" (2000)
- "Dolls" (2002)
- "Zatoichi" (2003)
- "Takeshis'" (2005)
- "Glory to the Filmmaker!" (2007)
- "Achilles and the Tortoise" (2008)
- "Outrage" (2010)
- "Beyond Outrage" (2012)
- "Ryuzo and His 7 Henchmen" (2015)
- "Outrage Coda" (2017)
Films directed by Takeshi Kitano on DVD
- "Violent Cop" (1989)
- "Boiling Point" (1990
- "A Scene at the Sea" (1991)
- "Sonatine" (1993)
- "Getting Any?" (1995)
- "Kids Return" (1996)
- "Hana-bi" (1997)
- "Kikujiro" (1999)
- "Brother" (2000)
- "Dolls" (2002)
- "Zatoichi" (2003)
- "Takeshis'" (2005)
- "Glory to the Filmmaker!" (2007)
- "Achilles and the Tortoise" (2008)
- "Outrage" (2010)
- "Beyond Outrage" (2012)
- "Outrage Coda" (2017)
Selected films starring Takeshi Kitano on Blu-ray
- "Merry Christmas Mr. Lawrence (1983)
- "Gonin" (1995)
- "Johnny Mneumonic (1995)
- "Battle Royale" (2000)
- "Ghost in the Shell" (2017)
- "Ghost in the Shell" (2017) 4K UHD
Selected films starring Takeshi Kitano on DVD
- "Merry Christmas Mr. Lawrence (1983)
- "Gonin" (1995)
- "Johnny Mneumonic (1995)
- "Tokyo Eyes" (1998)
- "Taboo" (1999)
- "Battle Royale" (2000)
- "Izo" (2004)
- "Blood & Bones" (2004)
- "Ghost in the Shell" (2017)
This article is dedicated to the memory of Sam Scott